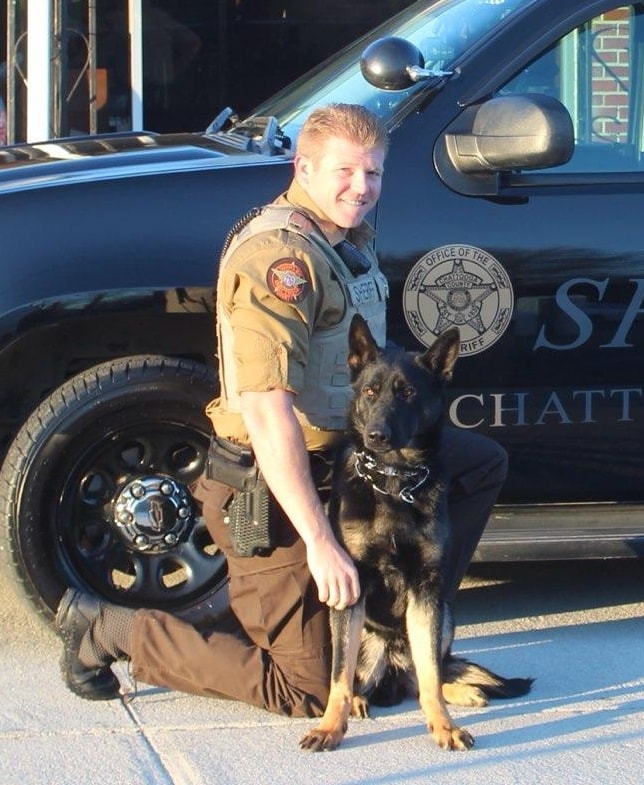 Chattooga County Sheriff's Office has a new addition in the effort of fighting drug crimes in Chattooga County, a German Shepherd Police Dog, Kendy. Kendy has already assisted in getting methamphetamine off the streets, according to Sheriff Schrader. He is trained to detect methamphetamine, cocaine, crack cocaine, heroin, MDMA (ecstasy) and marijuana.
Kendy is also trained in tracking and has proven to be very good at it. "Our hope is that we will not need him for tracking, but should we have a lost child or dementia patient he will be ready to go," said Sheriff Schrader.
Kendy's handler is Deputy Nick Robinson. "Kendy and Nick have adjusted to each other very well and will make a great team in our efforts to get drugs off the streets."
Kendy was purchased with forfeited drug money that was awarded to the Sheriffs Office to be used for training and equipment. "I would also like to mention that several businesses have helped and/or donated items for keeping up Kendy. Peach State Federal Credit Union in Trion, Bridgett Hopkins and Summerville Veterinary, Black and Meek milling company, Tractor Supply and Dixie Concrete. Thanks to all who have helped," Schrader said.