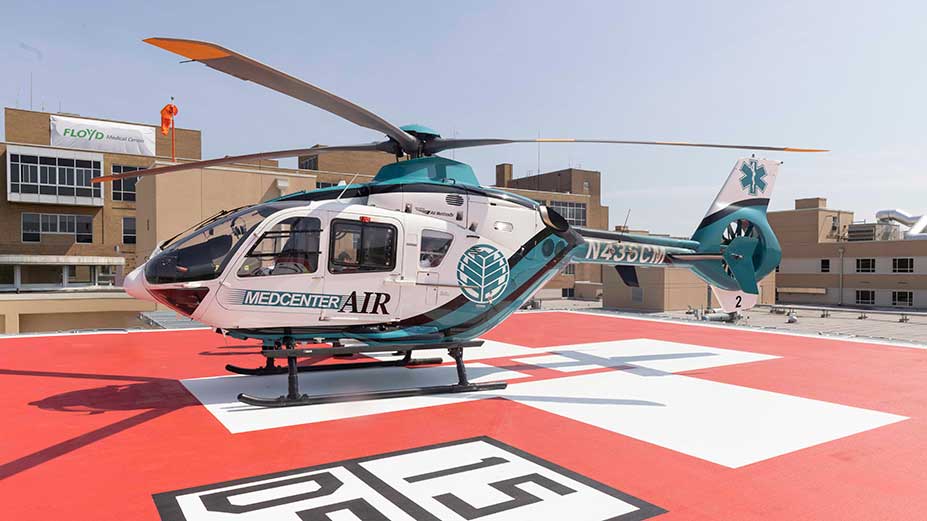 The new helipad at Floyd Medical Center officially is opened.
The helipad will provide quicker and more direct access for trauma patients requiring treatment at the hospital's Emergency Care Center (ECC). The helipad sits on the North Second Avenue entrance to the ECC.
The new, raised helipad will have direct elevator access to trauma bays and will allow ambulance and other first-responder vehicles to pass and park beneath it to access the ECC. The facility replaces Atrium Health Floyd's existing helipad, which is on Riverside Parkway about 1.5 miles from the hospital.
"Providing timely, lifesaving care is crucial when it comes to treating trauma patients," said Dr. Ken Jones, senior vice president and chief medical officer at Atrium Health Floyd. "This helipad furthers our commitment to use technological advances to bring the best care possible to northwest Georgia."
While the official opening is today, the helipad has already had an impact on patient care in the area.
"The helipad was actually used this past weekend," Jones said. "There was a serious accident in another county that required one of the patients to be transported to Floyd by air. Fortunately, the helipad was ready for use and we were able to provide quick care for the patient."
Helipad safety exercises, which also included members of the Rome-Floyd Fire Department, began in early May. That training included classroom education and on-site exercises as hospital teammates became familiar with the process for receiving and transferring patients using an air ambulance.
Training also included helicopters from various air ambulance companies, hospitals and organizations, including Life Force Air Medical Service, Air Methods, Children's Healthcare of Atlanta, the Georgia State Patrol and the Air National Guard.
The helipad is the result of an ongoing analysis to identify opportunities to bring enhanced trauma services to the communities served by Atrium Health Floyd.
Floyd Medical Center is the only Level II Trauma Center in Georgia EMS Region 1, which covers 16 Georgia counties over 5,439 square miles. There are no Level I Trauma Centers in the region.
Floyd Medical Center was the first designated trauma center in Georgia. It has maintained that designation for 40 years.
​About Atrium Health Floyd
Since 1942, Floyd, now Atrium Health Floyd, has worked to provide affordable, accessible care in northwest Georgia and northeast Alabama. Today, Atrium Health Floyd is a leading medical provider and economic force. As part of the largest, integrated, nonprofit health system in the Southeast, it is also able to tap into some of the nation's leading medical experts and specialists with Atrium Health, allowing it to provide the best care close to home – including advanced innovations in virtual medicine and care. At the hub of these services is Floyd Medical Center, a 304-bed full-service, acute care hospital and regional referral center. Atrium Health Floyd employs more than 3,400 teammates who provide care in over 40 medical specialties at three hospitals: Floyd Medical Center in Rome, Georgia; Floyd Cherokee Medical Center in Centre, Alabama; Floyd Polk Medical Center in Cedartown, Georgia, as well as Floyd Behavioral Health Center, a freestanding 53-bed behavioral health facility, also in Rome; and a primary care and urgent care network with locations throughout the service area of northwest Georgia and northeast Alabama.