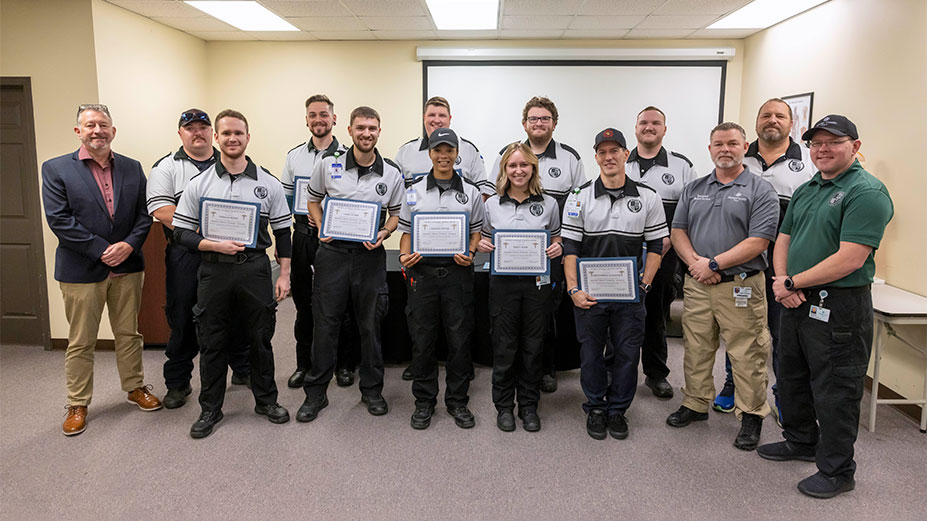 – A group of first responders graduated Monday from an Advanced EMT training class held at Atrium Health Floyd Emergency Medical Services (EMS) through a partnership with Temple-based Faithful Guardian Training Center.

Eleven of the 14 graduates are already Atrium Health Floyd EMS teammates seeking to upgrade their expertise through the year-long program. Two of the graduates are with the Rome Fire Department.
Working with the Faithful Guardian Training Center (FGTC) streamlines the certification process, and that agency can provide additional instructors if needed. It was the first group of graduates who went through a joint program with FGTC at Atrium Health Floyd.
With an emphasis on real-world training and current industry requirements, FGTC helps train public safety personnel throughout Georgia and the southeast.
Lt. Dusty Johnson was the instructor for the class and Capt. Greg Goedert is the education coordinator for EMS.
"You are the calm in the midst of chaos," Bud Owens, executive director Atrium Health Floyd EMS, told the graduates. "While the things you learn in this class are vitally important, you also have to make sure you really care about people. You are interacting with people during a crucial time, and they will often take their cue from how you respond to them."
Thomas Woodruff, president of Faithful Guardian, said the students were asked to learn more than 3,000 pages of technical information.
"You have a cherished role as first responders," Woodruff told the group.
The graduates included Skylar Blankenship, Clay Cantrell, Lexi Craig, Corey Evans, Steven Dozier, Candace Foster, Cole Holland, Chris Locklear, Charlie Meeks, Nick O'Neal, Brice Pence, Adam Sutton, Bradley Ward and Mason Woodard.