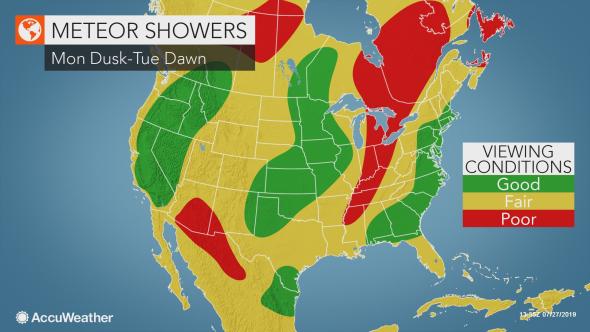 Accuweather reported two meteor showers will peak Monday night, with up to 25 meteors per hour possible.
From a total solar eclipse to spectacular views of Saturn, July has featured a wide range of astronomical events. And on Monday night, the month will conclude with the first meteor shower in nearly three months.
Not one, but two meteor showers will peak on the night of Monday, July 29, into the early morning hours of Tuesday, July 30.
A combination of 20 to 25 meteors will be visible per hour, as long as clouds do not interfere with viewing conditions.
Millions of skygazers in the eastern United States will step outside on Monday night.
Monday Night's local forecast calls for a 20 percent chance of showers and thunderstorms before 9pm. Mostly clear, with a low around 68. Calm wind.
Folks that miss out on the meteor showers on Monday night should still be able to spot some into the first nights of August as the showers both have a broad peak.
"[The southern Delta Aquarids] produce good rates for a week centered on the night of maximum," the American Meteor Society (AMS) explained on its website.
This year will be a particularly good year to view these meteor showers as they peak just a few nights before the new moon. This means that there will be very little natural light pollution.
When and where to look
Like most meteor showers, the best time to look for shooting stars on Monday night will be after midnight, local time. Onlookers stepping outside before midnight should still be able to spot some streaking across the sky, but in fewer numbers than the latter half of the night.
The next meteor shower 
As the calendar turns to August, stargazers will have their eyes focused on the Perseids, one of the best meteor showers of the entire year, which peaks on the night of Aug. 12 into the early morning of Aug. 13.
"The Perseids are the most popular meteor shower as they peak on warm August nights as seen from the Northern Hemisphere," the AMS said.
"Normal rates seen from rural locations range from 50-75 shower members per hour at maximum," the AMS added, with even more possibly visible far away from light pollution. However, the nearly full moon during the peak of the Perseids will reduce the number of shooting stars able to be seen during 2019's showing.