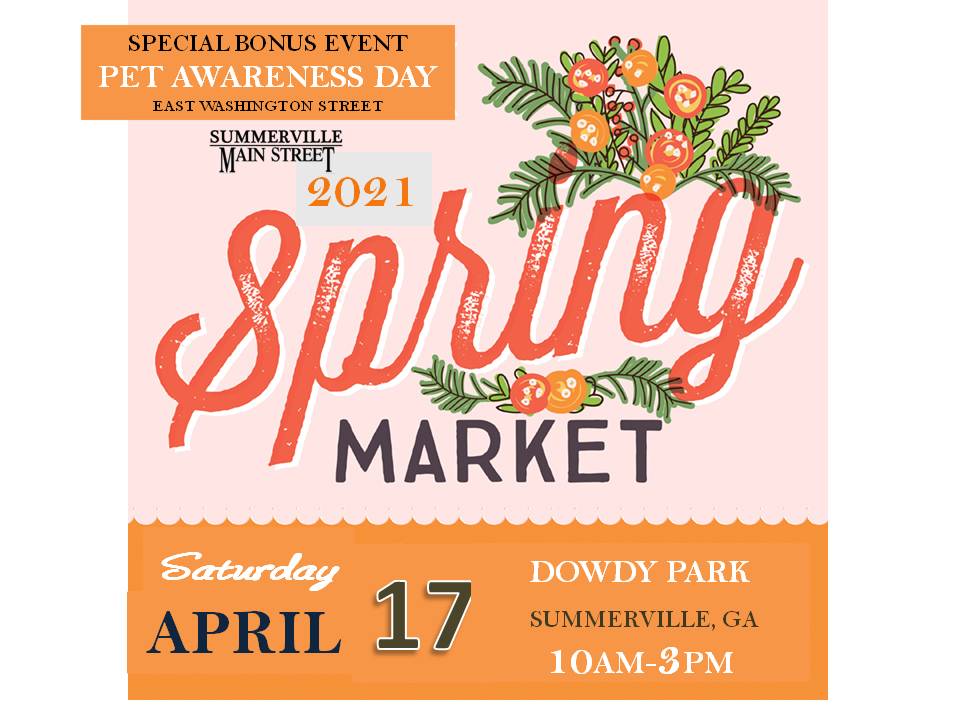 Summerville Main Street is proud to host the 5th Annual Spring Market at the Dowdy on Saturday, April 17. Market hours are 10:00 a.m. -3:00 p.m. and will include arts, crafts, retail, and food vendors. This year's market will feature a special Pet Appreciation Day addition on East Washington Street. The 2021 Spring Market offers a variety of items including farmhouse décor, signs, wreaths, vintage items, accessories and apparel, handcrafted items, jewelry, soaps, candles, children's items, and much more. Taste buds will be tempted by the many different foods and homemade desserts on site.


Country Couture Pet Fashion Show and Pet Awareness Day Activities An added bonus to the day will be a Pet Awareness/Appreciation Event on East Washington Street kicking off at 10:00 a.m. The Chattooga County Animal Shelter will begin registration at
10:00 a.m. for the Country Couture Pet Fashion Show, which is scheduled for 11:00 a.m.  The Fashion Show will be held in the Open Air Venue and is free to the public. Registration to participate in the show will be a $5 minimum donation to the Chattooga County Animal Shelter at the time of registration. Pets attending must be escorted on a leash or lead. Pet escorts will be responsible for their pet's discharge. Compassionate Paws, the local affiliate of Nationwide Pet Partners, Inc. will participate by offering a "Read With Me" program, allowing youth to read to dogs in fenced areas set up on East Washington Street between the hours of 11:30 a.m. – 1:00 p.m. Lectures by Compassionate Paws are scheduled at 10:30 a.m. in Dowdy Park and immediately following the Pet Fashion Show inside the Open Air Venue. The public is encouraged to enjoy this portion of Spring Market with their pets and children.
Event goers may want to bring a lawn chair to enjoy a variety of entertainment throughout the day. Scheduled entertainment for Dowdy Park will be as follows: Music by Butch Reeves – 10:45 – 12:00 noon
Martial Arts Demonstration by Seo's Martial Arts at 12 noon – 12: 15 p.m.
The Rock City 4 Barbershop Quartet (Dixie District Super Senior Quartet Champions) – 12:30 –
1:30 p.m.
Music by Butch Reeves – 1:30 – 2:30 p.m.
Vendors & Exhibits For the 2021 Spring Market include: Food Vendors: Fuller's Fairy Floss –Cotton Candy and Drinks, Holy Smokes – Dirty Rice, Sausageand  Pepper Sandwiches, Nana's Homemade Goods – Homemade Fried Pies and Baked Goods, Ronnie Beard – Roasted Corn  Fresh Squeezed Lemonade, Small Town BBQ – BBQ Pork, Ribs, Chicken, Universal Caramels –
Old Fashioned Caramels in Regular, Vanilla, Sea Salt and Chocolate, Up N Smoke BBQ – BBQ Pork Loin, Ribs, Nachos, and The Cornerstone Restaurant – Hamburgers, Hotdogs, Chili (Credit Cards Accepted by this vendor)
Arts and Crafts Vendors and  Attractions: Kiddie and Adult Miniature Train Rides, Kathy Berry with chair weaving demonstrations under the Big Gazebo, Summerville Main Street with Information and Ducky Derby Tickets, Chattooga High FFA with plants, Chattooga and Trion Head Start Programs with goodie bags and enrollment information, Seo's Martial Arts with
program information, The Coral Cactus with boutique clothing and Accessories, Amanda's Treasures with farmhouse wooden signs, vinyl designs, and more, Ressa's Unique Boutique with boutique clothing, purses, shoes with jellies, salsa and more, 77 Sunflowers with faux leather earrings and bleached tees, Carpe Diem – Leather Goods with handcrafted leather items, Southern Pine Designs with custom sublimations, The Vintage Sunflower with jewelry items, dog tags, crochet and more, Donna Koonce and Marsha Sosbee with hand painted signs, hand sewn items, and home décor', Pillow Talk and Heartfelt Wreath Décor with hand embroidered pillows, wreaths, porch signs, and flags, Camo Princess Designs and Color Street Nails with glitter tumblers, t-shirts, decals and key chains, Crafts by Denise with cornhole bags, pillows, sewing crafts and embroidery, Ginger's Blooms and Brews with seasonal wreaths, vintage containers, and home décor', Woodman Creations with wooden lamps, cutting boards, hand turned bowls, spoons and wooden animal puzzles, Ashley B Apothecary with candles, bath bombs, and skin care items, Sweet Beaux Mercantile Co. with vintage items, repurposed home décor', antiques and gift items, Heartstrings and stitches with handmade dolls and primitive décor', Down Home Textiles with hand sewn decorative pillows, table runners, gnomes, and plushies, Burkett Baits with custom painted fishing lures, Kenneth Parker with hand carved wooden figures, Honey Bee Flowers and Gifts with home décor' and sweet treats, Iron Wolf with airbrushed / vinyl t-shirts, bags, hats, and memorial shirts, and Allen's Jewelry Place with Paparazzi Jewelry.
This is a rain or shine event. Following CDC guidelines on social distancing and masks is highly encouraged for public safety during this event.
For more information on this event contact Summerville Main Street at (706) 859-0900 ext 1337.