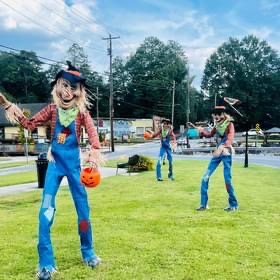 Everything's coming up candy and pumpkins in downtown Summerville on Saturday, October 28.  Summerville Main Street will team up with the Summerville Trion Optimist Club to present the annual Pumpkin Palooza with Pumpkin Derby and the Halloween Candy Walk! This fall celebration will be held down the East Washington Streetscape to the Summerville Depot. Hours for the Pumpkin Palooza will run from 10:00 a.m. – 3:00 p.m. Vendors will be on hand with a variety of foods, crafts, and retail for the public's pleasure. Interested vendors should contact Susan Locklear by email at slocklear@summervillega.org for vendor registration information.
Highlights for the day will include a Youth Halloween Costume Contest for ages newborn – 12 at 10:30 a.m. inside of the Open-air Pavilion. Registration for the costume contest will begin at 10:15 a.m. Local Scouts will be participating in a special Pumpkin Derby Race that is scheduled to begin at 1:30 p.m. on East Washington Street near the depot.


The Great Pumpkin Derby
The Pumpkin Derby is a unique race for youth featuring handcrafted, decorated pumpkin racers that will battle head-to-head for the coveted Pumpkin Derby Championship Prize.Pumpkin Racers are vehicles constructed from one pumpkinwith independent axles and wheels. Pumpkin racers come in all different shapes, sizes, and speeds. Trophies and prizes are sponsored by Summerville Main Street.  The public is invited to cheer the contestants on and root for their favorite racer. Racing begins at 1:30 p.m.
Halloween Candy Walk
The Halloween Candy Walk is sponsored by The Summerville Trion Optimist Club and will run from 11:00 a.m.  – 1:00 p.m. The candy walk will be located down the East Washington Street Streetscape area. The East Washington Street Streetscape entrances beginning at US 27/Commerce Street and The University Street Intersection will close to traffic beginning Saturday morning at 6:00 a.m. and remain closed until 3:00 p.m. Economy Street entrances to East Washington Street will also be closed during this time.
The participating businesses and organizations always enjoy this fun event and look forward to welcoming all the ghosts, ghouls, goblins and other costumed trick-or-treaters that will make their appearance at the annual Candy Walk. Businesses, churches, clubs, and civic organizations wishing to participate in handing out candy and treats to all the little spooks should contact Cindy Rivers at (706) 466-9014 for registration and set-up details.