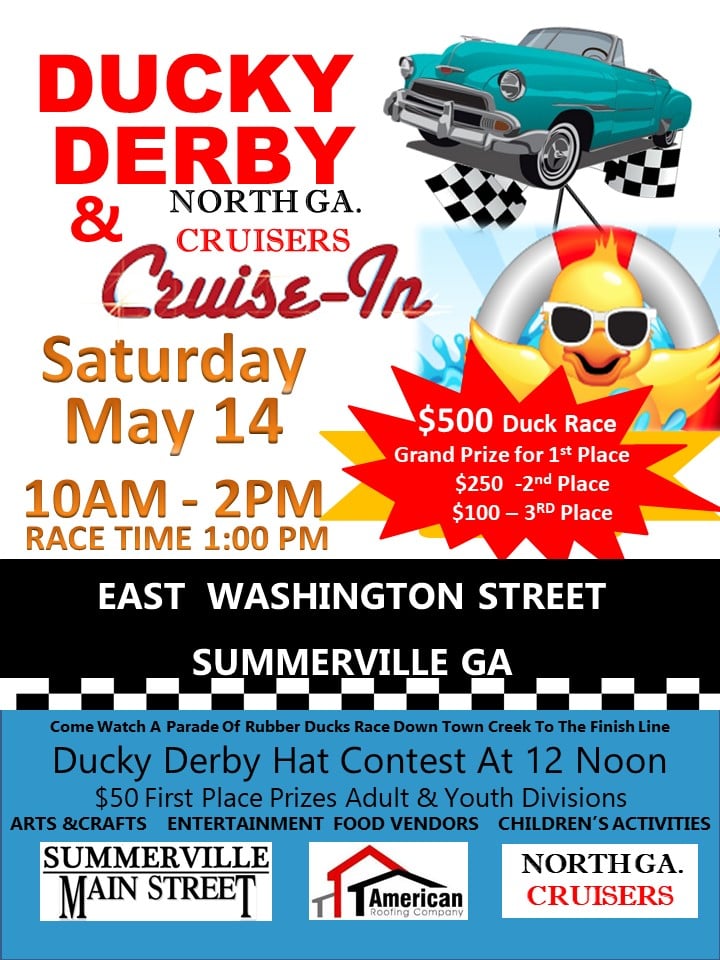 The Summerville Main Street Ducky Derby will be making a comeback on Saturday, May 14 for a fun race down Summerville Town Creek!
In addition, classic car and truck enthusiasts will enjoy the North Georgia Cruisers Classic Car Cruise In on East Washington Street. The event is set to run from 10:00 a.m. – 2:00 p.m. with a variety of food and craft vendors on site at the Summerville Depot.
Local American Idol contestant Corey Curtis will be performing live beginning at 10:30 a.m. The rubber duck race is set to begin at 1:00 p.m.
Adopt a rubber duck for the race and a chance to win the Grand Prize of $500 for the first duck crossing the finish line, $250 for the second duck, and $100 for the third duck to cross the line.
Additional fun is added with a Ducky Derby Hat Contest at 12 noon. First Place Prizes of $50 will be awarded to the winners of the youth and adult divisions. Prizes are sponsored by Summerville Main Street and American Roofing.
Duck adoption tickets are now available through Main Street board members, volunteers, and participating businesses. Local participating businesses include: Los MaGuey, White's Tire and Alignment, Traci's Tanning, The Crushed Tomato, Dirt Town Deli, Jefferson's, DIRT, Sugarville Sweets, Trend Setters, Merle Norman/GaGa's Boutique, The Furniture Shoppe, Willow Tree Grill, Honey Bee Flowers Gifts & Sweets, The Ruby Slippers, and Duff's Flowers and Gifts.
All proceeds benefit the Summerville Main Street program. For more information or vendor inquiries email slocklear@summervillega.org