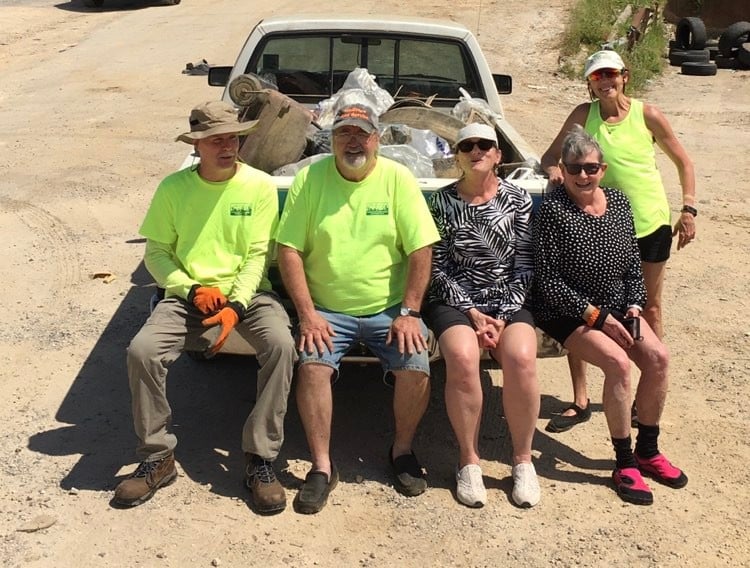 The Chattooga River Group (CRG) was busy this weekend getting ready for the River Festival.
CRG members along with the Lyerly Fire Department  and a couple of Boy Scouts, pulled 421 pounds of garbage from the Chattooga River between Lyerly and Chattoogaville.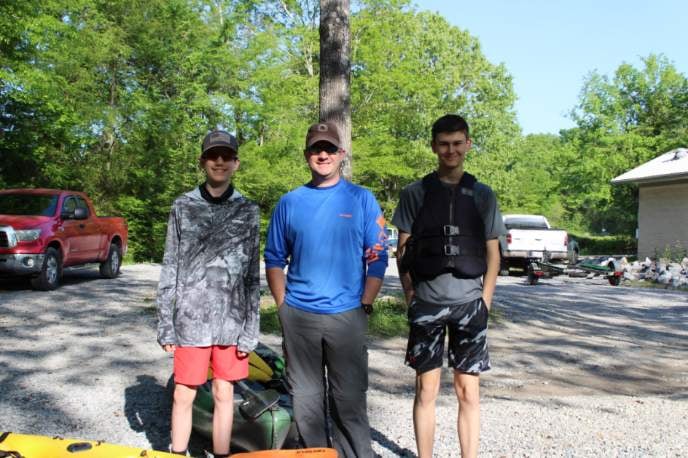 Two nearly-blocked passages were also cleared in the river to ensure a beautiful and enjoyable kayak paddle next weekend at the Chattooga River Fest (

April 30

). Weather is predicted to be warm and gorgeous!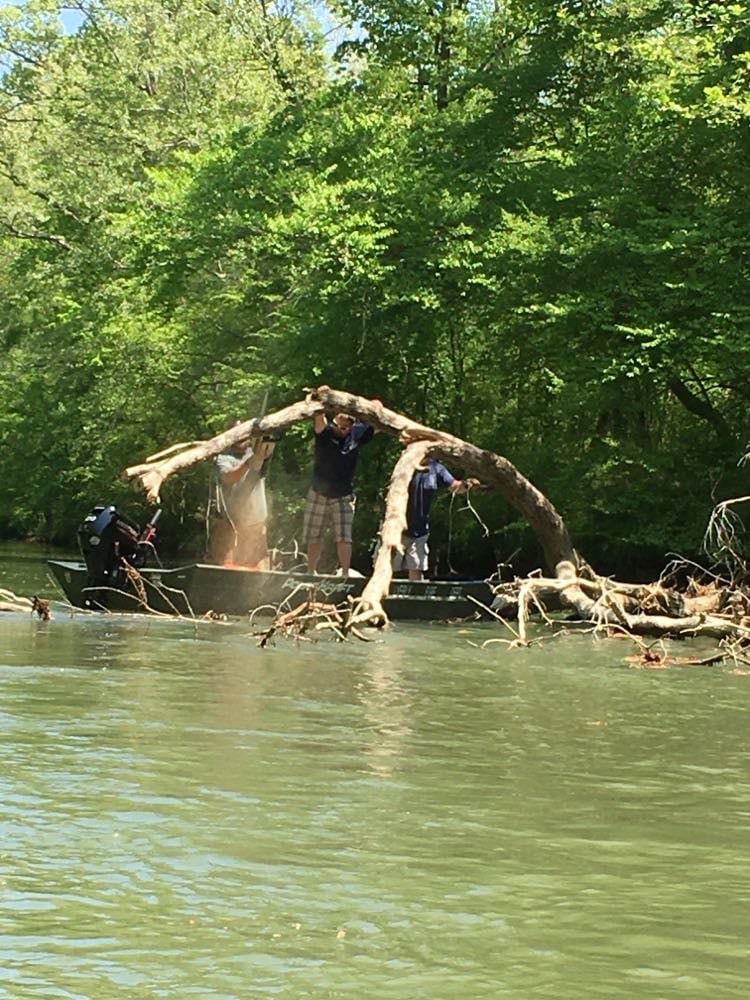 About the Chattooga River Group and Festival:
The Chattooga River Group is a local based volunteer group whose sole purpose is to improve the beauty in and around the river, the enjoyment on the river and preservation and conservation of the river. Our vision is a healthy, vibrant river enjoyed, cared for and respected by all who choose to tap into its natural resources.
This is our inaugural year to put on the Chattooga River Fest, and it will be held this year at Angus McLeod Memorial Park in Lyerly. Our plans are to rotate the location each year to key points along the Chattooga River as it flows through our county.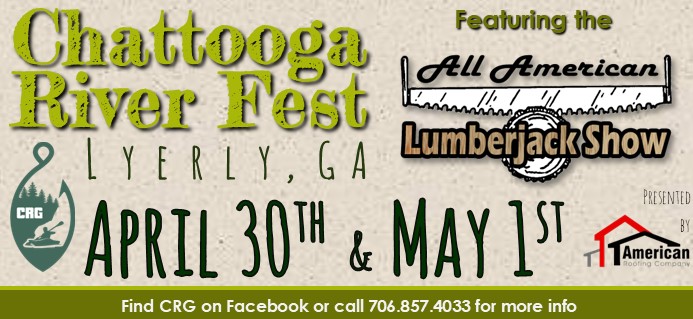 For 2022, our main attraction is the All-American Lumberjack Show presented by American Roofing Company. The lumberjacks hail from Minnesota—yes, these are REAL lumberjacks, and they put on a terrific show with two men competing in ten events. Plus, they offer a kids camp after each show–kids can learn to roll on the logs in the giant pool Jim Fischer and his crew set up, and try out a crosscut saw or throw axes. It's great fun for the entire family and a must-see up close! SHOWTIMES—Saturday: 11a, 2p, 5p Sunday: 1p, 3p, 5p
TJ Grogan is leading an online Fishing Tournament all along the Chattooga River from Trion to beyond Chattoogaville. Please, find the event on Facebook (Chattooga River Kayak Fishing Tournament) or contact TJ if you're interested in getting in on the action. He can be reached by phone at 706.506.9576 or by email at tgrogan@advancerehab.com. He'll tell you more about how to register, what's involved and what you can win! $45 registration, includes t-shirt & festival wristband*!
We are having a Kayak Paddle from the launch at Lyerly Dam to Chattoogaville. If you're interested in participating, please visit our website:
ChattoogaRiverGroup.org
or contact Gena Agnew who is coordinating that paddle. You can reach Gena by phone at 706.346.5256 or email her at gbagnew@aol.com. $30/single, $50/tandem, includes festival wristband*. First 40 get ditty bag and t-shirt! There's a price to the one who brings in the most litter, too!
As Ronco says, "Wait! There's MORE!!!"
The North Georgia Cruisers will be onsite at Angus McLeod on Saturday, April 30th. You'll want to be sure to take in that show! The kids will want to enjoy some rides at the kids carnival, catch the lumberjack show, and learn some neat tricks at one of the sports camps after the show.
We'll also have vendors, outfitters, food, AND a KAYAK RAFFLE!
Atrium Health Floyd has donated a Hoodoo Tempest 120 fishing kayak to the CRG to be raffled off. It includes a CRG Kayak Kushion. Tickets are $2 each or 3 for $5. All proceeds go towards beautification and river safety projects organized by the group. Tickets are on sale now with a CRG board member. Find us at
ChattoogaRiverGroup.org
! Tickets will also be for sale at the festival. Visit the welcome booth for raffle tickets, t-shirts, kayak cushions, caps and more!
We have a full music line-up for the entire family, and we'll have a celebrity in the house!!! Bring a lawn chair, but leave the cooler at home.
Corey Curtis (American Idol) will be playing Saturday at 6p!
FULL MUSIC LINE-UP
Saturday, April 30th
1p—Jeremy Wells
3-5p—Mountain Rattle
6p—Corey Curtis
7p—Russell Cook & Sweet Teeth
Sunday, May 1st
2p—The Briars
4p—Barbaric Yawps
6p—Pickin' Chair Prophets
FESTIVAL PARKING: There will be free general and designated handicap parking in the Hammond St lot. Handicap overflow (wheelchair & walker only) will be at the main park entrance. Additional parking will be available in the downtown area. No parking will be allowed along the road. Please, respect Lyerly residents. Unauthorized parking may be ticketed.
FESTIVAL ADMISSION: The General Gate for the Chattooga River Fest will be at the new parking lot at the corner of Hwy 114 (Alabama Ave) and Hammond St. Visitors will enter the park over the bridge; the welcome booth will be on the other side of the bridge. We will have a shuttle available for those who request it to get you to the main festival area.
Gate admission is $5. Children 2 and under are free.
*Festival wristbands are required inside the park.