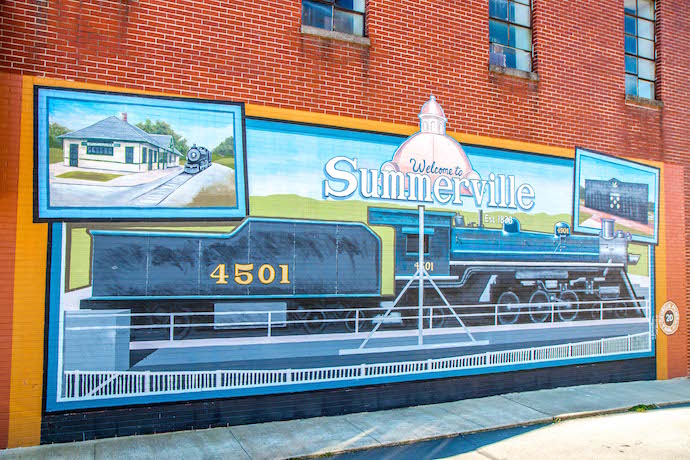 Blue Ridge Mountains Travel Guide recently featured Summerville as one of their destination locations.
The article states that the chances are the city of Summerville GA probably isn't on your list of must-see Blue Ridge mountain towns.
Located 24 miles north of Rome, just 10 miles east of the Alabama border, the town has a population of around 4,200 people, which marks a 17% decline over the last 30 years.
It doesn't have the name recognition of bustling tourist hotspots like Helen or Blue Ridge GA, the bounty of outdoor attractions you'll find in and around Clayton, or the rich history of a town like Dahlonega. There aren't even any 4-star hotels in Summerville.
So why should you visit one of the lesser-traveled cities in Northwest Georgia?  Two good reasons– space and personality.
Being off-the-beaten-path of tourism, the outdoor attractions in the Summerville area draw far fewer crowds than you often see in other parts of the North Georgia mountains.
And in a town most famous for being the home of the eclectic, eccentric Folk Art icon Howard Finster, is it any surprise that you're likely to meet interesting characters at just about every restaurant and park you visit?
If you're looking for a chance to get away from the crowds, explore the great outdoors, and experience genuine Southern hospitality without any pretense or artifice, Summerville has a lot to offer.
Read on for their guide to the 10 Best Things to Do in Summerville GA, from exploring the downtown area and its myriad historical sites to state parks, city parks, and Finster's famous Paradise Garden.

Best Things To Do in Summerville GA Guide
Explore the Howard Finster Paradise Garden
Wander Around Downtown Summerville's Commerce St
See the Historic Summerville Train Depot & Train Turntable
Visit the Historic Couey House
Go For a Walk in J.R. "Dick" Dowdy Park
Have a Picnic at Willow Springs Park
Hike the Marble Mine Trail in James H Floyd State Park
View the Folk Art Collection at Folk America
Cast a Line at the Rocky Mountain Public Recreation & Fishing Area
Spend a Day at Cloudland Canyon State Park
Blue Ridge Mountains Travel Guide was founded in 2019 by Bret Love (a veteran journalist/editor with more than 20 years experience managing magazines and newspapers) and his wife Mary Gabbett (a photographer/videographer with 20 years of experience in managing small businesses).
Together they built Green Global Travel, an award-winning ecotourism/conservation website that is consistently ranked among the Top 40 travel blogs in the world. Their work has been featured in hundreds of major media outlets, including the BBC, Forbes, Frommers, The Guardian, Lonely Planet, National Geographic, Travel Channel, USA Today, Washington Post, and more.