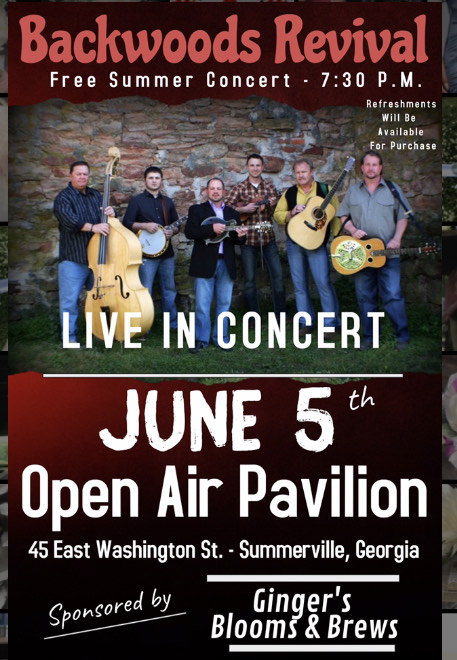 Ginger's Blooms and Brews is hosting a free outdoor concert, Saturday, June 5th, in the Howard Finster Open Pavillion.
Concert goers will be able to experience the bluegrass sounds of Geraldine, Alabama's own Backwoods Revival.
Ginger's will open at 5:00 p.m. on Saturday and remain open until the concert's end, approximately 9:30.
Ginger's will have her regular menu sandwiches  available for purchase as well as soft drinks, tea and water. Desserts like cheesecake, lemon pie and cookies will be available for purchase as well as espresso coffee drinks served hot or cold.
Menus will be available in print and on Ginger's Facebook (Ginger's Blooms & Brews) and Instagram (GINGERS_BLOOMS_AND_BREWS) sites.
Ginger is excited to bring outdoor concerts back after such a long break and said, "if all goes well with my first outdoor event, I would like to plan additional events throughout the Summer and Fall."
It is recommended that concert goers bring a lawn chair to the event due to limited availability seating.