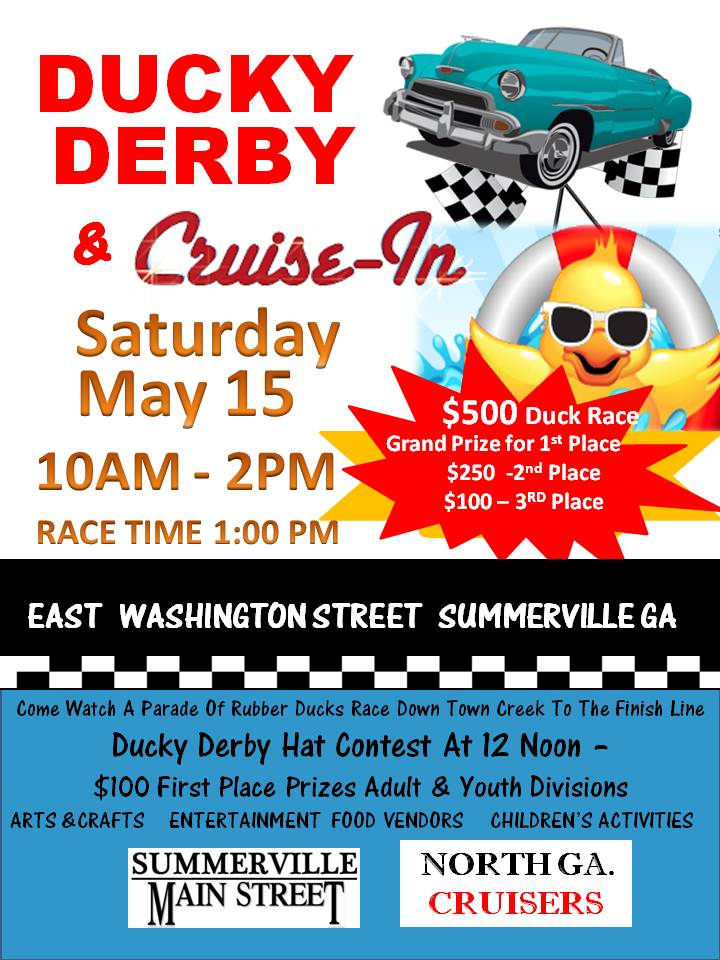 Rubber ducks, classic cars, food galore, crafts, and big hats are a few of the sights to be seen this Saturday during the Downtown Ducky Derby. This free public event is set to run from 10:00 a.m. – 2:00 p.m. on East Washington Street down to the Summerville Depot.
The North Georgia Cruisers will host a Classic Car Cruise-In on East Washington Street that will extend to include the Historic Couey House. The Cruisers will have concessions on site, with proceeds benefiting their Christmas Outreach program. Classic and custom car and truck owners are invited to display their vehicles for a day of fun and excitement.
The Summerville Main Street Ducky Derby will have food and craft vendors and a free children's activity with prizes on site at the Summerville Depot. The big race is set to begin at 1:00 p.m.
Adopt a rubber duck for the race by purchasing an adoption ticket for a chance to win the Grand Prize of $500 for the first duck to cross the finish line. The second place duck will be awarded $250, followed by the third place duck bringing home $100. Adoption tickets for the race will also be sold on site at the Main Street booth beginning at 10:00 a.m.
As an added bonus Summerville Main Street is hosting a Duck Derby Hat Contest at noon inside of the Open Air Venue on East Washington Street, as part of the Duck Derby festivities. So what is a Duck Derby Hat?
At the Kentucky Derby and at Derby parties women are known for wearing very large, willowy hats. Contestants can wear any decorated hats they want and get extra points if there is a duck motif added to it.
A panel of local judges will review the hats during the contest and winners will get various prizes. First Place Winners in the Adult and Youth Divisions will receive $100. People can sign up for the contest on site beginning at 11:30 a.m. inside of the Open Air Venue on East Washington Street. However, the real winner will be the people watching the judging portion.
"Summerville is a place with a lot of talented people and we expect to see some creative entries," Susan Locklear, Main Street Director said. "There really are no limits to what people can come up with for the hats. We can't wait to see what people come up with."
For more information on this event or future Main Street events contact Main Street Director Susan Locklear by email at slocklear@summervillega.org