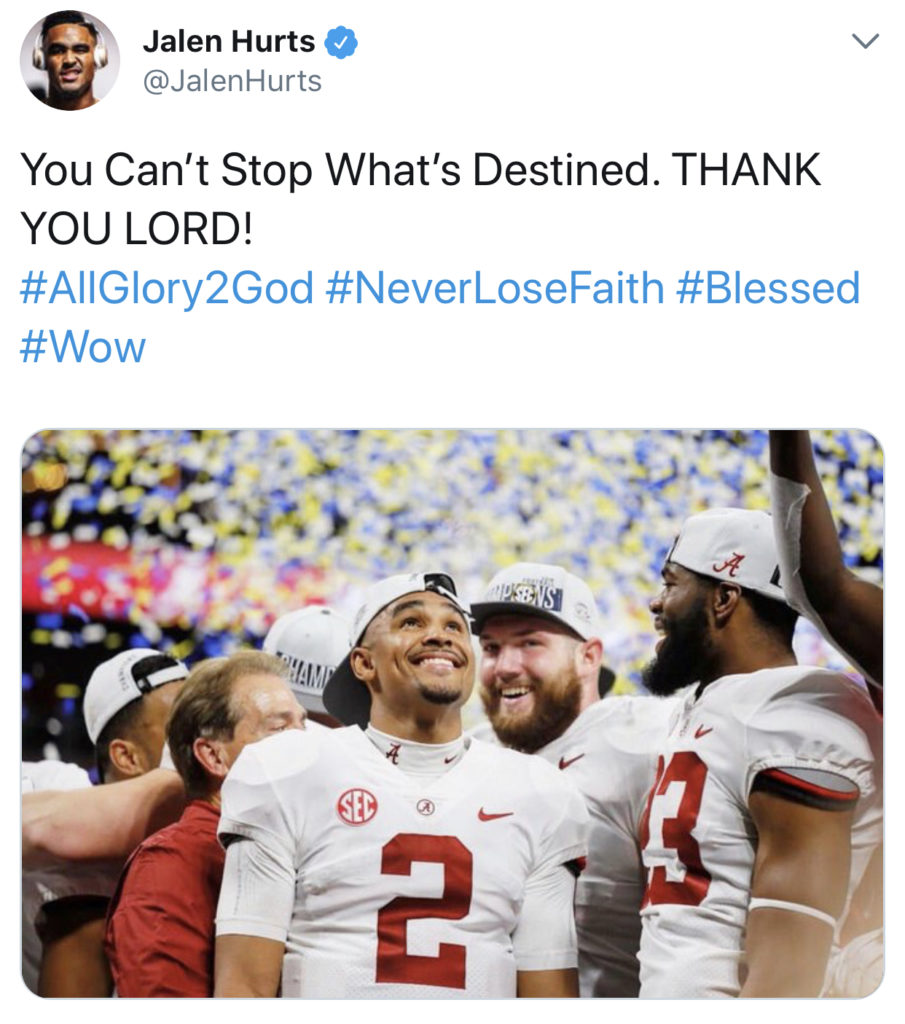 It is not often that Alabama Coach Nick Saban gets choked up when talking to reporters. Usually he is rude with shifty eyes while reluctantly participating in an interview. However, special moments can sometimes reveal a softer side of the  championship coach and, following the Tide's stunning come-from-behind win in the SEC Championship Game, Coach Saban found himself swimming in emotion as he spoke about the performance of Jalen Hurts.
"Well we've always had a lot of faith in Jalen, and I told him when we put him in when Tua got hurt, 'It's your time.' And he certainly took advantage of it and did a fantastic job. I'm so proud of this guy for what he's done this year. I can't even tell you," an emotional Saban said.
Jalen Hurts, Alabama's backup quarterback, took over after Tua Tagovailoa was injured in the fourth quarter.
Hurts won the game for the Crimson Tide, completing 7 of 9 passes for 82 yards and ran for 28 yards on five carries. He passed for one touchdown to tie the game, and ran the go-ahead touchdown in.
Why would a backup quarterback bring tears to Coach Saban's eyes?
Rewind to the National Championship game last year. Alabama vs Georgia and this time Hurts was the starting quarterback but just couldn't get the job done. At the start of the third quarter, Hurts was benched in favor of the freshman phenom. After winning 26 games in two years, passing for a staggering 4,861 yards and 40 touchdowns… Hurts was relegated to a sideline spectator.
Refusing to slip into the shadows, Hurts has been a leader even from the sideline; not a quitter, not a whiner, not a complainer. Hurts has simply led.
Jalen Hurts lost the starting position and didn't transfer, didn't quit. At practice, he continued to work to become a better player. During games he was on the sideline cheering loud and hard for his team. He was a true team player and put his team first.
And last night when his number was called, he was ready, "you can't stop what is destined," Hurts tweeted after the game.