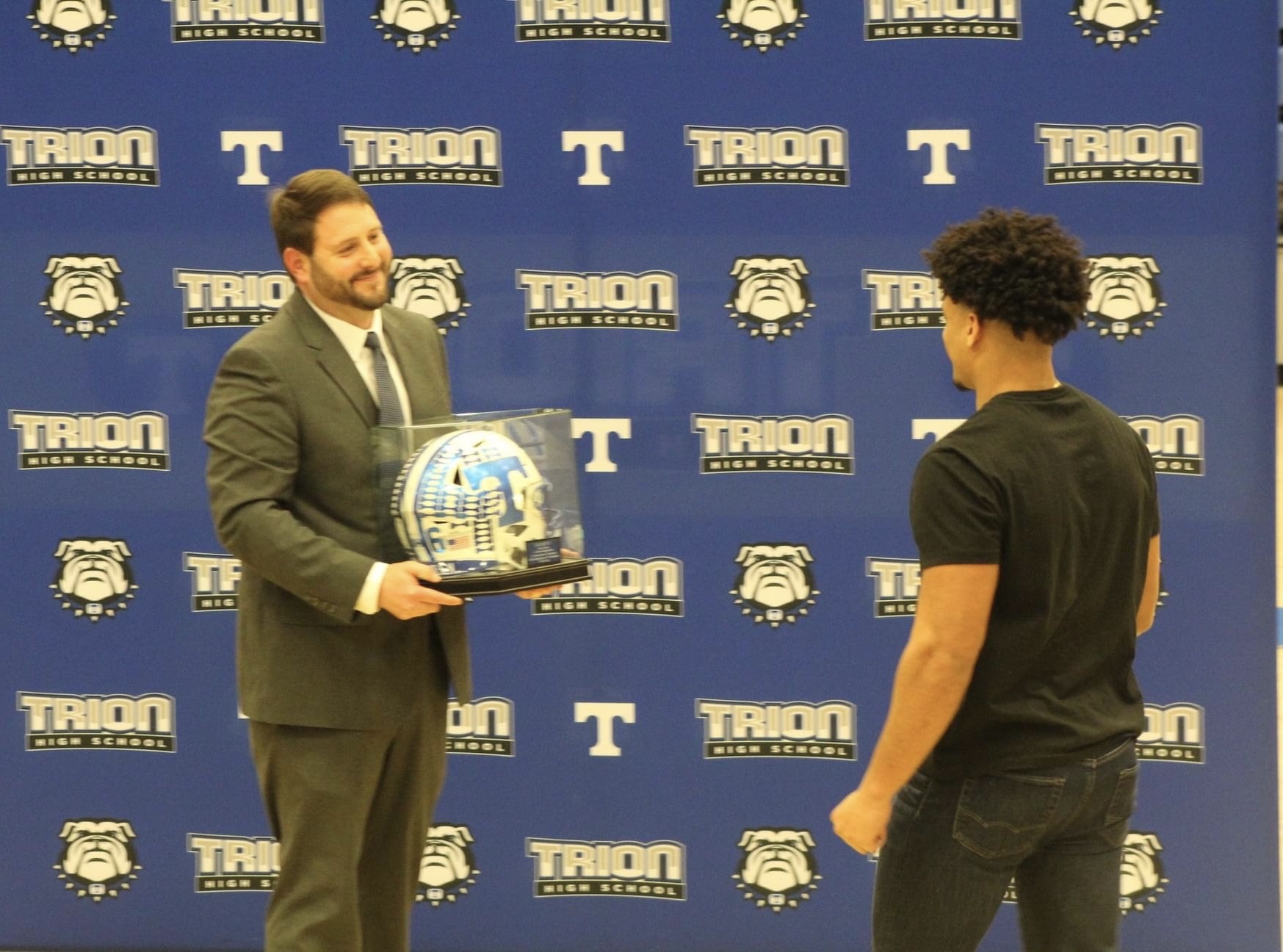 Trion Football's 'Redemption Tour' had a season for the record books.
At the end of season banquet held January 27 in the Trion High School gym, Head Coach Sean Patrick went over the records and accolades this team achieved.
"Redemption Tour was first mentioned during summer workouts. I think I randomly said it during a practice, and it stuck. Our team rallied behind that mantra. Our kids put Trion back among the elite in Class A. 2020 was a blip, not the norm for this program," Patrick said.
The 2021 Bulldogs etched their name in the records of the 88-year program as the highest average of points scored per game (40.92) and the highest average margin of victory per game (28.17).
The team recorded the second most points scored in a single season with 491.
The 10-2 Bulldogs finished 9th in the state and made the state charts being 3rd in Class A Public for points scored per game and 4th in Class A Public for points allowed per game (12.8).
Trion had it's 7th 10+ win season in program history. The season came to an end in an overtime 22-23 loss against Wilcox County in the Sweet 16 game.
This was the season Rob Brown became a Trion legend. In years to come the old and young alike will say, 'I was here when Rob rushed for 400 yards and then he did it again.'
Brown rushed for 407 yards against Mount Zion. The next week against Gordon Lee, Brown became Trion's first running back in program history to surpass the 2,000 yard rushing mark in a single season.  In his first-round playoff performance against Social Circle he amassed 448 yards and five touchdowns in the 55-21 win.
When asked what was different about his game in the final weeks of the season, Brown responded, "I am playing all four quarters." Earlier in the season starters had limited action in the 3rd and 4th quarters.
Brown is the only player in state history with two 400-yard games. 
Brown walks off of Clarence Blevins Field as Trion's all-time leading rusher and scorer. He recorded 4,542 rushing yards and 62 touchdowns as a Bulldog.
In 2021 Brown ended up leading the entire state of Georgia with a 218 yard per game average. He totaled 2,621 rushing yards on the season with an insane 10.3 yard per carry. At the end of the regular season Brown led the state in rushing among all classifications.
Brown  compiled the largest Single-Season Rushing Total (2,621) in Trion history. Brown also has the Most Touchdowns in a Season with 42.
Rob Brown recognition at banquet video: https://fb.watch/aPS4i96Wr7/
Brown signed with Kennesaw State University.
2021 Football Schedule: Trion's Redemption Tour
Coosa W 48-13
Model W 28-7
Howard W 37-6
Cedar Bluff W 49-0
Bowdon L 13-35
SE Whitfield W 49-0
BEST Academy W 38-6
Armuchee W 48-7
Mt. Zion W 61-28
Gordon Lee W 43-7
Social Circle W 55-21 (Round 1)
Wilcox County L 22-23 (OT)