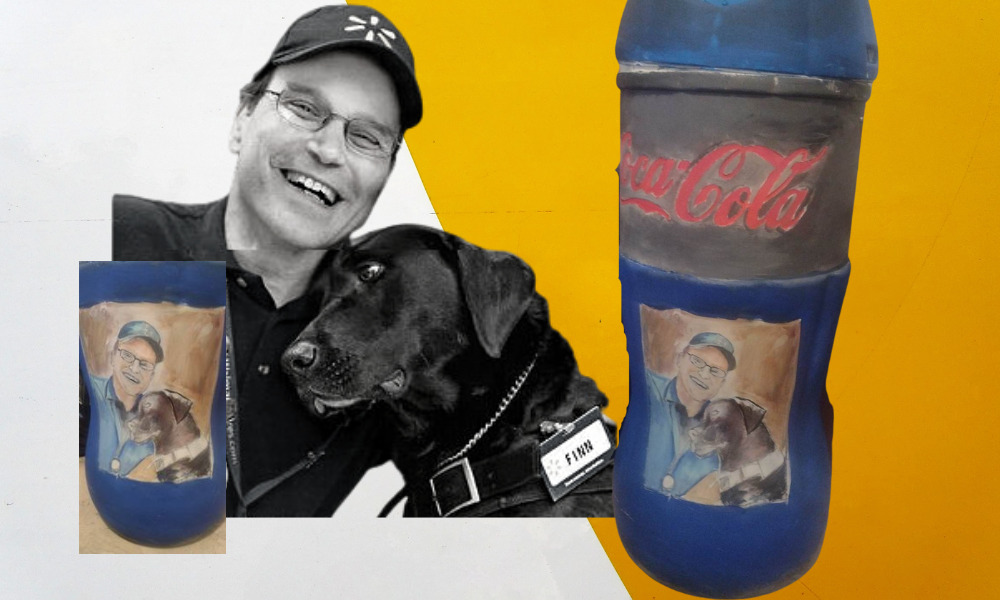 Several years ago, the Main Street Development Program worked on a project for the beautification of the city of Summerville, in this project local artists were chosen to display their work on oversized Coke bottles, and once completed these bottles were randomly placed in and around local businesses.
A new bottle with the theme of "Disability Awareness" will soon be added. Susan Locklear, Main Street Director, selected Summerville resident and Walmart greeter, Spann Cordle along with his service dog Finn, to be the primary focus of this bottle. Local artist Billy Smith was selected to paint the bottle and told AllOnGeorgia the finishing touches are happening now, and the bottle will soon be ready to be placed.
"The greatest barriers that persons with disabilities have to overcome are not steps or curbs but expectations," Locklear said. "Spann and Finn have served this community and made a positive impact on countless individuals."
The finished Disability Awareness coke bottle will be revealed in late 2022 or early 2023 in a prominent location downtown.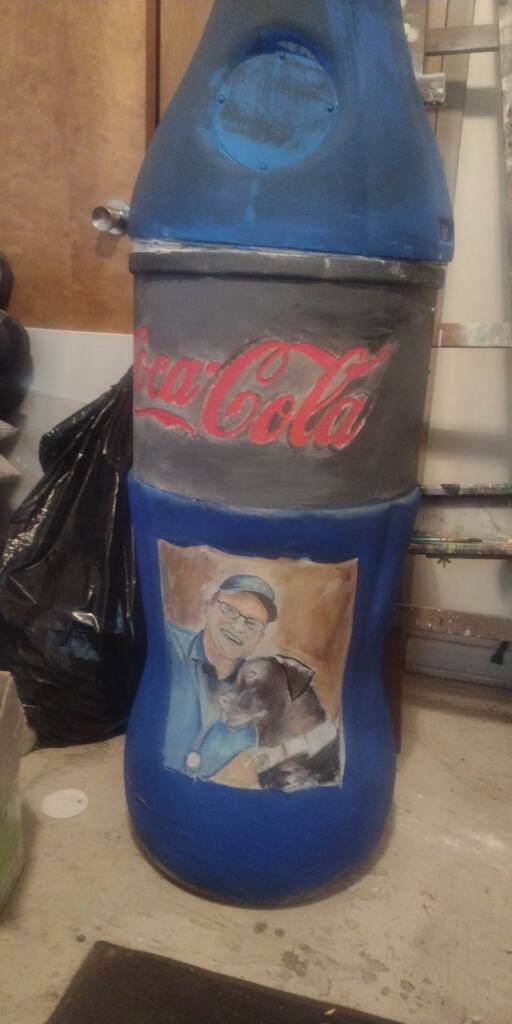 Spann was born prematurely and was diagnosed with cerebral palsy.
"I was born three and a half months prematurely, my lungs had not developed to get oxygen to my brain, so in the process brain cells died due to lack of oxygen therefore causing scaring on my brain, which caused the Cerebral Palsy," Spann said. "To some my CP is seen as severe, but it's kind of middle of the road. I have no mental learning or cognitive disabilities; however, my physical movements are affected."
"Having a disability is totally out of our control, but how we deal with it is totally in our control," he added.
The Summerville, GA native is a Chattooga High School graduate class of 1977, from there he went on to graduate from Jacksonville State University in 1982 with double majors in Criminal Justice and Political Science. He attended Graduate School from 1982-84 and earned degrees in Criminal Justice and Public Administration.
"In life you got to play the cards you are dealt and make the best of what you have," Spann said.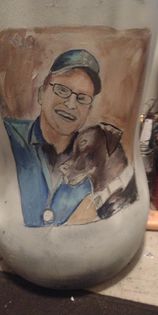 Spann began his career at Walmart in Trion in 2007. Finn, a black Labrador retriever mix that served as Spann's service dog, friend, and sidekick, was right beside him, greeting customers; the pair was the first service dog team in Walmart history.
"Finn was a service dog, but beyond that he was taken in by the community past and present," Cordle said. "If I went out somewhere without him people didn't say Spann how are you? Their first comment was where is Finn? Even today, almost five years after he left this world people still ask, still remember… still smile."
Finn certainly wasn't your typical service animal. "When I got Finn in December 2005, he took me out of my "comfort zone" made me realize it wasn't just about me anymore, that I had responsibility, responsibilities to him to feed, walk, take him to the vet, and as I did that he did his job."
Finn wasn't born to speak as we do yet he spoke volumes. "Finn wasn't a Rhodes scholar, but yet the psychological, inspirational impact he had was untouchable. Everyone he met from the most destitute to the wealthiest of statesman and Governor were memorized by him immediately. He wasn't to be touched or petted, but everyone wanted the opportunity, he had an ability to circumvent any situation and make it unique. Back in 2007, Finn and I were the first and questionably the most well-known service dog team for Walmart, and today his legacy continues," Spann said.
Finn and Spann were together for over 12 years, which is rare for a service dog to work that long without being retired or replaced. Finn passed away due to degenerative spine disease.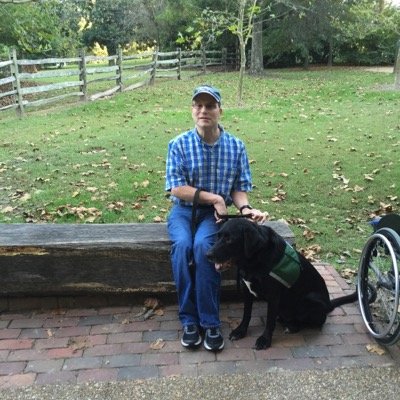 Local painter and graphic artist, Billy Smith, has been working on the coke bottle to honor Finn and Spann for several weeks. The bottle began as a simple sketch.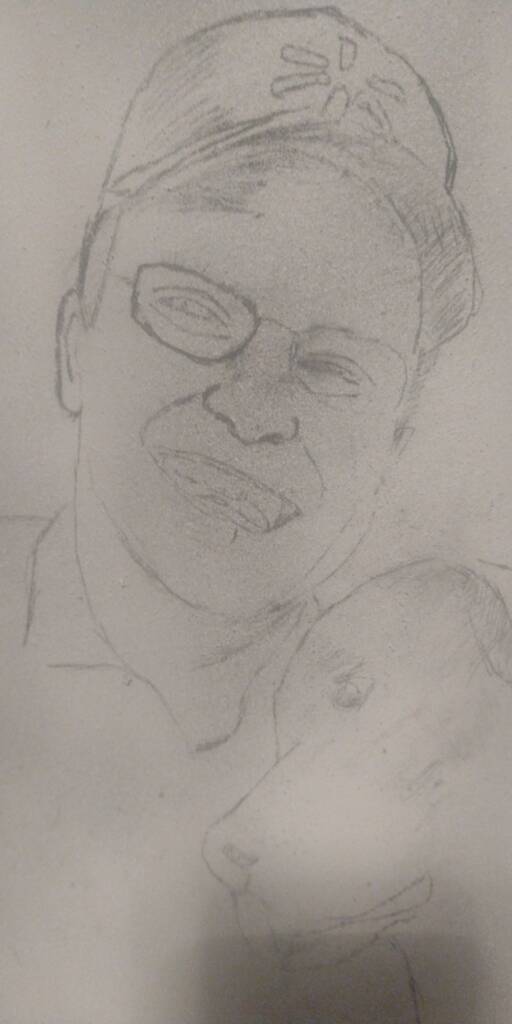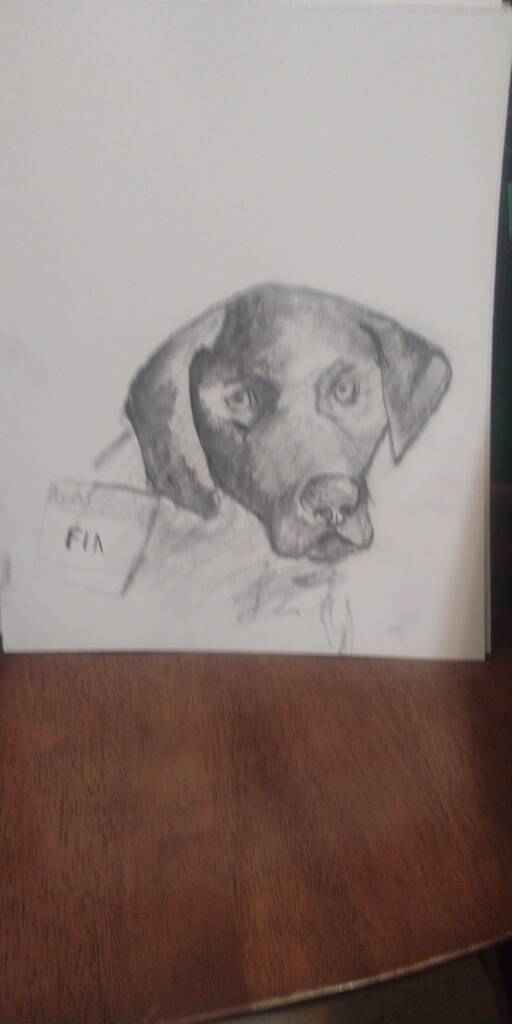 Smith is from Summerville.