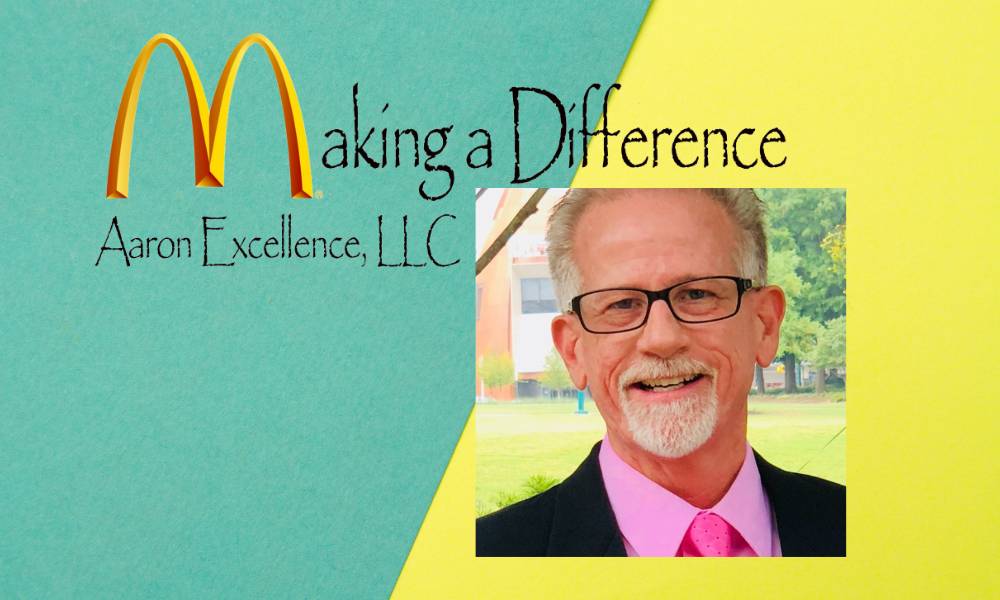 Seven years ago, Jim Aaron began his career as a McDonald's Owner, after 37 years on the Corporate side of McDonald's. That corporate side, while it sounds glamorous and high-end, actually started for Aaron as a regular crew/staff member at the young age of 16 years-old, making $2.30/hour on Sept 7, 1977.  Aaron continued to work at McDonald's, while he attended Berry College, where he earned a Bachelor's degree in Business & Accounting.

"I'm proud that I started as crew/staff and that my first car cost $150, and didn't run. I tell that story to many of my leaders and staff, as inspiration," Aaron said.
Jim Aaron's story is one filled with hard work and pride, and community. He said after he graduated college he planned to work for an international company with excellent benefits. After a job search, he ended up right back where he had been since he was 16 years-old, at McDonald's. "McDonald's had everything I was looking for in a job."
"After graduating Berry in 1984, and moving up the corporate ladder for many years, on April 16, 2014, I transitioned from the Corporate side and bought the Vonore and Charleston, Tennessee McDonald's. Over the past several years, the organization has grown to eight McDonald's stretching from Vonore on the north, down to Rome on the south," Aaron said.
Aaron purchased the Rome/Martha Berry Highway McDonald's in November 2016, the Summerville, Lafayette, and Chickamauga restaurants in October of 2017, and added the Rome/Turner McCall Blvd in July 2018.
"I've always lived in Rome, was born and raised there, but my initial McDonald's purchases were East Tennessee on April 16, 2014 after the successful 37 year McDonalds's corporate career.  Then opportunities for additional McDonald's purchases started opening up in Rome, Summerville, and Northwest Georgia.  My Director, Jess, lives in East Tennessee and myself in Rome, so we have the geography covered really well.  And half of our executive leadership team live in each geographic area of Northwest Georgia and East Tennessee"
Jim Aaron's impact on the local communities is unmatched, "I'm big believer that every business owner needs to support their local community by giving back in various ways. I think that's especially important as a local McDonald's franchisee. I believe my McDonald's restaurants have an opportunity to "make a difference" in the lives of our people and our communities, every day!   I work hard daily to bring that to life in a number of ways for my people and our communities. "I'm proud to be a local small business person, and proud to live in and support the communities, schools, teachers, students, and athletes where I live and do business. I think my passion on this topic comes from a strong core belief that if you do the right thing for others first, everything else works out how it's suppose to. I'm proud to support every school, in all of the communities where we do business in Northwest Georgia and East Tennessee."
COVID Pandemic
Through all of his experience, over four decades at McDonald's, nothing could have prepared Jim Aaron for the challenges of 2020."The past year of COVID/pandemic has been very tough for everyone, including small business owners everywhere. During difficult times, the most important thing is to double down on the focus on my people, and my communities.  That's the most important thing.  That's exactly what we did right away at the beginning of the pandemic, and that we've continued throughout the pandemic.  Figured everything else would work out, if I focused on my people and communities," Aaron said.
Specifically, Jim Aaron implemented the following COVID protocols for his employees, "I increased the pay +20% super hero pay for all managers and staff for 4 consecutive months at beginning of pandemic. Next I turned the +20% super hero pay into permanent pay increases…and then some.  Our average managers & staff's permanent pay rate has increased +30% since pandemic! That's huge. And our starting rate and benefits are the best in the industry, in our geographic areas.  I'm proud that our benefits for managers and staff includes, free meals, vacation pay, insurance, 401k with dollar for dollar matching, tuition assistance up to $3,000 annually, weekly pay, and more. Our employees – managers & staff eat free when they work.  During the height of the pandemic, we also implemented a temporary policy where twice weekly they could take meal home to their family, on us."
Safety measures for the community included, "the staff immediately implemented safety shields, masks, service folks gloves (production always wore them), and constant sanitization to protect our people and our customers.  We were the first in the area, and among the first across the U.S, to implement these important safety measures. We are incentivizing our managers and staff to take the vaccine.  We pay them to take the time to go take the vaccine….literally."
For the community, Aaron gave back during the school shutdowns last spring, "during the initial height of the pandemic, and immediately the first week when school was cancelled, I implanted the free breakfast and lunch for kids program.  No strings, no purchase necessary.   Posted at the restaurant and on social media.  We fed thousands of school kids for several months To support our healthcare workers and 1st responders, I helped implement the national Free "Happy Meal Program" for healthcare workers and 1st responders across the United States!   It was inspired by the healthcare workers and 1st responders program I had implemented locally from the beginning of the pandemic, providing a free coffee – hot or iced, every day for those two hero groups.  The national McDonald's program was every day for 2 weeks, we gave free meals to these heroes to thank them for their service.   Locally, we gave away thousands of meals to healthcare workers and 1st responders over those couple weeks in the Spring, 2020."
Jim is the first to admit, "we aren't perfect all the time, but I… we strive to be…..that's the goal. And I'm proud of what we've done so far to "make a difference" in the lives of our people, serving our customers, supporting our communities and schools, and representing the McDonald's Brand. I'm especially proud of our leaders and staff who have continued to serve and support our communities very well, and safely, during the pandemic this past year.
Here's to multiplying those efforts toward "making a difference" in the years to come!"