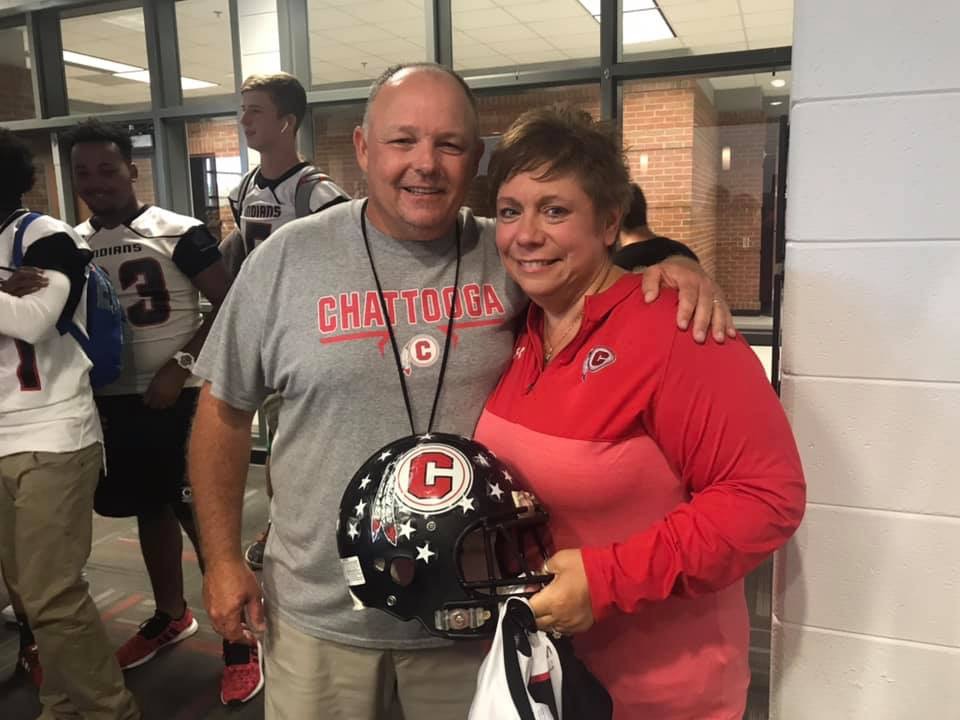 After nearly ten years with Chattooga County Schools Terri Foley is saying goodbye to her co-workers and the students at Chattooga High School.
Terri and her husband, Don will be moving to East Tennessee. Don recently took a new job at Cleveland State Community College.
Mrs. Foley has been around to experience the culture change which has happened in the last decade at Chattooga. She has been a vital part of the change by supporting the students and cheering them on in any and every situation.  Her official position at CHS is the Registrar, but in all truth, she is the one parents, teachers, administration, and students turn to with any issue.
Football Head Coach Charles Hammon wanted Mrs. Foley to know just how much she meant to him and the football team and surprised her with a jersey and helmet signed by the players and staff as a farewell gift.
Mrs. Foley has had many great moments at Chattooga, but she said out of all the moments from her time with Chattooga, the ones she will cherish the most are from working with the entire Tribe. "I always enjoyed helping with admissions to the athletic events. That's where I would get the chance to speak with everyone and really get to know everyone in the "Tribe." My favorite memories are of Fridays when I would help feed the football team, and hopefully shed a little encouragement and love their way!"
She said she will miss the the students the most,  "it's always been about the students for me. I love helping our kids. Helping them get from where they are in their lives and helping take them where they want to be educationally is just a true honor. Of course, I'll miss all of my co-workers, as well. But, just like they would say, too, it's about each and every one of our students."
Terri Abernathy Foley is originally from Chattooga County: "Although I'm a full member of the Tribe for so many years now, I graduated from Trion High School. I then went to Jacksonville State University to study music. While I was there I was a member of the Jacksonville State University Marching Southerners. Since my college years, I worked in the Trion City School System in the classroom, as well as on the field helping instruct the color guard section of the Trion High School Marching Band. And, of course, when I came to the Chattooga County School System, I have worked in everything from the Chattooga Academy, to the Chattooga County Schools Title I Office, to my current position as the Registrar within the Guidance Office at Chattooga County High School."
Terri and Don were married on March 30, 2014, and Don was instantly welcomed into the Tribe and the couple became some of the biggest supporters of students from Chattooga County Schools. "Don is a big fan of the students at all of our schools through his work officiating and through his work with Georgia Northwestern Technical College. So, going to functions at Chattooga with me throughout the years just became part of what we do. It's who we are."
Although the Foleys will be moving, almost all of their family lives in Chattooga County, so they plan be back every chance we get. And, of course, "we have to come back home and cheer on the Tribe whenever we can," Terri said.
As for where she will be taking her career, "I'm looking at different options available in the area. All just depends on where we end up calling home."