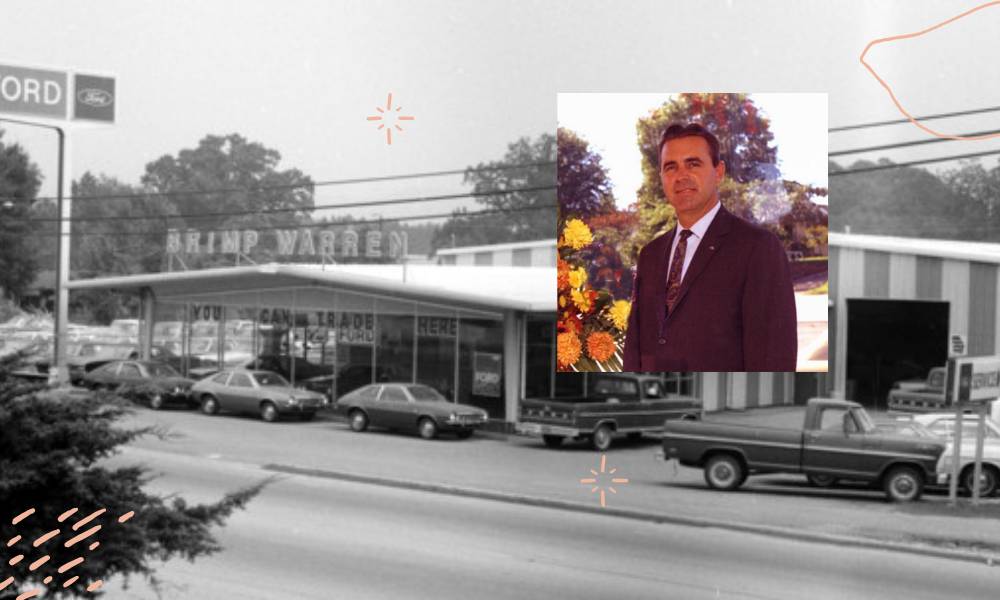 Lifelong Chattooga County resident Brimp Warren was born May 8, 1924 on the family farm near Perennial Springs. Brimp was one of six children and never spent a night away from home until he entered the Army during World War II in February 1943.
Brimp and his wife, Clara, were married in 1947. The couple enjoyed a storybook marriage of 70 years, Clara passed away in February 2018. They have two children, Cindy and Matt, several grandchildren, and great-grandchildren.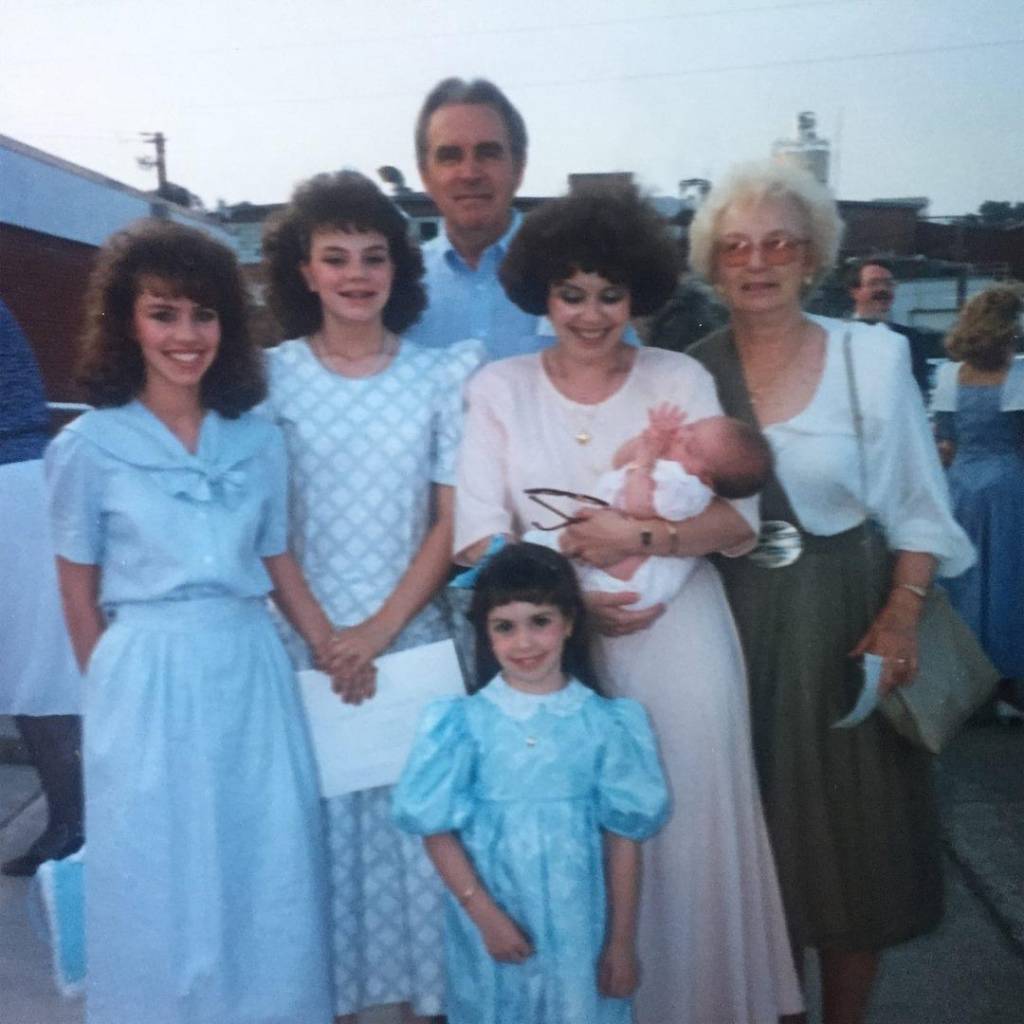 The first car Brimp ever bought was a 1936 Ford coupe, and it was also the first car he ever sold, and something clicked.
After the World War II, Brimp worked for Frank Prince for six years. In 1954, he drove to Detroit, bought two used cars, brought them back to Summerville, and sold them. For the next two years, he continued driving to Detroit, picking out used cars, and selling them back home.
In October 1956, Fred Aldred asked him to come work for him as the sales manager at his Ford dealership on South Commerce Street in Summerville (where BB&T bank is now located). Soon, Aldred sold the dealership to a man from Lafayette, and Brimp and a partner decided to buy the Ford dealership in Rockmart. The partners kept it for two years before selling out.
Meanwhile, the Summerville Ford dealer moved from South Commerce Street to East Washington Street in the building formerly occupied by a Pontiac dealer. The business languished with changing ownership until Brimp purchased it in September 1960. He remained at this location until moving in September 1968 to a new facility on North Commerce Street across Highway 27 from Marvin Avenue.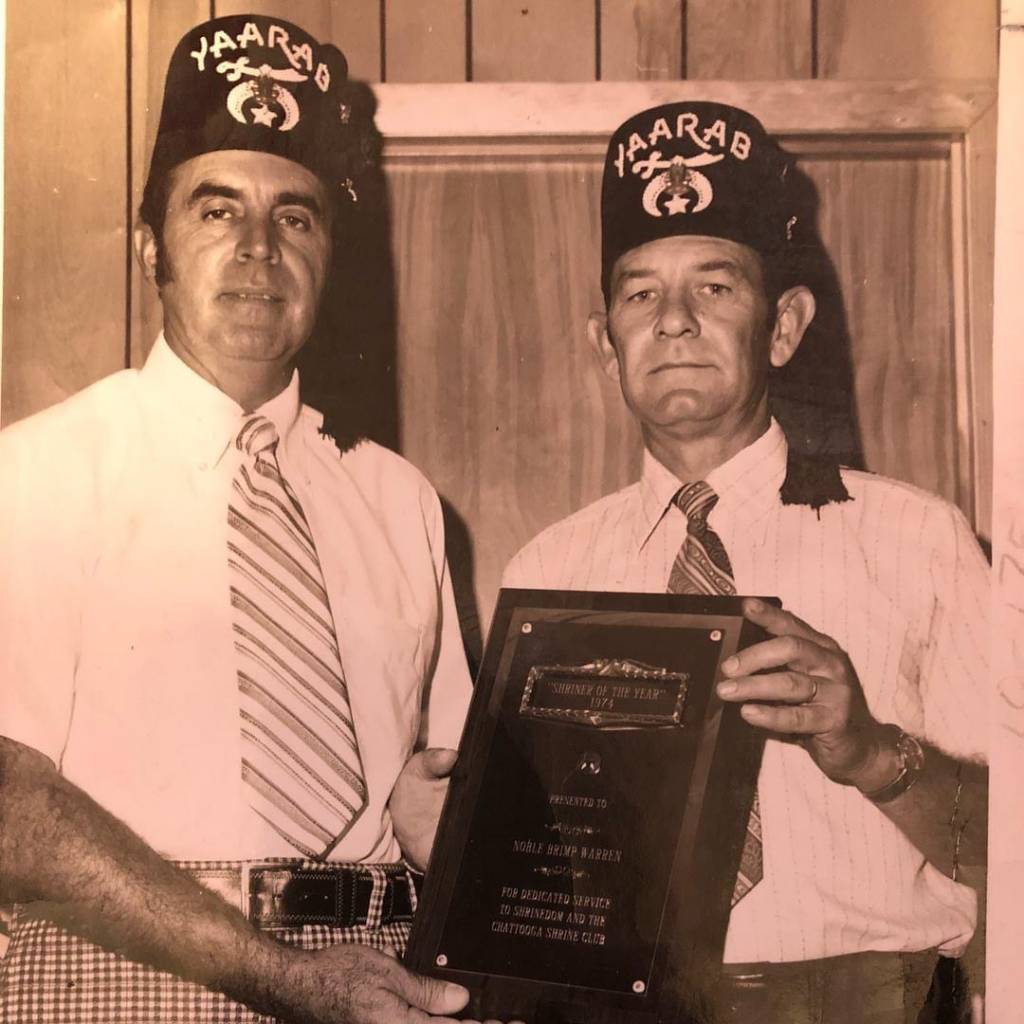 Brimp Warren became Summerville's Ford dealer in 1960 and remained in that role until selling his business in 1986. In an interview, he stated that owning a business left little time for hobbies or other interests. Many a Sunday afternoon would find him mopping the showroom and cleaning up. Even with limited free time, Brimp always found time to work with the Chattooga County Shriners.

Opening day in September 1968 saw the lot full of new 1969 model year Fords.

A 1969 Torino, Mustang, and LTD await customers in his new showroom, decorated with flowers for the occasion.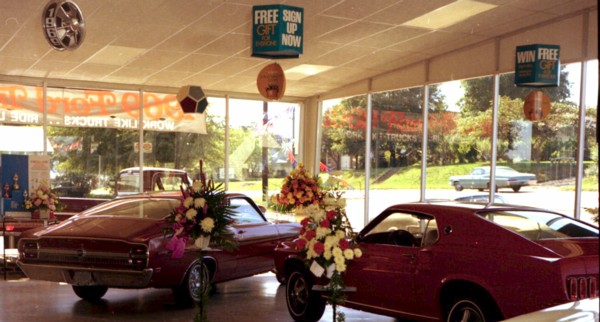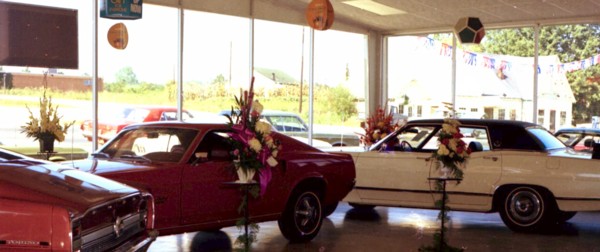 Brimp Warren stands with his favorite car, the Ford LTD.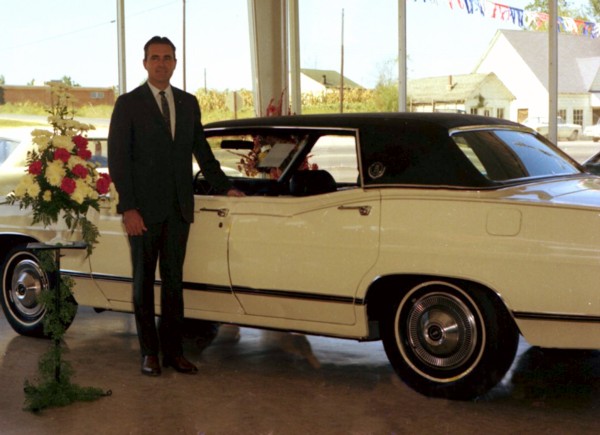 In November 1971, Brimp received a letter of praise from Henry Ford II on his marketing philosophy and excellence in customer service.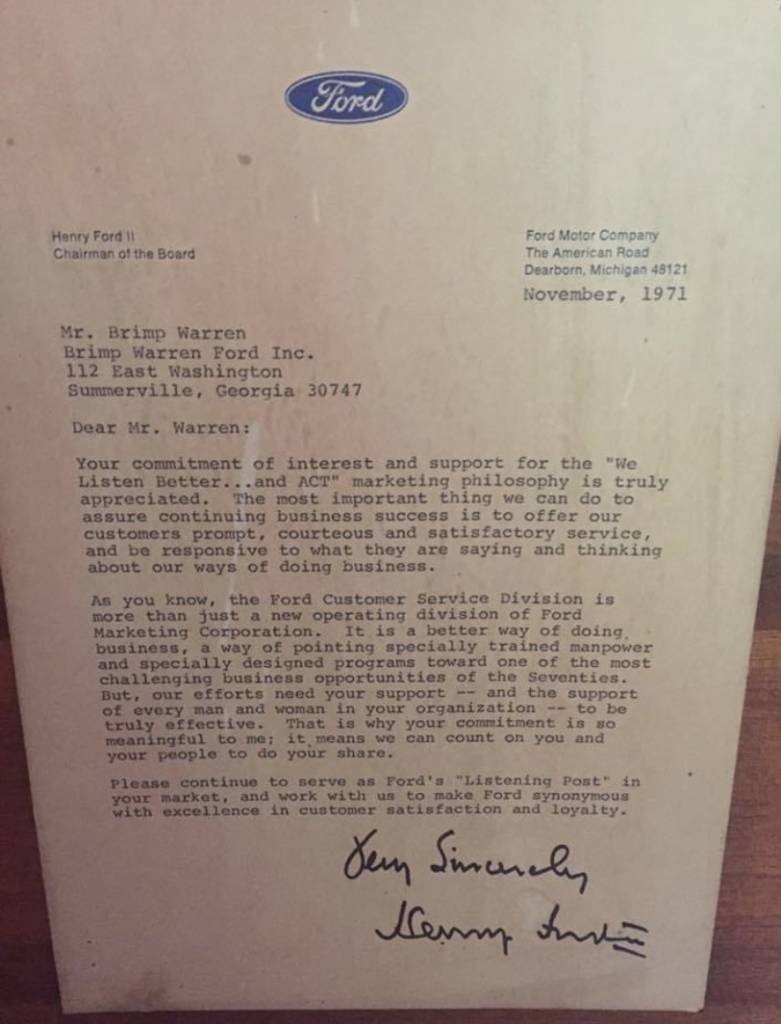 Brimp remains in good health at the almost century mark.
Happy 99th Birthday Mr. Warren, thank you for your service to our country and Chattooga County!!
Some photographs by T. Emmett Nunn. Courtesy of Chattooga County Library, and the family. Some details of car dealerships in the county came from Robert Baker's book, Chattooga: The Story of A County And Its People and http://chattoogaphotohistory.com