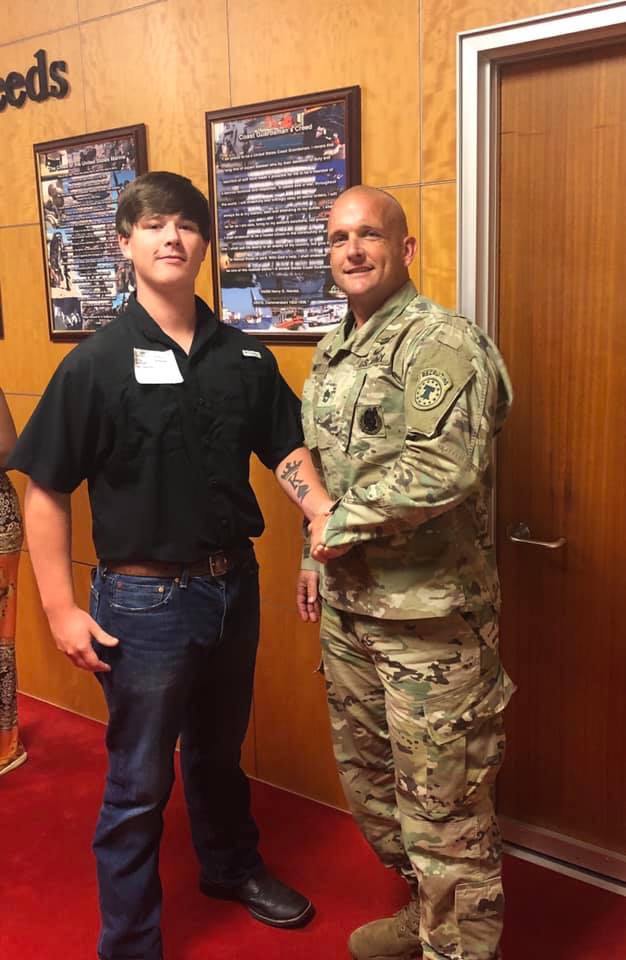 Chattooga High School continues to graduate patriots ready to join the United States Military forces around the world.
T.J. Worsham, Chattooga High School Class of 2019, is joining his father and cousin in serving his country through the armed forces. "I've always wanted to serve my country, and to serve my Lord and Savior and also to provide for my family," Worsham said.
T.J.'s father John Worsham served in Air Force and his cousin Tyler Hardin currently serves in the Air Force.
T.J. selected the Army and will do his basic training in Fort Benning in Columbus, Georgia. In preparation for the transition T.J. is currently exercising twice a day.
Army recruiters are tasked with not only finding men and women who are interested in the Army, but also helping them gauge whether military service is best for them. Recruiters also guide potential candidates through the enlistment process, making sure they have everything they need up until the moment a Soldier embarks on Basic Combat Training.
T.J.'s recruiter, Sfc. Christopher Wyatt, helped tailor the Army experience to fit T.J.'s needs and goals. "PVT Worsham said he joined the Army to be a protector and defender of freedom. The job he chose is the premier combat job, 11X Infantry," Wyatt said.
"I know when I spoke with him he didn't ask about himself receiving anything. He was all about family and infantry. I told him I was infantry and it is front lines. He looked me in the eye and said that's what I want. T.J. loves his family and this country. He's persistent and motivated. He will be a great Soldier," Sfc. Wyatt said.
T.J. will graduate from basic training 10 weeks from August 13th, which is his ship out date, not including holidays or weekends.
T.J. says his goals are to protect, and serve his country. "I want to fight for our country's  freedom, and our rights to stand for what we believe," Worsham said.
"Usually people say what can the army do for them. T.J. was more like about what he can do for his country," Sfc. Wyatt said.
T.J.'s wife's name is Katelyn Reasoner Worsham and he has one daughter, Adley Worsham.
He is the son of Donna Worsham and John Worsham.