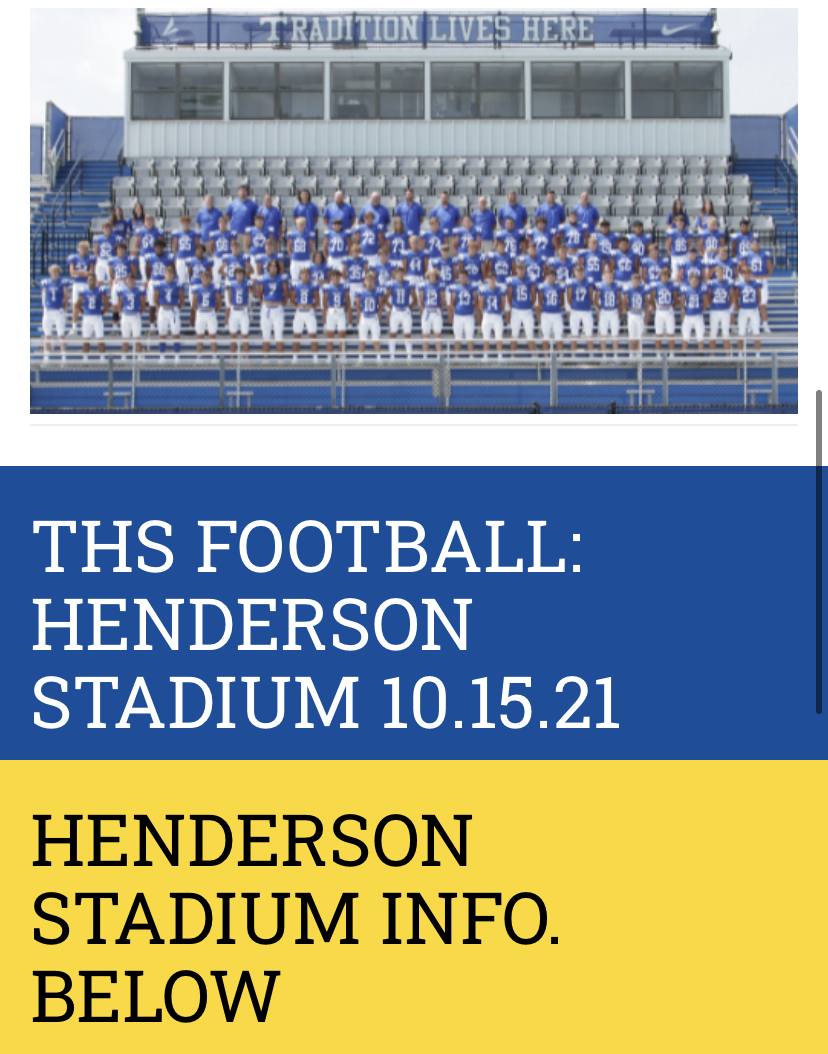 Visiting Team Information
Henderson Stadium
Atlanta, GA
CASHLESS Gate Entry – Tickets must now be purchase via the GOFAN APP. APS DOES NOT require nor accept any form of cash payment for event entry. Gates open one hour prior to kickoff. Cost $7.00 (regular season – 5 & under free), $8.00 per person (1stround), $10.00 (2nd round playoff games) – prices increase each round), GHSA passes only (+1). 
Entrance (visiting fans)–Please use parking in the 10th Street parking lot close to the tennis courts. There is additional fan parking on the 8th Street side of the building. DO NOT PARK IN THE TRADER JOE'S PARKING AREA, OR YOU WILL BE BOOTED/TOWED!!! 
Clear Bag Policy – To provide a safer environment for the public and significantly expedite fan entry into APS Athletic Venues, the office of Safety and Security has implemented the Operational Clear Bag Procedure that limits the Size and type of bags that may be brought into stadiums, gymnasiums, and other athletic fields. (See attached document)
Football Coaches/Players – Please refrain from eating sunflower seeds on the field.(Be reminded that your GHSA pass only gets in one additional person.)
Elevator – There is elevator access under the 10thStreet side of stadium entrance.
Buses and/or equipment vehicles–Football Teams: Please use the 10th Street entrance (Southeast side of stadium) next to Grady High School and back in by the Tennis Courts. Band buses: will drop off on the 10th Street side by the Tennis Courts and then park on the 8th Street side as instructed by gate worker).
Ice/Water – There is and ice machine on the home locker room side.
Electrical Outlets – Water and electricity access is available alongside the wall of the front of the stands (just outside edge of the track).
Band – Band will sit in the top right section of the stands.  For the safety of the spectators and band members, the band is asked to exit the stands at 4:00 minutes remaining in the 4th quarter.
Cheerleaders – Please be advised that on game days, cheer squads are only allowed to have TWO people on the track in addition to the active/uniformed cheerleaders. No other members of the cheer squad will be allowed on the track if they are not in uniform. All other spectators, students, managers/trainers, must be seated in the stands. There are to be NO alumni cheer group participating at any time. This is against GHSA Policy.
Sideline Participation/ Parental Involvement– Please note that only players, trainers, administrators, doctors, press, and coaches are allowed on the sidelines. Any sideline personnel must be either in uniform or easily identifiable with proper identification, credentials, etc. All other spectators are to remain in the stands. This is mandated, per Georgia High School Association, and becomes a liability issue if not properly handled. All coaches and administrators, we are asking that you do not bring your kids, friends, or relatives to the field of play at any time. Those individuals are to remain in the stands. Parents, guardians, or any other volunteers will not be allowed on the sidelines for any reason, at any time. Any exceptions will have to be approved by Senior APS Leadership in conjunction with the Department of Athletics.
Press/Media–Please let Grady Stadium personnel know if you need reserved space inside/outside of press box.  You will be allowed to cross the field, or enter/park on the 10th Street entrance. Grady Stadium – (404) 802-5575.