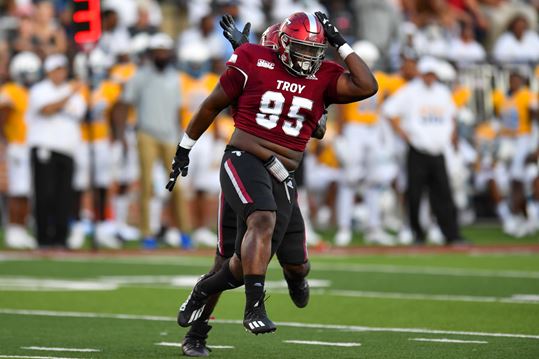 Troy's 55 points in Saturday night's lopsided victory over Southern University was impressive enough. But anyone paying attention to the Trojans' offensive production under Chip Lindsey likely wasn't shocked.


That was the seventh time Troy has scored 40 or more points in a game and the 16th time the Trojans had topped 30 points under Lindsey, who kicked off his third season and 24th game overall in Troy.
The more eye-opening aspect came on the right side of the 55-3 victory. Troy held Southern to just 189 yards of total offense, the fewest by an opponent since Campbell managed just 143 in the 2019 season opener. It was the fifth time since 2006 that the Trojans held an opponent under 200 yards of offense.
Junior cornerback Zion Williams had two of Troy's four interceptions, including a 19-yard pick-six that put the Trojans ahead 21-0 early in the second quarter. Linebackers T.J. Harris and Jayden McDonald also made interceptions.
Troy ranked fourth in the country with 76 interceptions since the start of the 2016 season going into the game. The total now sits at 80.
But it's more than creating turnovers. The Trojans have cashed them in, turning 16 of its last 18 opponent turnovers into points. For a unit mercilessly maligned just two years ago, it was a tremendous debut for the defense.
Maybe we should have seen it coming. Troy has held five of its last seven opponents to 20 points or fewer dating back to 2020. In those games, the Trojans have allowed an average of 10.6 points per game.
Lindsey insisted he wasn't surprised by the defense.
"I was really impressed with our defense. I've been impressed with our defense going against them every day," the head coach said. "We've got a lot of bodies, a lot of depth. I've been saying that and that shows up in the secondary as well as the D-line. (Defensive coordinator) Brandon Hall and his staff are doing a great job. They had a great plan and the players did a great job executing it."
Certainly Troy's experience standouts on defense, led by linebacker Carlton Martial and defensive tackle Will Choloh, is a big plus.
Troy held Southern to just 81 yards on the ground and improved to 7-0 under Lindsey and Hall when allowing less than 100 yards rushing. The Trojans also are 22-1 since 2004 in games where it has a plus-three turnover margin.
As fast a start as the offense enjoyed – with touchdowns on four of its first five possession – the defense was just as dominant. Southern's first-half possessions ended punt, punt, interception, field goal, interception, interception.
"In our D-line room, we talked about it," freshman nose tackle Luis Medina said. "We didn't want to stay on the field any longer than three plays. We locked in. Me and Choloh came together and was like, 'Hey, let's get a three and out.' The rest of the defense fell in place and we did our thing and got off the field."
Lindsey said Medina, who played last year as a true freshman, has continued to improve.
"He's one of the more mature freshmen we've had come in," the head coach said. "Now, this is his second year but he's still a freshman, the way the class is. He's a fast-twitch guy, can get off the football, very powerful, a high school wrestler. He plays extremely hard. He's active. You always see him in the backfield. I was really pleased with how that whole D-line played."
Medina and Choloh each recorded a sack. Choloh and Kyle Nixon led the Trojans with five tackles each. Martial added four stops, including a tackle for loss. Martial moved into a tie for fourth place on Troy's list with 38 career tackles for loss. He now is a half tackle behind Osi Umenyiora for third place.
The cornerback Williams had a longer adjustment.
"I'm really proud of Zion. He's matured a lot since he got here," Lindsey said. "Last year was his first year as a transfer and in the COVID situation. He got here late and all that. It took him a while to get into a rhythm."
Williams and Medina talked about the energy Troy players got from the home crowd.
"Honestly, when I first came out there it was just different," Williams said. "Seeing all the students and the fans being out there was a plus for us. Being back home for that first game and getting that energy back, it was really good for us."
Medina, too, seemed pumped up by the crowd.
"It really boosted up the energy, for real," said the Summerville, Ga., resident. "That's my first time seeing the stands really packed. I came in when it was COVID, so it was kind of like … it wasn't that. That really was amazing seeing all the fans come out and supporting us."
Lindsey noted that for first- and second-year Trojan players it was their first "real" home experience.
"At the Trojan Walk, I could hear them just pulling up on the buses and guys saying, 'Wow, look at that,'" the head coach said. "All that stuff's important. It makes the home-field advantage a big deal for us. Thanks to our fans and our students. Our students are awesome. They're loud, they're into the game and they know football. Really, a big shoutout to the atmosphere that we had tonight – based on our students and our ticket holders and the fans that were here tonight."
via: Troy