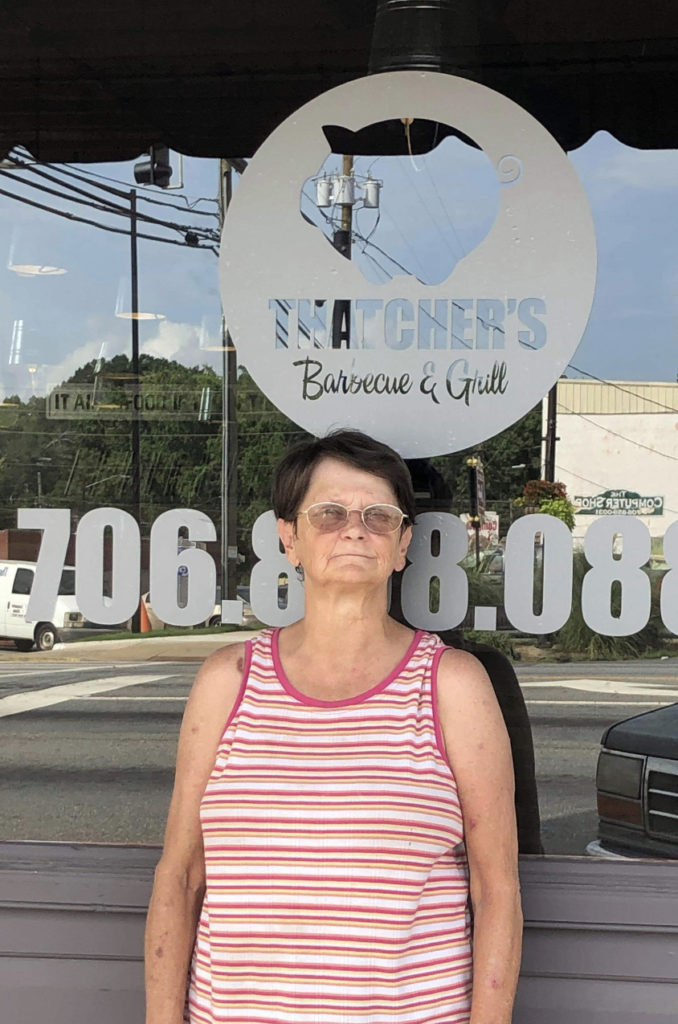 Thatcher's BBQ will open their newest location in Summerville, Georgia on Thursday, July 18th in the old Jackson Drug Store building.
While Thatcher's will be serving up a new variety of BBQ, a familiar face will be delivering it, the beloved waitress, Debbie Brown.
Since Armstrong's shuttered their doors in September of 2017, Debbie has been working at CJ's in LaFayette. She spent decades at the iconic Chattooga County BBQ joint where she waited on just about everyone in the county. She is excited that she will not be making the tiresome commute to Walker County any longer and told AllOnGeorgia  that she has missed her Chattooga County customers very much and she is "… tickled to death" to be back serving BBQ and sweet tea to county residents. Despite Debbie's 40 years of experience as a waitress, she will be joining other Thatcher's staff to complete a two week training program prior to starting work at Thatcher's.
Debbie will be working Tuesdays, and Saturdays and Thursday and Friday evenings at Thatchers after her two week training is completed.
Thatcher's hours will be Tuesday thru Saturday 11 a.m. to 9 p.m.
Owner John Thatcher told AOG the restaurant is still hiring, "right now we need two fry cooks and a day shift dish washer, also we need a night shift line cook." To apply for a job click HERE. 
As far as what Chattooga County residents can expect for the inside of the historic building, Thatcher says, "the dining room… we are keeping it simple and keeping the old exposed brick." The structure went on to become Jackson Drugs which is what most residents remember it as. Thatcher plans on adding other rustic elements to maintain his BBQ theme. "We use rusted barn tin from a barn in Calhoun, Ga on other parts of the walls. It will have the booths and tables, of course, with a bar at the server area." Thatcher went on to remind patrons that the restaurant will be a family friendly environment. "No alcohol will be served, so the bar is like the Waffle House bar that you watch kitchen and servers work."
The menu will be the same as the other Thatcher's BBQ restaurants with daily specials listed on a board.
Initially, the restaurant dining area will be on located on the main floor.
As the oldest building on Commerce Street, the Arrington Drug Building is an iconic landmark structure in Chattooga County. Built in 1896, Arrington Drug Store eventually sold and became Jackson Drugstore in the early 1900's and operated over a span of three generations.