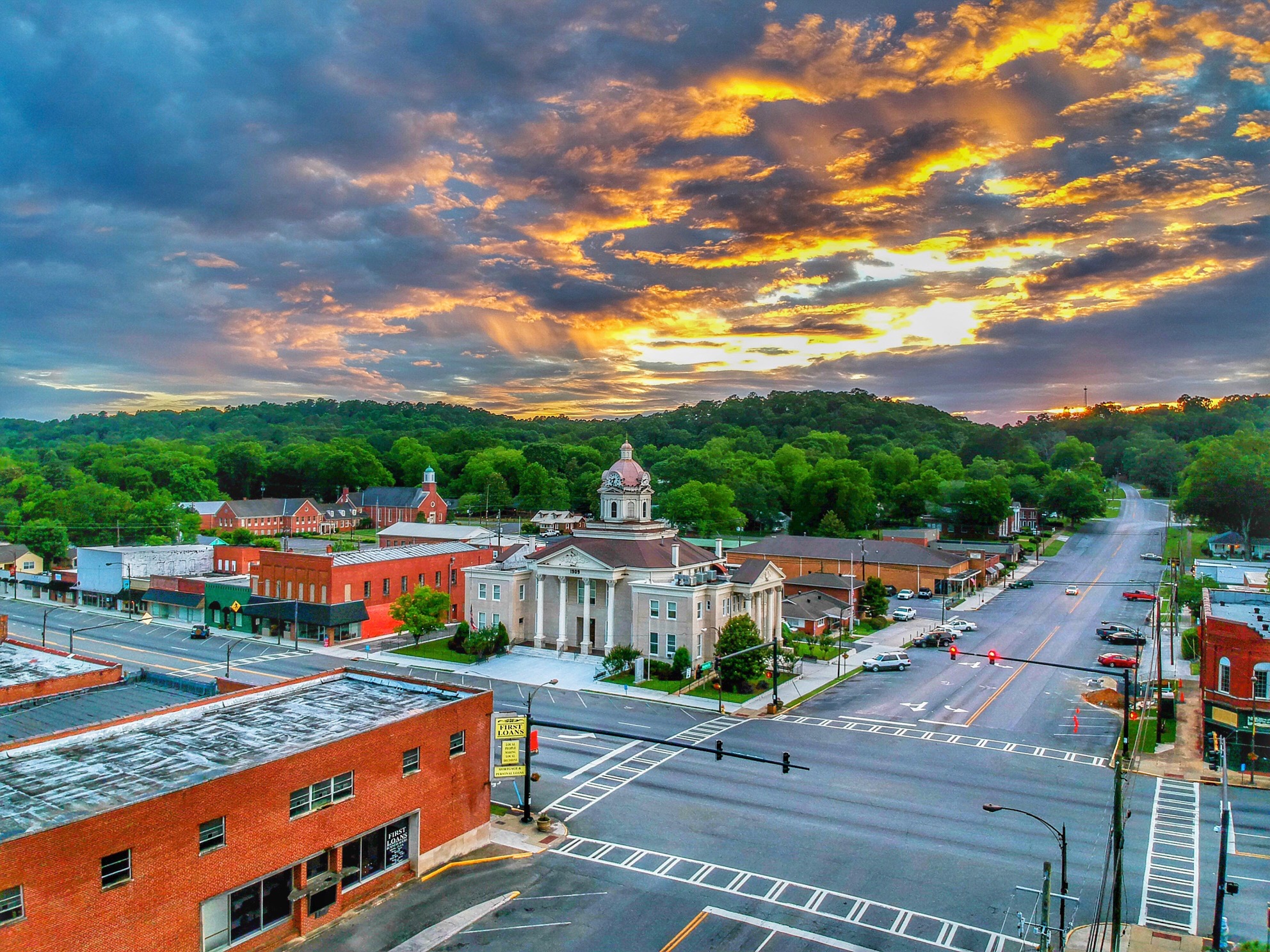 The Smithsonian's Museum on Main Street, in cooperation with Georgia Humanities, presents "Crossroads: Change in Rural America." The exhibition examining the evolving landscape of rural American opens at the historic Summerville Depot on March 7. "Crossroads" will be on view through April 18.
The historic Summerville Depot and the surrounding community has been expressly chosen by Georgia Humanities to host "Crossroads" as part of the Museum on Main Street program—a national/state/local partnership to bring exhibitions and programs to rural cultural organizations. Summerville was selected as one of six host communities in Georgia.

"Crossroads" explores how rural American communities changed in the 20th century. From sea to shining sea, the vast majority of the United States landscape remains rural with only 3.5% of the landmass considered urban. Since 1900, the percentage of Americans living in rural areas dropped from 60% to 17%. The exhibition looks at that remarkable societal change and how rural Americans responded.
Americans have relied on rural crossroads for generations. These places where people gather to exchange goods, services,and culture and to engage in political and community discussions are an important part of our cultural fabric. Despite the massive economic and demographic impacts brought on by these changes, America's small towns continue to creatively focus on new opportunities for growth and development.
"'Crossroads' allows us to reflect on Summerville's and Chattooga County's history, present and future and we are excited to explore what the future may hold for our community," said Susan Locklear, Summerville Main Street Manager, and Site Director. "We want to convene conversations about what makes our community unique and have developed local exhibitions and public programs to complement the Smithsonian exhibition."
The public is invited to the March 7 Opening Day for the exhibition. This special day will include a Grand Opening Ceremony on the county courthouse steps beginning at 11:00 a.m. with special welcomes from dignitaries, performances by the Chattooga High School Band and Chorus, and a presentation of the colors by Summerville's Troop 7, Boy Scouts of America.A Ribbon Cutting Ceremony is set to begin at 12:00 p.m. at the Summerville Depot. Representatives from Georgia Humanities, The Smithsonian Museum, USDA Rural Development, and area dignitaries will speak. Following the Ribbon Cutting, there will be performances by the Chattooga Chorus and Band. The CoueyHouse will be open for tours by "Ms. Couey" from 12:45-2:15 p.m. Gary McConnell will present a talk entitled "A Lifetime of People in Chattooga County" inside of the depot from 1:30 p.m.– 2:00 p.m. followed by a book signing. A special Art and Photography Show will be held at the Civic Center 11:00 a.m. –3:00 p.m. and an art opening at Paradise Garden entitled "Summerville Collects: Local Treasures by Howard Finster"opening from 2:00 p.m. – 4:00 p.m. A guided tour of the Historic Photo Window Clings in downtown Summerville is scheduled for 1:30 p.m. that will begin at the Summerville Depot.  Tickets will be sold at the Summerville Depot for 1.5 hour train excursions departing from and returning to the Summerville Depot. Ride times are 10:00 a.m. 12:00 noon 2:00 p.m. and 4 p.m. Adult tickets $19 and children ages 2-12 $13.
Special themed weekends will offer learning, entertainment, and fun. Themes for the 6 weekends include "Arts All Over" March 7-8, "Music of Rural America" March 14-15, "Old Fashioned Weekend" March 21-22, "Spotlight on Culture" March 28-29, "Agriculture Weekend" April 4-5, "Egg Stravaganza" April 11, and "All American Weekend" April 17-18. The public is invited to a Special Grand Opening Ceremony and Ribbon Cutting on March 7, beginning at the County Courthouse at 11:00 a.m. Art shows, artists, and storytelling on site and live musical performances will highlight the weekend. Train rides by the Tennessee Valley Railroad Museum will be available each weekend. The exhibit will be open to the public Tuesday-Thursdays 11:00 a.m. -6:00 p.m. Fridays 3:30 p.m. – 7:30 p.m. Saturdays 10:00 a.m. – 3:00 p.m. and Sundays 12:00 p.m. – 5:00 p.m. Special extended museum hours until 4:00 p.m. will be offered  for train excursion passengers on March 7, 14, and 21.
For more information on exhibition special attractions, activities, and events visit Crossroads: Change in Rural America @ the Summerville Depot GA Facebook page.