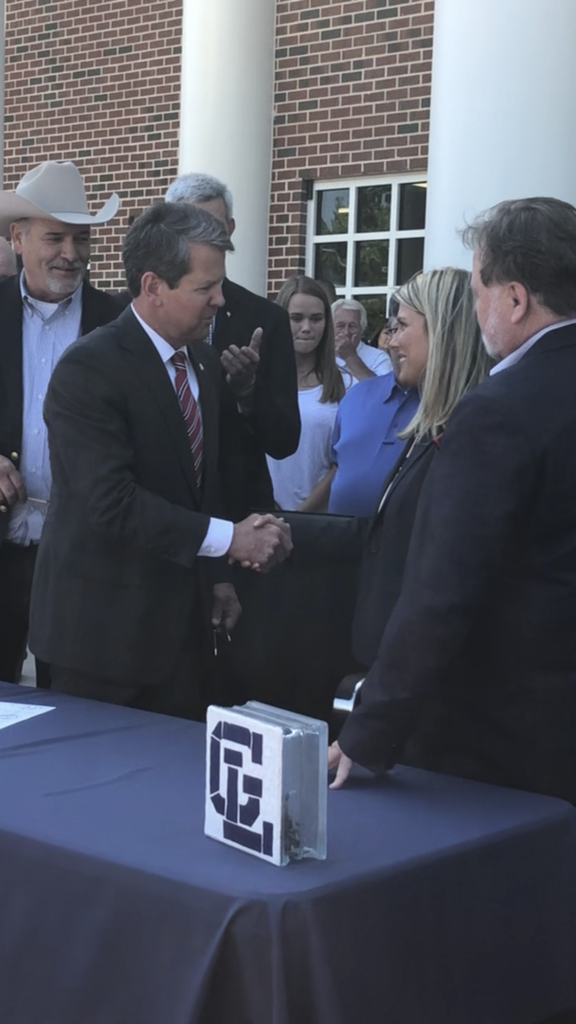 Friday afternoon, April 26th, Georgia Governor Brian P. Kemp traveled to the northwestern corner of his state to sign several pieces of legislation at the historic Gordon Lee High School in Chickamauga.
Among the bills on his agenda was SB216, inspired by Chattooga County Tax Commissioner Joy Hampton. During the course of her campaign in 2016, Hampton heard several residents in her county searching for non-traditional options to pay their property taxes. At the top of their wish list was an avenue to begin paying those taxes early.
"During my campaign in 2016, I was asked by several citizens to make it possible for them to make payments earlier, so that they could pay with income tax refunds or spread their payments out over several months to have them paid on time." said Hampton. "I promised them I would look into it. I started making calls as soon as I took office in 2017. After many talks with department of revenue, the county commissioner and past and present legislators, I came to the realization that I would have to change the law."
By late 2018, Hampton had collected around 30 signatures from citizens supporting the measure, and began having serious talks with State Senator Jeff Mullis about the next steps. "He put me in touch with legislative counsel at the beginning of 2019, and had the bill drafted." Hampton explained. She didn't have to look far to find a sponsor for her new bill either. "Senator Mullis sponsored SB216, where it passed the senate and house unanimously, and was signed by the Governor Friday."
"This is a great idea," Governor Kemp said about the bill.
Hampton was beaming with pride at the signing ceremony and excited for her constituents that the legislative process was so smoothly implemented in this case. "I am overjoyed that I was able to do something my citizens have been asking me for during my first term in office. My job is to serve my citizens, and I am excited that I was able to be their voice for this request." Hampton took time to personally thank those that guided and assisted her along the journey bringing this bill from concept to law. "I do want to thank Jeff Mullis, Eddie Lumsden and Governor Kemp for helping me to serve my citizens."
SB216 goes into effect on July 1.
186925

Governor Brian Kemp gave Hampton the pen he used to sign the bill into law.
In addition to SB216, Governor Brian P. Kemp signed SB 77, HB 33, HB 101, HB 490, and HB 551 at Gordon Lee High School in Chickamauga, Georgia with many legislators, local leaders, and members of the public in attendance.