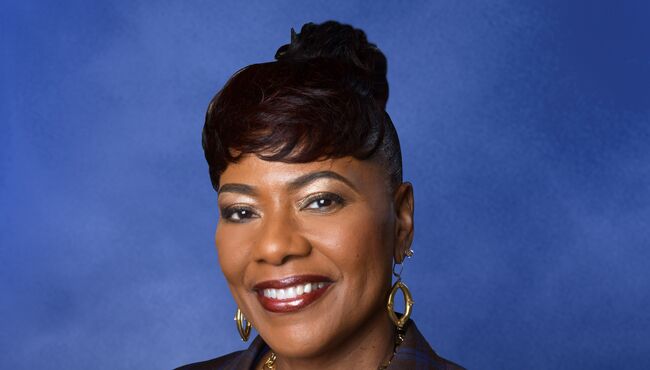 Berry College invites the community on (Thursday, Sept. 7 to a conversation with the Rev. Dr. Bernice A. King, CEO of the Martin Luther King Jr. Center For Nonviolent Social Change.

Dr. King will speak at 6 p.m. Sept. 7 in the Berry College Chapel. The event titled "Beloved Community; In The Midst Of Chaos" is a conversation between Dr. King and Story Church Atlanta Pastor Sam Collier.
Tickets are sold out for the college chapel, but Berry is simulcasting the event in the Krannert Ballroom which is free and open to the public but tickets must be secured in advance at https://alumni.alwaysberry.com/simulcast-with-dr-king.
Audience members in the simulcast will be able to participate in a question-and-answer session as well as Dr. King's book signing afterwards at the Campbell School of Business.
"Building the Beloved Community, which my father labeled as the aftermath of nonviolence, relies heavily on a personal commitment to the study of Kingian nonviolence philosophy and methodology.  Today, we see evidence that my mother and father's teachings on love, human dignity, justice, and equality must be transcendent.
"Regardless of our religious, cultural, and political differences, we must first make a personal commitment to strive daily to create cultures of belonging, where we can truly live together as brothers and sisters.  This is still our hope.  I look forward to sharing this hope and commitment with the Berry College Community and Pastor Sam Collier," she said.
The Berry College Office of Diversity and Belonging formed a partnership with The King Center in Atlanta last year to offer programs of love, restorative justice, and inclusion for the Berry community.
Dr. Bernice A. King, the daughter of Rev. Dr. Martin Luther King Jr. and Mrs. Coretta Scott King, is a global thought leader, strategist, solutionist, orator and peace advocate. As CEO of The King Center, she continues to advance her parents' legacy of nonviolent social change through policy, advocacy, research, as well as education and training through the Kingian philosophy of nonviolence, which she re-branded Nonviolence365™️ (NV365).
Under her leadership, The Center has implemented numerous initiatives reaching over 500,000 people around the world, including the Beloved Community Leadership Academy, Students with King, NV365 Education & Training, and The Beloved Community Talks, a courageous conversations platform about the difficult racial and social justice issues impacting our world.
She received Doctor of Law and Master of Divinity degrees from Emory University, and a bachelor's degree in psychology from Spelman College. From 1990 -1992 she served as a law clerk for Chief Judge Glenda Hatchett of The Fulton County Juvenile Detention Court. She served for seven years as an assistant pastor of Greater Rising Star Baptist Church in Atlanta where she organized and developed several new ministries.
In 2007, she established the Be A King Scholarship in honor of her mother at Spelman College. King spearheaded the 2013 "Let Freedom Ring" event commemorating the 50th Anniversary of The March on Washington and her father's "I Have a Dream" speech. The global event included President Barack Obama, and former Presidents Bill Clinton and Jimmy Carter, members of Congress, as well as international leaders, dignitaries and entertainers.
King is the recipient of two Phoenix Awards, one from The City of Atlanta and one from The Congressional Black Caucus Foundation. She also has an honorary Doctor of Divinity degree from Wesley College and Clinton College, an honorary Doctor of Humane Letters from Spelman College and an honorary Doctor of Laws degree from Grinnell College.
Global professional services company GHD is a sponsor of this event, the second of several events this year developed by the Berry College Office of Diversity and Belonging. The GHD Foundation is partnering with Berry to focus on diversity initiatives and internship/employment development that also includes future events with The King Center.
"GHD believes in giving back to the communities in which we live and love. Being a part of this extraordinary event and collaborating with Berry College and the King Center is deeply meaningful to our employees, clients and values. We are looking forward to a dynamic night of learning, sharing and open dialogue," said Steven Davie, GHD General Manager for the Southeast.
Georgia Power is also a sponsor of the event.
About GHD  GHD is a leading professional services company operating in the global markets of water, energy and resources, environment, property and buildings, and transportation. Committed to a vision to make water, energy and communities sustainable for generations to come, GHD delivers advisory, digital, engineering, architecture, environmental and construction solutions to public and private sector clients. Established in 1928 and privately owned by its people, GHD's network of 11,000+ specialists are connected across more than 160 offices located on five continents.
About GHD Foundation  Established by GHD in 2020 and constituted as separate charitable companies, the GHD Foundation works to help build resilient communities globally by tackling the foundational issue of access to education for all. It funds impactful, outcome-driven Science, Technology, Engineering, the Arts and Mathematics (STEAM) education and employment programs to widen participation to those who are underrepresented in these vital fields.
About Georgia Power Georgia Power is the largest electric subsidiary of Southern Company (NYSE: SO), America's premier energy company. Value, Reliability, Customer Service and Stewardship are the cornerstones of the company's promise to 2.7 million customers in all but four of Georgia's 159 counties. Committed to delivering clean, safe, reliable and affordable energy, Georgia Power maintains a diverse, innovative generation mix that includes nuclear, coal and natural gas, as well as renewables such as solar, hydroelectric and wind. Georgia Power focuses on delivering world-class service to its customers every day and the company is recognized by J.D. Power as an industry leader in customer satisfaction. For more information, visit www.GeorgiaPower.com and connect with the company on Facebook (Facebook.com/GeorgiaPower), Twitter (Twitter.com/GeorgiaPower) and Instagram (Instagram.com/ga_power).