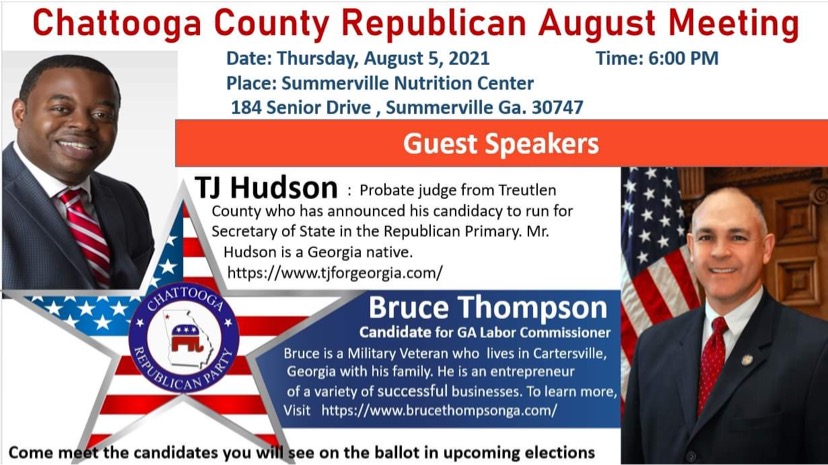 Two candidates seeking statewide office in Georgia are set to address the next meeting of the Chattooga County Republican Party.  T.J. Hudson is running for Georgia Secretary of State and former state senator Bruce Thompson is a candidate for Georgia Labor Commissioner.
Thompson is from Cartersville and says the Georgia Department of Labor has been completely mismanaged and has failed the citizens of Georgia under the leadership of current Republican Labor Commissioner Mark Butler.
Thompson says, "It's time for fresh ideas, new leadership, and a solution-oriented approach to cut through the bureaucratic red tape, empower small businesses in our state and get hardworking Georgians the benefits they deserve".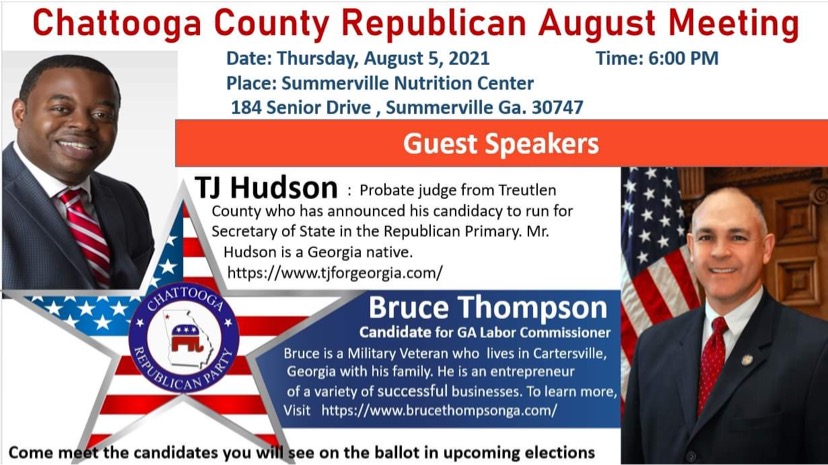 Hudson is the latest Republican candidate to join the race to unseat Secretary of State Brad Raffensperger with a campaign that will emphasize his experience supervising local elections.
T.J. Hudson has 17 years running elections, he recently  resigned as Treutlen County's probate judge and formally announced his race for a statewide post, joining U.S. Rep. Jody Hice and former Alpharetta Mayor David Belle Isle as candidates in the GOP primary.
Hudson and Thompson are scheduled to be at the next Chattooga GOP meeting coming up Thursday, August 5th at 6 PM at the Chattooga Nutrition Center on Senior Drive in Summerville.
Chattooga County Republican Meeting
Place: Summer Nutrition Center ,
184 Senior Drive , Summerville Ga/ 30747
Guest Speakers:
TJ Hudson : Candidate for Secretary of State
Bruce Thompson : Candidate for Georgia Labor Commissioner