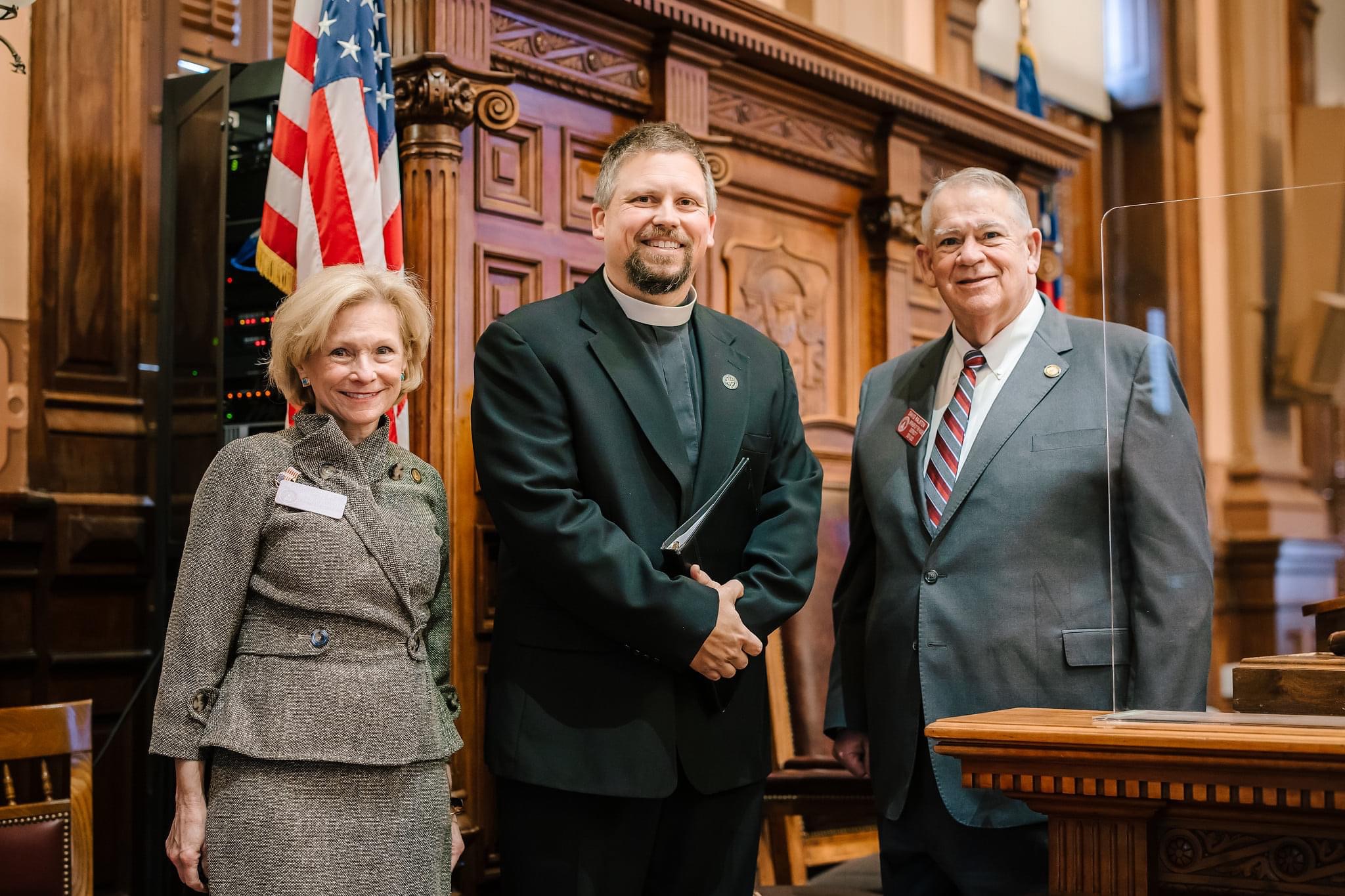 State Representative Katie Dempsey (R-Rome) welcomed Father Austin Goggans, first vicar and parish priest at St. Andrew's Anglican Church in Rome, Georgia, as he served as the "Chaplain of the Day" for the Georgia House of Representatives on Tuesday, February 9, 2021.
"Father Goggans is a minister to many in my hometown," said Rep. Dempsey. "He lives faithfully with commitment for serving the Church and our community.  I am especially touched by his dedication to students in Floyd County, where Father Goggans has impacted children's lives as a teacher and coach. It was an honor to host Father Goggans as one of our Chaplains this week, as well as share with the Georgia House just one of the amazing residents who lives in House District 13."
As Chaplain of the Day, Father Goggans gave a brief sermon and led the House in prayer and the pledge of allegiance before the House took up legislative business on Legislative Day 14 of the 2021 session.
A long-time resident of Floyd County, Father Austin Goggans and his wife, Leigh, planted St. Andrew's Anglican Church in 2010. Father Goggans is bi-vocational and has been a Floyd County public school teacher for 22 years. He currently works as a self-contained special education teacher. He serves 6-8th grade students with emotional and behavior disorders at Armuchee Middle School, where he has also coached football, track, cross-country running and basketball.
Father Goggans is a 1995 graduate from Pepperell High School. He received an undergraduate degree from Shorter College and a graduate education degree from Jacksonville State University. He received his Master of Arts in Ministry from Nashotah House Theological Seminary, which is an Anglican and Episcopal seminary in Wisconsin.
Father Goggans and Leigh live in Rome with their two sons, Thomas and Ethan, who have also served in the House Page Program for Rep. Dempsey.
To watch a video of Speaker David Ralston (R-Blue Ridge) and Rep. Dempsey's introductions for the morning, as well as Father Goggans' sermon, prayer and pledge in the House Chamber, please visit: https://bit.ly/3p6999L
Representative Katie Dempsey represents the citizens of District 13, which includes portions of Floyd County. She was elected to the House of Representatives in 2006 and currently serves as Chairman of the House Appropriations Subcommittee on Human Resources. She also serves on the Economic Development & Tourism, Energy, Utilities & Telecommunications, Health & Human Services, Higher Education, Rules and Transportation committees.