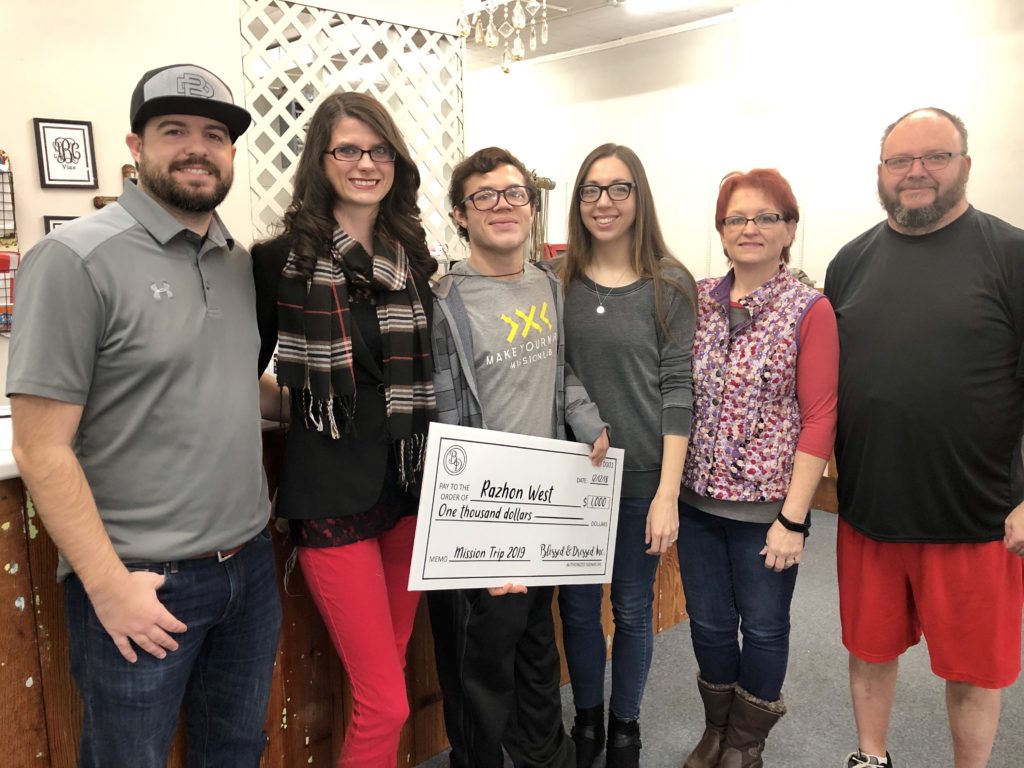 The Chattooga High School Chorus, led by Jason Hall, spent Wednesday morning spreading some Christmas cheer by visiting local businesses in the downtown Summerville area. One stop on the carol route proved to be extra special for Chattooga chorus member, Razhon West.

It was late spring of 2018 when Savannah and Lann Pledger, owners of Blessed and Dressed, met West. If you live or visit Summerville often you have most likely seen Razhon walking around town, with his distinct limp.
"He had come to Blessed & Dressed looking for a luggage bag to purchase," explained Savannah Pledger. "After speaking with him about the bag, he shyly asked me if I would mind if he left a donation jar on our counter." At this moment Savannah felt a strong presence. "GOD touched my heart and I felt compelled to help him." She inquired about what the donations would go for and he excitedly begin describing a mission trip he was was planning in Guatemala. His spirit and passion for the trip moved Pledger to her very soul.
Savannah told Razhon she would love to work with him and teamed with her graphic designer, Emily Hix, to create the 'perfect t-shirt for him to sell to raise money'. "He was so thankful that we cared enough to take the time to help him and it not cost him anything," recalls Savannah. "He came several times and worked very hard to save the money to pay for his travel bag. Blessed & Dressed provided him with t-shirts and scripture necklaces to sell in order for him to raise money for his mission trip.
But Savannah still had an urge to do more for Razhon. "I talked to my husband, Lann, and told him that I felt GOD was calling us to help Razhon, but I didn't know how because we didn't have the money to give him. I did know though, if GOD called us to do it, he would provide."
Savannah began to pray for Razhon. "He did not realize it, but him believing in what could not be seen took great faith. He put his faith into action the day he came in to purchase his travel bag." Razhon has worked hard to try and save money, but with expenses of school and other activities he hasn't been able to save enough for the mission trip.
"He came in a few weeks ago, nervous and starting to get afraid he wasn't going to be able to raise the money in time. He was asking if I knew anywhere he could work or anything he could do," said Pledger. She could sense the fear and apprehension in his face and tried to calm him. "I told him, 'Razhon where is your faith? You just need to ask GOD and believe and trust he will provide.'"
At this point, Razhon had no idea that GOD already had provided. Through a portion of their tithing from the recent sale of their home, the Pledgers had determined that it was God's will to help to send West on his mission trip. Savannah had Emily design a check and surprised him after the chorus sang at the business.
https://www.facebook.com/Casie.M.Bryant/videos/2184526008258070/
"This is Razhon's story but we all have a story to tell. GOD is good all the time and to him be all the glory!" exclaimed Savannah. "Lann and I and our workers, Emily Hix and Richard and Pam Foster, are honored and blessed that GOD is using us to help Razhon, bringing honor and glory to GOD's name. The scripture Luke 17:6 Truly I tell you, if you have faith as small as a mustard seed, you can say to this mountain, move from here to there, and it will move. Nothing will be impossible for you. James 2:17 Faith by itself, if not complemented by action is dead."
The Pledgers feel that faith was strong enough to bring this goal to realization. "Razhon had faith GOD would send him on this mission trip to Guatemala and the Lord provided in a huge way and touched many hearts in the process. Lamentations 3:22-23 The steadfast love of the Lord never ceases; his mercies never come to an end; they are new every morning; Great is thy faithfulness."
It's touching to know people do things not for praise but out of the goodness of their hearts.