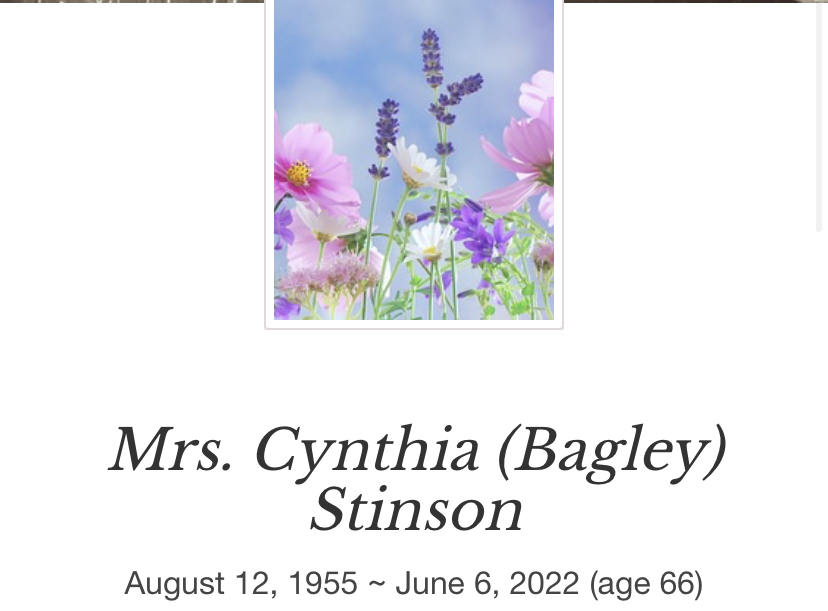 Mrs. Cynthia Bagley Stinson, age 66, of Summerville, GA, died Monday, June 6, 2022, at her residence.

Mrs. Stinson was born August 12, 1955, in Summerville, GA, daughter of the late James Claude and Frances Elrod Bagley.  She was a member of Horizon Baptist Fellowship, and prior to her retirement, was employed as a teacher with the Chattooga County School System.  She was also a member of the "Main Street Girls," a local volunteer beautification group.
In addition to her parents, she was preceded in death by her husband, Ricky Stinson; and a son, Justin Stinson.
Survivors include her sons, Bryan Stinson and Chris Stinson; brother, Jim Bagley; sister, Claudia Bagley; grandchildren, Nolan and Logan Stinson; and nieces and nephews, Ben Dotson, Anna Dotson, Thomas Dotson, and Jacob Dotson.
A memorial service will be held at a later date at Horizon Baptist Fellowship.  Rev. John Paul Harris will officiate.
In lieu of flowers, the family respectfully request donations be made to Horizon Baptist Fellowship (P.O. Box 59 – Summerville, GA 30747).