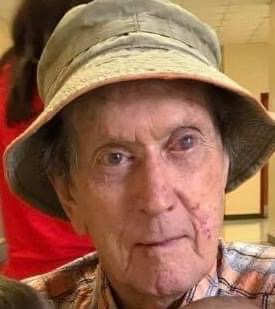 Mr. Joseph Daniel Cook, or Daniel as he was known and loved by so many, passed away Friday, September 16, 2022, surrounded by his loving family at his beloved brother's home in Rome, GA.

Mr. Cook was born in Chattoogaville, GA, on April 28, 1940, and was raised on the family farm.
Mr. Cook attended the Darlington School in Rome, GA, where he graduated and also became a state wrestling champion. He then attended the University of Alabama and graduated with a degree in Mathematics. Coming home to teach at Gaylesville High School and Chattooga High School for many years, he was well known for his funny antics in his way of teaching. If he could make you laugh and learn, it was more fun.
Mr. Cook then founded and ran Cook's Scrap Metal for many, many years. He held the office of Mayor of Lyerly, GA, his beloved hometown.
Mr. Cook was also known for his passion of antiques; he traveled all over and bartering was one of his favorite things in the world to do. "There's always a deal to be found," he would say.
Mr. Cook was preceded in death by his father, Joseph Cook and mother, Odessa VanPelt Cook; his daughter, Sharon Cook Edwards; and his beloved brother, Dr. Charles David Cook.
Mr. Cook leaves behind his son, Johnny Cook; daughter, Lisa Cook; son, Gordon "Chip" Cook; son, Lloyd "Eddie" Cook; and their loving mother, Theresa Cook; grandchildren, Joe Cook, Lauren Edwards, Seth Edwards, Daniel Cook, Dewayne Cook, Kayla Gordy, and Leight Cook; as well as 17 great-grandchildren. Mr. Cook is also survived by a hometown that he loved and by many great friends.
His brilliant intelligence, wit, and candor is exceeded only by his love and loyalty to those he cared for. He will truly be missed and greatly appreciated in the hearts and minds of those he touched, an imprint cherished by us all. May he forever make us laugh and continue to teach us.
In accordance with his wishes, no formal services are planned at this time.
In lieu of flowers, please make a donation to the charity of your choice, or to the scholarship fund set up in honor of his brother, Dr. Charles David Cook. To make contributions or to learn more, please visit www.highlands.edu and click on "Give Today." Donations may also be made via check (made payable to Georgia Highlands College Foundation) and mailed to 3175 Cedartown Highway, Rome, GA 30161, with the memo line "David Cook Scholarship."