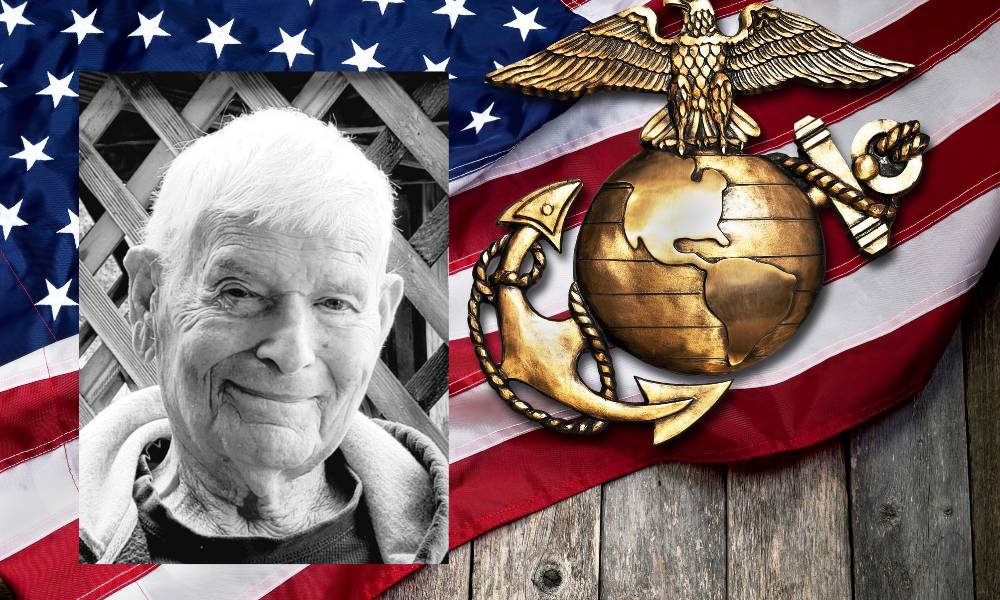 Mr. William "Billy" F. Locklear, Sr., age 96, of Summerville, GA, died Tuesday, August 31, 2021, at his residence.

Mr. Locklear was born August 7, 1925, in Fort Payne, AL, son of the late Earnest and Rosetta Craig Locklear. He worked in the mill as a young man and in 1943, he joined the United States Marines. PFC Locklear served from 1943 until 1945 as a rifleman in the 4th Marine Division. He received his basic training in California and was on his way to Iwo Jima when they were told that they were going to stop by a little island called "Saipan." He was in combat for 23 days where he was wounded and hospitalized for 8 months. Mr. Locklear was awarded the following for his service: Expert Rifleman's Badge, Pacific Theatre Medal, Purple Heart, and Presidential Unit Citation from President Roosevelt. PFC Locklear was Chattooga County's only survivor of the Battle of Saipan.
After his military service, Mr. Locklear returned home to Chattooga County. He and his wife, Ruth, were married for over 67 years. Mr. Locklear has been a son, a brother, an uncle, a Mount Vernon Mills (weave room) worker/supervisor, a proud United States Marine, a husband, a father, an insurance salesman, the owner of Trion Cleaners for 15 years, a maintenance supervisor for the Town of Trion, an active community supporter, a member of Trion First Baptist Church, and spent years greeting residents and guarding the dump on Highway 48. Of all the roads he has traveled and roles he has held, the dearest and most treasured role was that of being "Pop" to his grandchildren Joseph and Kathryn. Mr. Locklear has always been proud to call Chattooga County his home.
In addition to his parents, Mr. Locklear was preceded in death by his wife, Ruth Morrison Locklear; brother, Ben Locklear; sister, Eloise Bentley.
Survivors include his son and daughter-in-law, William "Bill" F. Locklear, Jr. and Dora Locklear; grandchildren, Joseph Locklear, Kathryn Locklear, and Madeline Rismiller; sister, Earnestine Plummer; and close friend, Robert "Bobby" Daniel.
Due to the current health concerns for the community, graveside and interment services will be held privately.
In lieu of flowers, the family respectfully requests donations be made to the Alzheimer's Association (www.alz.org) or the Semper Fi and America's Fund (www.semperfifund.org).