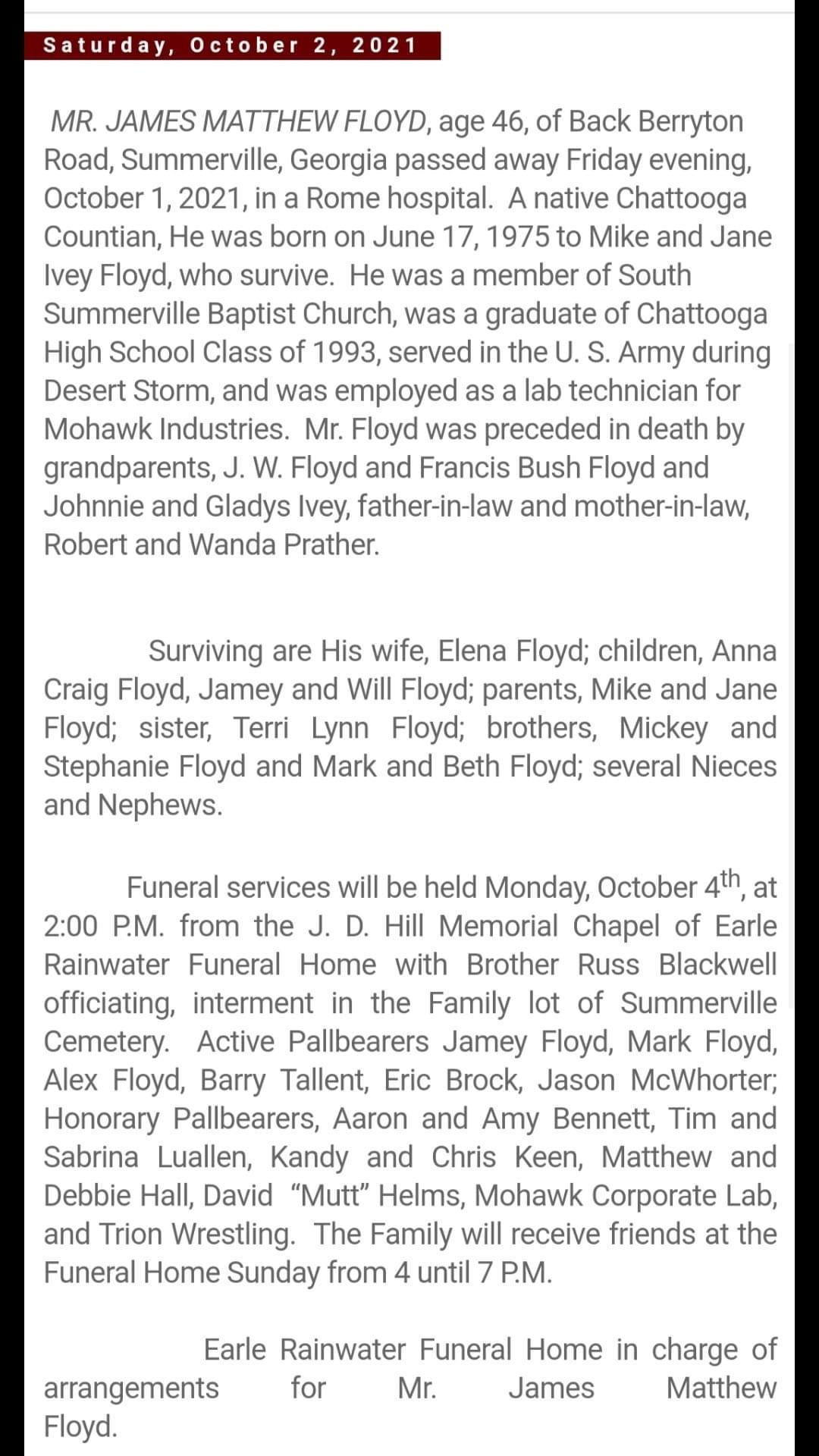 JAMES MATTHEW FLOYD, age 46, of Back Berryton Road, Summerville, Georgia passed away Friday evening, October 1, 2021, in a Rome hospital.  A native Chattooga Countian, He was born on June 17, 1975 to Mike and Jane Ivey Floyd, who survive.  He was a member of South Summerville Baptist Church, was a graduate of Chattooga High School Class of 1993, served in the U. S. Army during Desert Storm, and was employed as a lab technician for Mohawk Industries.  Mr. Floyd was preceded in death by grandparents, J. W. Floyd and Francis Bush Floyd and Johnnie and Gladys Ivey, father-in-law and mother-in-law, Robert and Wanda Prather.
Surviving are His wife, Elena Floyd; children, Anna Craig Floyd, Jamey and Will Floyd; parents, Mike and Jane Floyd; sister, Terri Lynn Floyd; brothers, Mickey and Stephanie Floyd and Mark and Beth Floyd; several Nieces and Nephews.
Funeral services will be held Monday, October 4th, at 2:00 P.M. from the J. D. Hill Memorial Chapel of Earle Rainwater Funeral Home with Brother Russ Blackwell officiating, interment in the Family lot of Summerville Cemetery.  Active Pallbearers Jamey Floyd, Mark Floyd, Alex Floyd, Barry Tallent, Eric Brock, Jason McWhorter; Honorary Pallbearers, Aaron and Amy Bennett, Tim and Sabrina Luallen, Kandy and Chris Keen, Matthew and Debbie Hall, David  "Mutt" Helms, Mohawk Corporate Lab, and Trion Wrestling.  The Family will receive friends at the Funeral Home Sunday from 4 until 7 P.M.
Earle Rainwater Funeral Home in charge of arrangements for Mr. James Matthew Floyd.