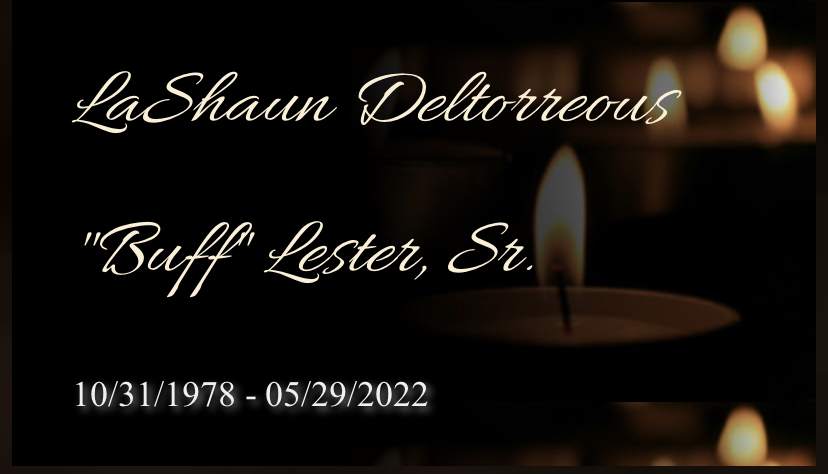 Obituary For LaShaun Deltorreous "Buff" Lester, Sr.
MR. LASHUN DELTORREOUS ("BUFF") LESTER, SR. – AGE 43, – Of Summerville, Georgia passed away Sunday, May 29, 2022. He was born on October 31, 1978. He was preceded by his wife, Leslie Shantika Farmer Lester, grandparents, Rev. Robert (Sadie) Lester, and James (Myrtle) Thurman.
Survivors are his loving son, LaShaun D. Lester, Jr.; daughter, Zatorria Lester; father and mother, Vernon (Sandra Lester) Thurman; sister, DeShana (Brad) Mosley, and LaTonya Thurman; mother-in-law, Tommie Boykins; father-in-law, Larry Farmer; sister-in-law, Keshia Farmer; brothers-in-law, LaDell Boykins, and Kevin Boykins; aunts, uncles, nieces, nephews, cousins, other relatives, and friends.
Funeral Service will be held Saturday, June 4, 2022 at 2:30 P. M. at the North Summerville Baptist Church, 119 Maplewood Drive, Summerville, Georgia 30747, with Pastor Mose Whitfield and other ministers officiating. The family will receive friends at the church one hour before the service. Interment, Summerville Cemetery. Arrangements by Willis Funeral Home, Inc., Dalton, Georgia.