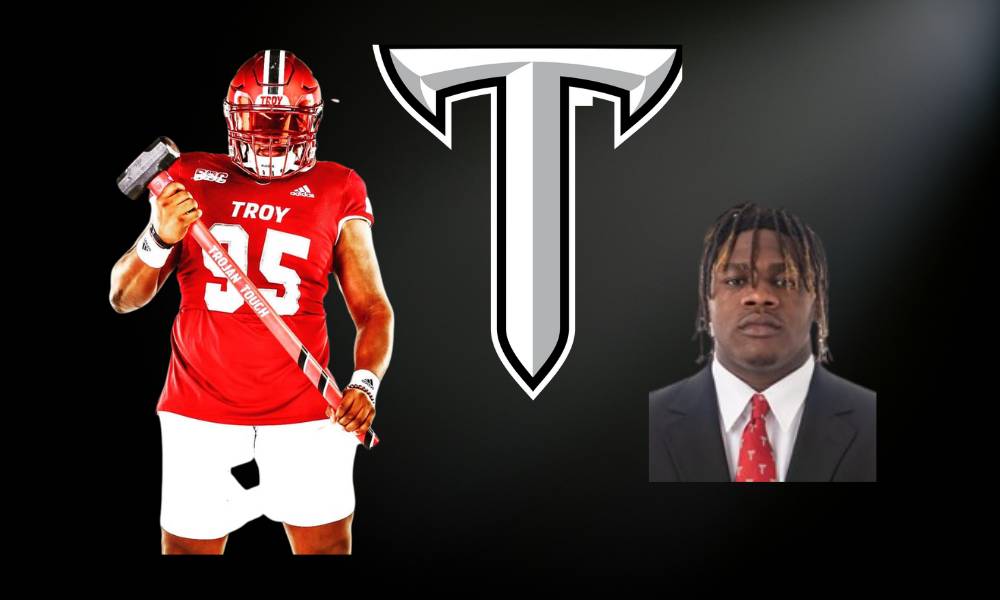 Troy University football officially starts Friday (today) for Troy head coach Chip Lindsey, his Trojans, and Chattooga County's Luis Medina. It will be an abbreviated camp schedule for the program with just five days of preseason camp before a more traditional in-season schedule takes over after classes begin on campus Aug. 11.

Medina had to report back to the Troy campus for summer on July 19. "Summer has been straight for real. Everything went back to normal so lots of things are more open for me dealing with COVID last year was very aggravating because lots of different places weren't open and you couldn't do certain things you just had to move different," Medina told AllOnGeorgia.
Troy will head into Friday afternoon's first practice session with 117 players dressed out in helmets and shorts – 83 scholarship players and 34 walk-ons. As one could imagine, with that quantity of players, combined with 19 starters returning, a top signing class in the Sun Belt and more than a handful of transfers in the mix – competition is going to be king this fall.
Lindsey singled out the defensive line several times when addressing competition, and it's easy to see why. Back are All-Sun Belt performers Will Choloh, Richard Jibunor and Javon Solomon, in addition to guys like Luis Medina, Antonio Showers, John Hines, Shakel Brown, AJ Pierce and Devon Reaves who played key roles last year. Throw in Power 5 transfers Jamarcus Chatman (Florida State) and Cherokee Glasgow (Maryland), and now you have a plethora of players competing for key snaps.
In his true Freshman season (2020) Medina played in all 11 games and got the starting nod in the opener. He finished the season with 30 tackles, 1.5 sacks and a forced fumble … Made a huge third-down stop on the 1-yard line against Coastal Carolina in the fourth quarter that led to a turnover on downs … Credited with sacks against Middle Tennessee and South Alabama … Forced a fumble and recorded five tackles at App State … Posted 10 pressures on the season with two hits and six hurries to go along with his 1.5 sacks
For Medina he says his biggest moment last season was, "when we played Coastal at the Vet I will never forget about that game"
Medina Looks Ahead to Year 2
"My personal goals for this season of course be two-times better than last year and get the title of being Sun Belt All-American," Medina said.
Medina says he's looking forward to all the games,  but "the ones I'm looking forward to the most are the South Carolina game and the Coastal game."
Medina has beefed up since his high school days at Chattooga, and currently weighs 295.  His 40 time is a 4.7 flat : bench max is 475 :  squat max is 780 (for two).
About the Troy weight room… "Oh man in the weight room we treat it like it's a game what I mean is we ATTACK every rep, don't cut corners, and we keep everybody accountable and move heavy ass weight."
Adopted Hometown Support
Medina says the support from his hometown means the world to him.  "Moving from New Jersey to Georgia, the whole Chattooga County took me in like I was there own and helped me out through this process. If wasn't for y'all I don't know where I'd be, I thank every last one of y'all for the support."
He says last year he talked to Coach Charles Hammon (former Indian Head Coach) almost every day as he transitioned to being away at college and the demands of school and football.
Medina is a businesses management major.
High School Stats: Named to the Georgia 7-2A all-district first team following his senior year at Chattooga High School … Finished senior season with 76 tackles, 14 tackles for loss and two sacks over 11 games … As a junior, recorded 110 tackles, eight tackles for loss and seven sacks … Rated as one of the top 110 defensive tackles in the country and as a three-star player by 247Sports … Won the Georgia state championship in wrestling at the 285-pound weight class
Troy Trojans Schedule:
Date           Time        At        Opponent                     Location                                          

Sep 4 (Sat)    6 p.m.      Home      Southern                     Troy, Ala. (Veterans Memorial Stadium)                               

Sep 11 (Sat)   6 p.m.      Home      Liberty                      Troy, Ala. (Veterans Memorial Stadium)                               

Sep 18 (Sat)   6 p.m.      Away      Southern Miss                Hattiesburg, Miss. (M. M. Roberts Stadium)                           

Sep 25 (Sat)   TBA         Away      ULM                          Monroe, La. (Malone Stadium)                                         

Oct 2 (Sat)    TBA         Away      South Carolina               Columbia, S.C. (Williams-Brice Stadium)                              

Oct 9 (Sat)    TBA         Home      Georgia Southern             Troy, Ala. (Veterans Memorial Stadium)                               

Oct 16 (Sat)   TBA         Away      Texas State                  San Marcos, Texas (Bobcat Stadium)                                   

Oct 28 (Thu)   6:30 p.m.   Away      Coastal Carolina             Conway, S.C. (Brooks Stadium)                                        

Nov 6 (Sat)    TBA         Home      South Alabama                Troy, Ala. (Veterans Memorial Stadium)                               

Nov 13 (Sat)   TBA         Home      Louisiana                    Troy, Ala. (Veterans Memorial Stadium)                               

Nov 20 (Sat)   TBA         Home      Appalachian State            Troy, Ala. (Veterans Memorial Stadium)                               

Nov 27 (Sat)   TBA         Away      Georgia State                Atlanta, Ga. (Center Parc Credit Union Stadium)                      

Dec 4 (Sat)    TBA         Neutral   Sun Belt Championship Game   TBA