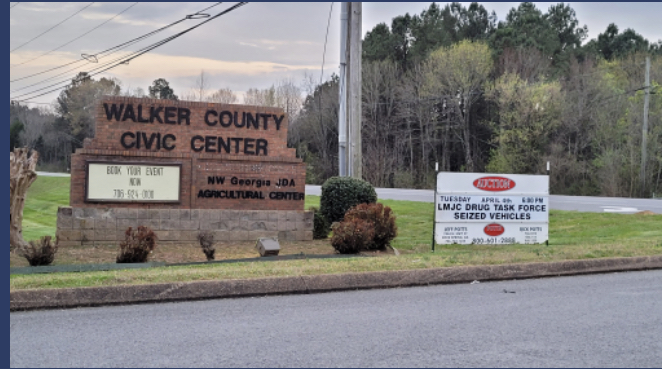 The Lookout Mountain Judicial Circuit's Drug Task Force Seized Vehicle Auction will be held at the Walker County Civic Center on Tuesday, April 4 at 6:00 p.m.
Nearly two dozen vehicles will be available, along with tools, a generator and gun safe. Vehicles can be viewed in advance from noon to 6:00 p.m. on the day of the sale or online at pottsauction.com.
Contact Potts Brothers at 706-764-1224 or visit pottsauction.com for more information.
AUCTION, LMJC Drug Task Force Seized Vehicles, Tuesday, April 4th, 6:00 PM.
Location:Walker County, Georgia Ag Center 10052 Hwy 27, Rock Spring, GA 30739
Auction held at Walker County Ag Center, Rock Spring, GA.
2007 Buick Lucerne, 2008 Dodge Charger, 2004 Chevrolet Malibu, 2004 Harley Davidson Super Glide, 1996 Nissan Pathfinder, 2002 Honda CRV, 2002 BMW 330Ci, 1999 Ford Ranger, 2011 GMC Acadia, 2008, GMC Yukon XL, 2013 Nissan Rogue, 2003 Harley Davidson , 1990 Corvette, 2004 Ford F250, 2008 Chevrolet Suburban, 2000 Nissan truck, 1997 Nissan truck, 2003 Nissan Murano, 2016 Dodge Charger, 2013 BMW 328i, 2012 Chrysler 300, 2016 Polaris Razor 1000, 2021 Yamaha motorcycle, Redfield gun safe, Craftsman generator, Husky compressor, and several other items.
Call 706-764-1224. All items sold as-is with no warranties of any kind. No returns. Cash or approved check, checks must be pre-approved by the auction company. 10% buyers premium added to all purchases. Preview after 12 noon on auction day.