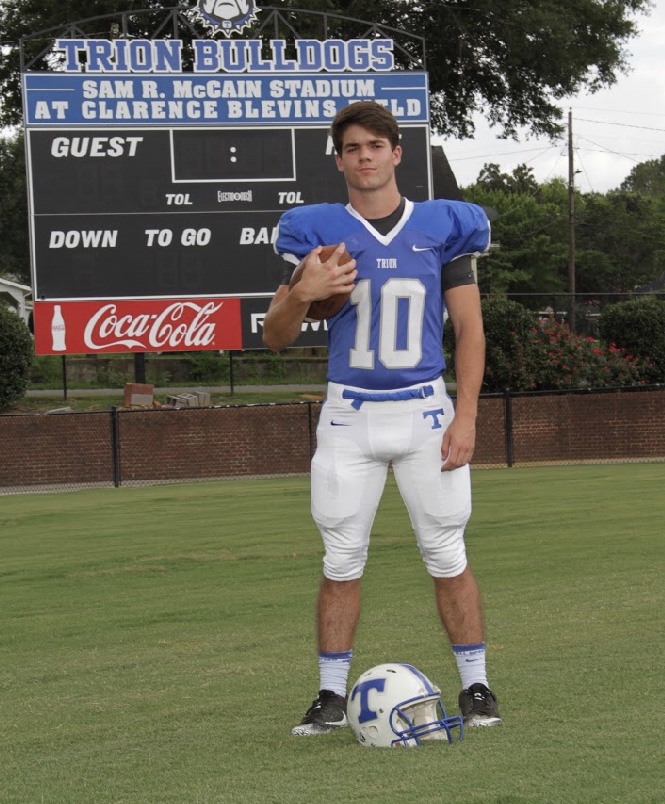 Trion High School senior Hagen Willingham is the definition of a student-athlete. Willingham performed above and beyond expectations in 2018 for the Bulldogs on the gridiron, setting several school records including most rushing yards in a season with 1,634. Willingham also shines in the classroom maintaining a 3.7 GPA as a two sport athlete. And now is a chance for the community to rally around him for support.  
Willingham has been selected as one of 15 finalists from across the country for the Frog Fitness Player of the Year and the good news is you can help him win by voting for him. Fans will vote one player as the Frog Fitness Player of the Year. 
The winner will receive a scholarship of $2,500 from Frog Fitness – along with recognition in FNF Coaches magazine and on the website. Second prize will receive a $1,500 scholarship. Third prize will be a $1,000 scholarship.
Currently Willingham is in 4th spot in the contest.
Polls Are Open Through December 13th Vote here. 
How Willingham was selected:
To acknowledge the top players this fall, FNF Coaches turned it over to the coaches and fans to nominate the players. One player was selected each month from the nominees and added to the pool of finalists who will compete for Player of the Year. The finalists are featured on FNF Coaches and Frog Fitness websites and social media.
FNF Coaches accepted nominations each month for the 2018 Frog Fitness Player of the Year Contest, and a group of finalists was selected for the final online vote at the end of the year. Voters will be able to see live results by clicking on the VIEW RESULTS tab.
The winning player will be notified by phone and once the prize is accepted, it will be posted on the website and shared via social media @FNFCoaches.