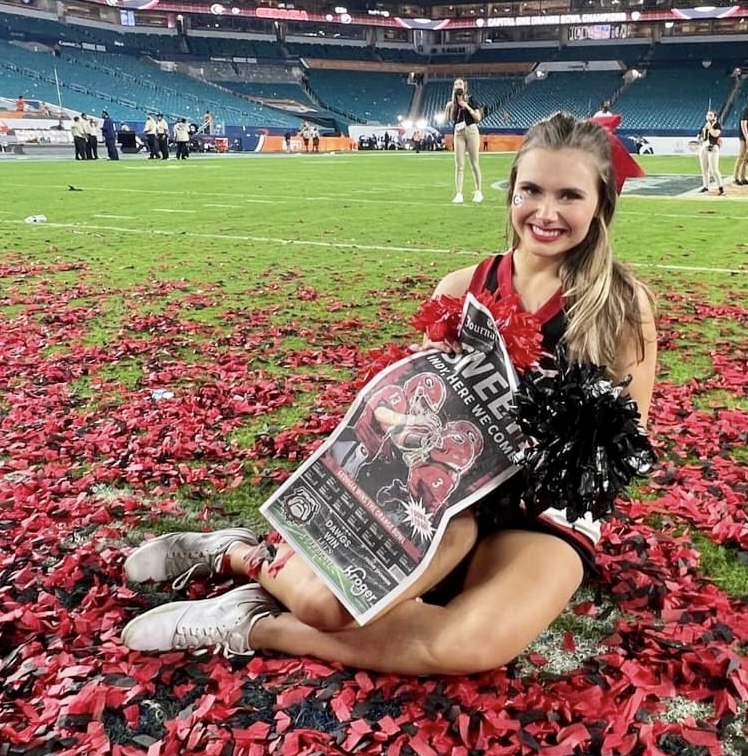 2019 Trion High School alumna Gabbi Carroll is gearing up to cheer in the biggest game of the year, the College Football Playoff (CFP) National Championship.
Carroll, a junior at the University of Georgia, just cheered in her first bowl game, the Orange Bowl, where the Bulldogs defeated the Michigan Wolverines 34-11. The game was played at the Hard Rock Stadium in Miami, FL.
"This was my first Bowl experience at UGA so it was extremely exciting. The atmosphere, the weather and the energy in the stadium was one to soak in. The Dawgs played hard and angry and I'm so proud of the outcome. I made the memories of a lifetime in Miami and I'm so thankful I got to go," said Carroll.
Next up for Carroll and her Bulldogs will be the CFP National Championship. The CFP National Championship game will feature the Bulldogs facing off against Alabama. The game will be played at 8 p.m. ET on Monday, Jan. 10, 2022 in Indianapolis, Indiana. The game will be on ESPN.
"To be able to cheer for Georgia is already a huge accomplishment, but getting to cheer at the national championship is a complete dream. No matter the outcome of the game, I love my Dawgs and am so proud to be one! Indy, here we come," said Carroll.
Carroll said the cheerleaders travel separately from the football team. "We took a two day trip to Miami, we stopped in Jacksonville, Florida for one night and then got to Miami the next day, I'm not sure how we are traveling to the Indianapolis yet."
Carroll has been a member of the University of Georgia cheerleaders for three years. She is a dietetics major planning to become a Registered Dietician.