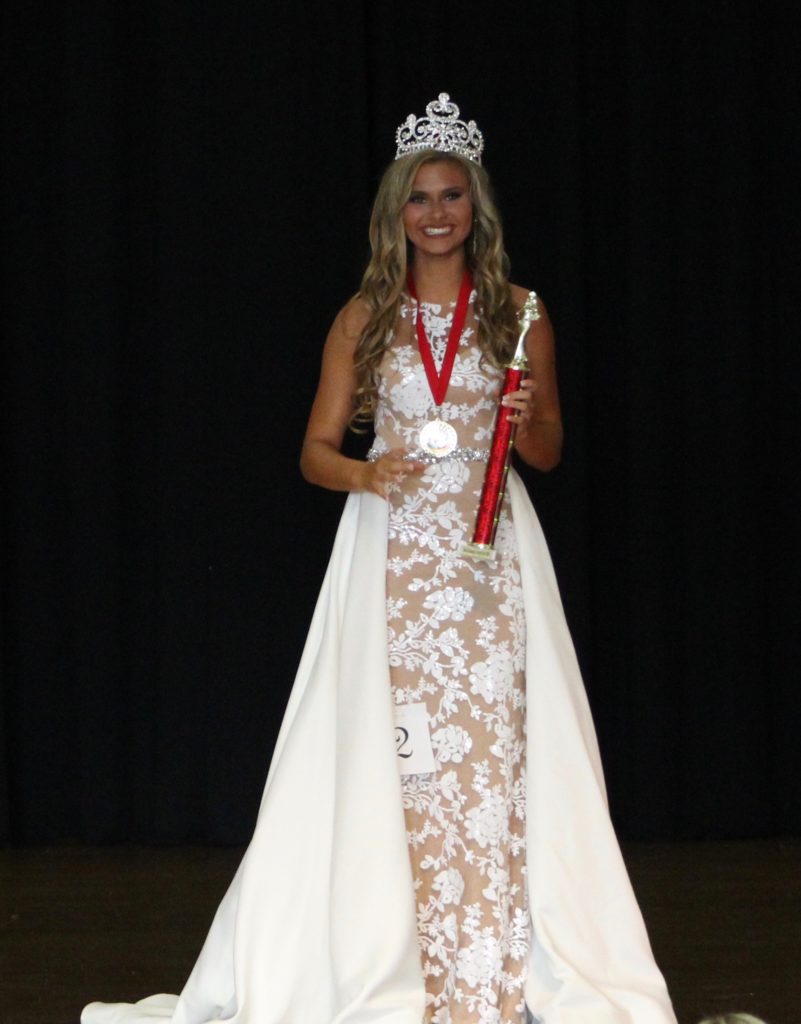 For the first time in history, the Chattooga County Fair hosted a beauty pageant. The pageant was open to any Georgia resident up to 24 years old in 12 age categories.
The First Annual Miss Chattooga County Fair pageant was held on the Chattooga High School stage, Saturday, August 25th at 10:00 a.m.
Gabbi Carroll was selected as the first ever Miss Chattooga County Fair and introduced at the Fair Saturday evening before Colt Ford took the stage.
Gabbi will represent Chattooga County at the 2019 Miss Georgia State Fair pageant in January where she will have a chance to win $1,000 cash.
Ashlynd Gabrielle Carroll is a senior at Trion High School. Her hobbies include competing in pageants and spending time with my family. She is both a Competition and Spirit cheerleading. Her future plans include attending the University of Georgia where she plans to major in Pharmaceutical Sciences.
"The Fair Association is made up of a group of selfless individuals who all have servants' hearts. They don't personally make any money off of the fair and they put in countless hours to make the fair an awesome event for our community. I was excited that the Fair Association allowed me the opportunity to direct the first ever Chattooga County Fair pageant. All of the contestants were beautiful and we hope that everyone had a great time," Rachel Groce said.
Here is a look at each division winner and placers:
Baby Miss Chattooga County Fair: Kamiyah Watkins
1st Runner-Up: Braylie Wade
2nd Runner-Up: Jenna Bannister
Toddler Miss Chattooga County Fair: Layla Jenkins
1st Runner-Up: Annie-Bea Percy
2nd Runner-Up: Chloe Anderson
3rd Runner-Up: Kennedy Browning
Tiny Miss Chattooga County Fair: Saylor Lanier
1st Runner-Up: Aubry Morrison
2nd Runner-Up: Daelynn Wallin
Little Miss Chattooga County Fair: Jazlyn Parker
1st Runner-Up: Peyton Dover
2nd Runner-Up: Lexi Flannigan
3rd Runner-Up: Aubree Green
Petite Miss Chattooga County Fair: Jayleigh Parker
1st Runner-Up: Ashlin Hill
2nd Runner-Up: Elizabeth Smith
3rd Runner-Up: Ollie Olson
Young Miss Chattooga County Fair: Calleigh Hoffmann
1st Runner-Up: Kennedy Dodd
2nd Runner-Up: Zoiee Jarrett
3rd Runner-Up: Meila Treadaway
Teen Miss Chattooga County Fair: JuliAnna Harris
1st Runner-Up: Lily Thibabeaux
2nd Runner-Up: Mary Anna Bentley
Miss Chattooga County Fair: Gabi Carroll
1st Runner-Up: Cydnee Thoreson
2nd Runner-Up: Laken Burdick