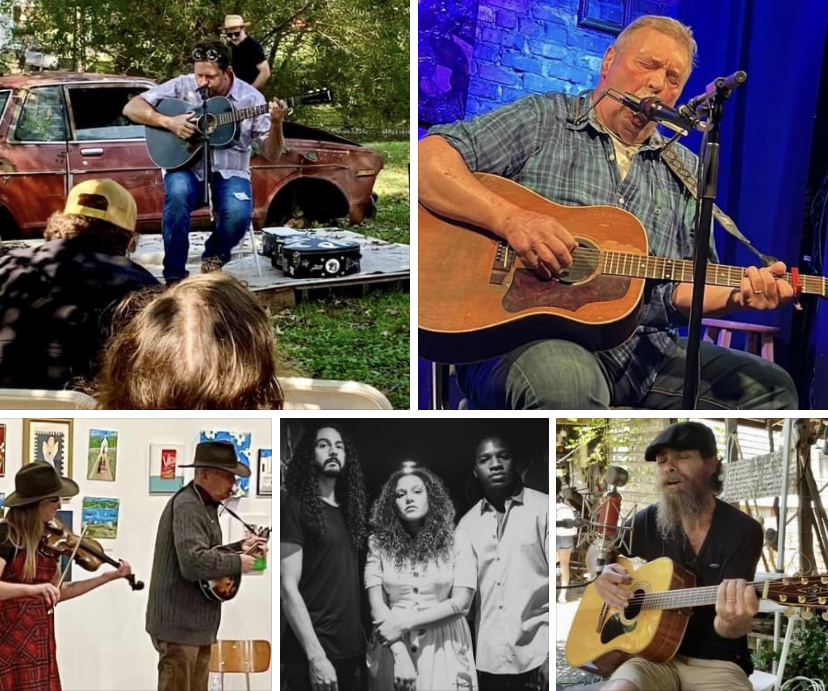 Here's a music schedule update for this weekend's Finster Fest, filled with Americana, bluegrass, country and gospel goodness!


Two of the South's most authentic songwriting voices, Abe Partridge and David Childers, top the rootsy music schedule for Finster Fest 2023, Saturday-Sunday, September 23-24.
Partridge, who has appeared at Finster Fest since 2021, and Childers, who will play Howard Finster's Paradise Garden for the first time, are musical compadres who have toured together some this year.
A Mobile, Alabama, musician and folk artist, Partridge (top left) has a new album out, "Love in the Dark," as well as a new book, "With Signs Following: Portraits + Stories from the Serpent Handling Faith." The art book centers on the paintings Partridge created for a major exhibit on the Appalachian snake-handling religious community this year at Mobile's Alabama Contemporary Art Center. In addition to showing his art, Partridge will play at 1:30pm Saturday and give a book talk at noon Sunday at Paradise Garden.
A deep-voiced singer-songwriter and folk artist, Childers (top right) is a resident of Mount Holly, North Carolina, with a strong following in the Tar Heel State. His new album, featuring a cover by his folk artist-drummer son Robert, who also will show at Finster Fest, is "Melancholy Angel." David and Robert Childers will play at 11am Saturday.
Other music highlights include appearances by three Northwest Georgia favorites: bluegrass aces Jessee & the Boys (1pm Saturday); roots rockers Kindred Fire (3pm Sunday); and Americana artist Jeremy Wells (3:30pm Saturday).
The full schedule:
Saturday, September 23
Big Top
Noon: Artist-Author Talk by Black Cat Tips
1pm: Jessee & the Boys
Meditation Chapel
11-noon: David Childers
12:30-1:30pm: Jason Lyles
2-3pm: Jule and Cheyenne Medders
3:30-4:30pm: Jeremy Wells
Mosaic Garden
Noon: Golden Shoals
1:30pm: Abe Partridge
3pm: Yellow Dandies
•
Sunday, September 24
Big Top
Noon: Author-Artist-Musician Talk by Abe Partridge
1pm: Muletide
2pm: Jeneal Johnson, Linda Hawkins & Jackie Hammond
Meditation Chapel
11am-noon: Craig Wallin
12:30-1:30pm: Clayton Jones
2-3pm: Hunter Blaylock
Mosaic Garden
Noon: Randy Steele
1:30pm: Chattanooga Dogs
3pm: Kindred Fire