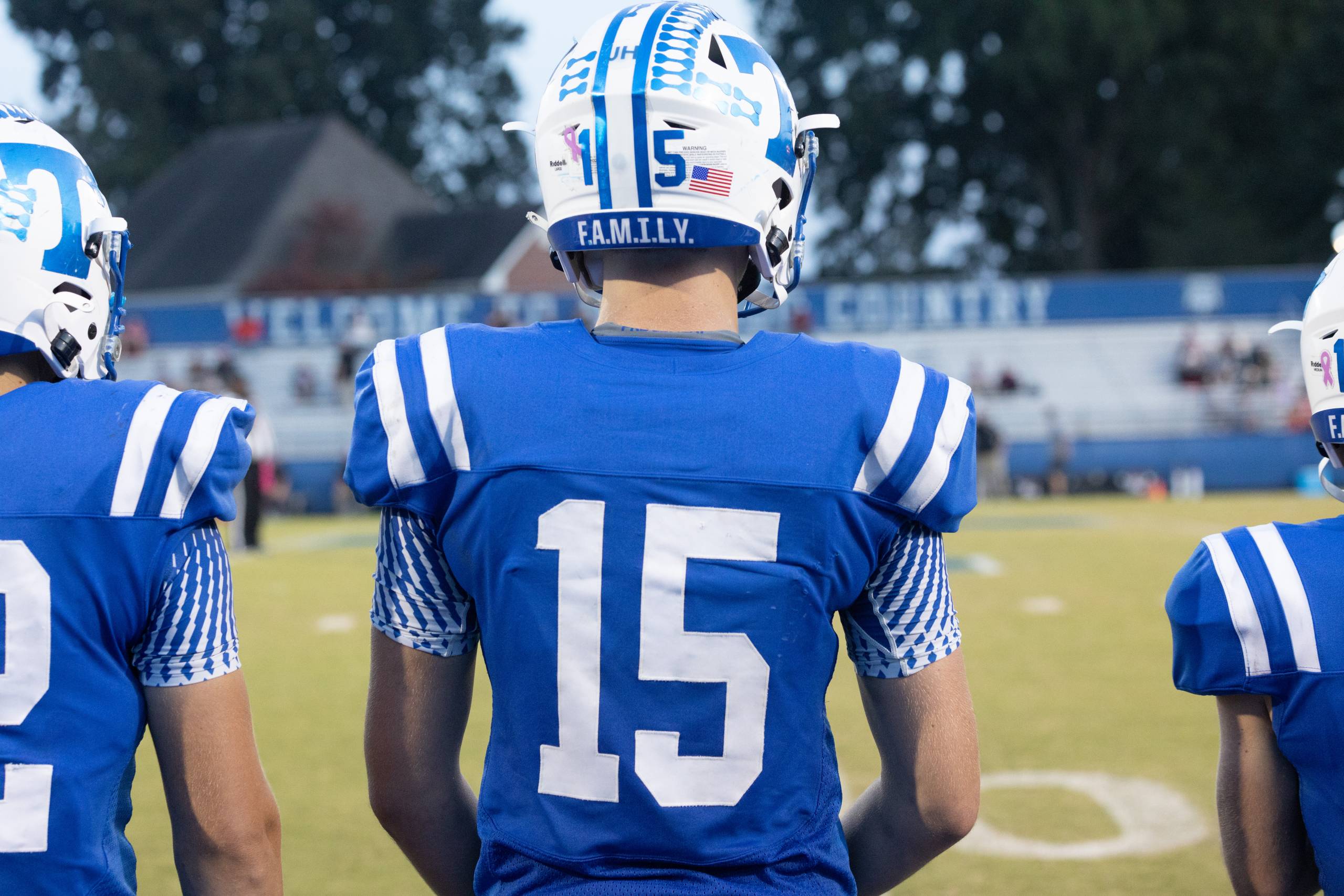 At Trion the stickers on the football helmets read F.A.M.I.L.Y. The acronym stands for "Forget About Me I Love You". For the Bulldogs it is more than a saying or motto–it is the team standard.

The Trion football team has seen many players change position in order to best help the team win. Players including Brantley Willbanks, Cole Cavin, and now Logan Eller.
"I understand that my coaches are going to put the 11 players that give our team the best chance to succeed on the field so if that's not me at quarterback then that's okay. In life hard things happen and I know my teammates would feel the same in my shoes," Eller told AllOnGeorgia.
After the 35-13 loss to Bowdon a position change moved Eller from quarterback to running back and defensive end. "Running back wasn't as big of a change because I was already in the back field, but defensive end was harder, but a big thanks to Brantley Willbanks for staying after practice all week with me to help me learn," Eller said.
The change in quarterback proved to be a good thing for the entire Trion football team. Freshman Kade Smith got the start and was 8 of 15 for 142 yards, one touchdown and one interception. Rob Brown had 192 rushing yards on 10 attempts and three touchdowns.
The Bulldogs defeated the Raiders of Southeast Whitfield 49-0.
"Friday night meant a good bit to me, not because of the position change, but because of the loss to Bowdon," Eller said.
Eller had four rushes for 50 yards and one touchdown. On defense he had six total tackles, 2.5 sacks, and one forced fumble. "I didn't feel as tense playing these new positions so I felt like I could just fly around and have fun. But in saying all that my actual favorite part of the game getting to see Toby score a touchdown after being injured the past few weeks," Eller said.
Eller not only had a great game and helped his team in all three phases of the game, but more importantly he showed his teammates how to be a leader. He went out and played every down to the best of his ability.
"Being leader to me means doing what's best for my team and helps improve us without needing or wanting praise. Coach Patrick has given us a good motto to go by for leadership F.A.M.I.L.Y- forget about me I love you," Eller said.
"The ultimate measure of a man is not where he stands in moments of comfort and convenience, but where he stands in times of challenge and controversy."
                                       – MLK
The Bulldogs are off this week and will head to Atlanta to take on BEST Academy next Friday.