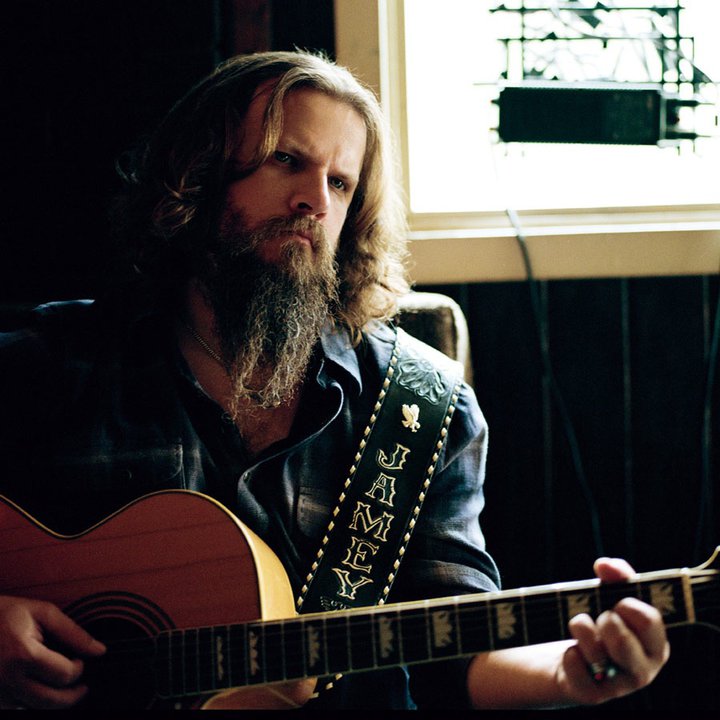 Enterprise, Alabama native and country music star Jamey Johnson is sharing the love of Wrangler's new line of "Rooted Collection" jeans made with Alabama cotton and denim from Trion, Ga.  One-hundred-percent of the cotton in the jeans comes from sustainable, grown Alabama cotton and is made into blue jean at Mount Vernon Mills in Trion, Georgia. Johnson said on Facebook, "Always loved Wranglers, but these are special because they're made of cotton from an Alabama family farm and have designs unique to my home state.  Proud to have Wrangler jeans and shirts made from Tennessee and Alabama!"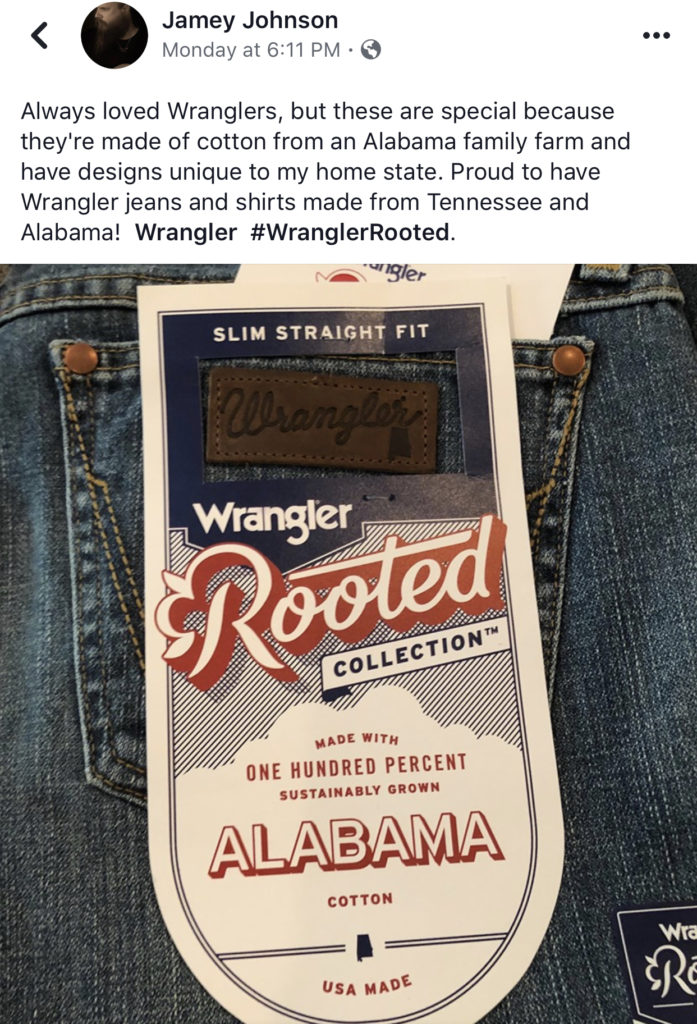 There are five state-specific pairs of jeans in Wrangler's "Rooted Collection": the Alabama Jean, the Georgia Jean, the North Carolina, Jean, the Tennessee Jean, and the Texas Jean. The sustainable cotton used for each state's jean is 100% traceable to a family farm in that state. Each state's design includes a unique wash, plus trim and patch details featuring the state's silhouette and other embellishments. The collection also includes two T-shirt designs for each state and three national designs.
The family farms supplying cotton to the Rooted Collection are the first growers in the Wrangler Science and Conservation program, which advocates for land stewardship and soil health best practices. These farming practices build crop resilience to weather disruptions while improving yield, reducing water and energy inputs, fighting erosion, and reducing greenhouse gas emissions. Wrangler aims to source 100% of its cotton from farms using land stewardship practices by 2025.
The Wrangler Rooted Collection™ is all-American, from the farm to the fabric to the cut and sew operations. The family farms that provided the sustainably-sourced cotton for each state's collection are:
Mount Vernon Mills in Trion, Georgia, makes the denim fabric and the jeans are cut and sewn by Excel Manufacturing in El Paso, Texas. Mount Vernon in Trion manufactures denim, fabrics with indigo and sulfur dyeing, piece dyed and finished fabrics (cotton and blends) including flame retardant, military uniforms, sportswear and career apparel.
Mount Vernon Mills is a textile denim mill located in Trion, Georgia. Mount Vernon pays about eighty percent of Trion's taxes. It is the largest employer in Chattooga County, with about 1700 employees.
Mount Vernon Mill was the first cotton mill in northwest Georgia. Andrew P. Allgood, Spencer S. Marsh, and Col. W.K. Briers organized the Trion factory on October 12, 1845.
In 1912, Benjamin D. Riegel became the new owner of the mill until his death in 1941.
In 1913, a gym, library, apartments, theater, bowling alley, and hospital were built in Trion.
During World War II, the mill produced enough fabric to make a reported 10,500 fatigue suits and over seven and a half billion yards for gun patches.
It wasn't until 1971 when many new machines were installed to produce denim.
On February 16, 1990 a flood almost ruined the machines, but after ten days the mill was running again.
Today the mill has over a million square feet of manufacturing space and produces over two million pounds of cotton and denim each week. The denim is shipped to different locations in the United States and to foreign countries.