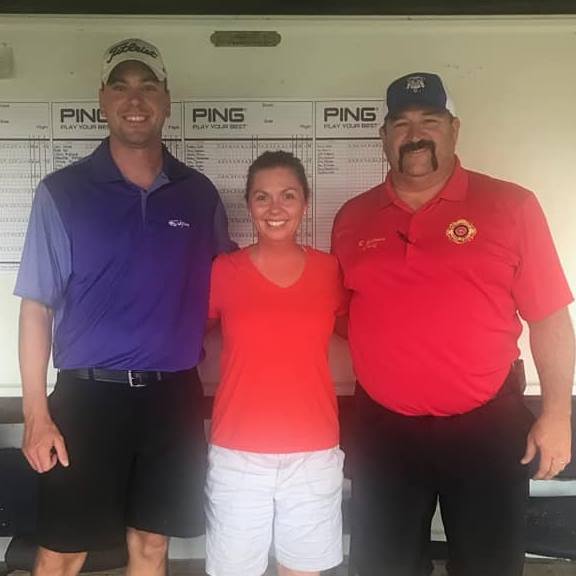 For Santa in Uniform, Christmas is a year round season. Events and fundraisers happen throughout the year in order to provide Christmas to children in Chattooga County.

The first annual Clint Young Memorial Golf Tournament for Santa in Uniform was an absolute success this past Saturday, August 11, 2018. In fact, the fundraiser raised the most money of any event ever for Santa in Uniform with a net total of $11,996.
The golf tournament was named in honor and memory of law enforcement officer Clint Young. "Clint was on the ground floor of Santa in Uniform seventeen years ago," Fire Chief Robbie Lathem said. "This will be the forever name of the tournament."
Clint Young's daughter, Kellie Young Renslow, told AllOnGeorgia, "I know Dad would be so proud of what was accomplished through the golf tournament. Santa In Uniform was a program that was very dear to his heart and he would be thrilled to know it was the most successful fundraiser ever. He would be so delighted to know how many children will be helped this year. My family and I were honored to be a part of it."
Santa in Uniform provided 45 children a Christmas morning in 2017 and plans to add at least 15 more for this Christmas.
A total of 26 four person teams played in the golf tournament, which consisted of 104 players.  Twelve teams teed off at 8:30 am tee time, and 14 teams at 1:30 pm. "It was a great turnout, the most ever for a tournament at Trion Golf Course," Randy Henderson said.
"We would like to thank everyone who participated, volunteered or donated items for our raffle; we truly appreciate your help in making this event a huge success! Special thank you to Trey Skelton for organizing this event, McDonald's for providing breakfast and Sav-A-Lot, Jim's Restaurant and Jason Taylor for providing lunch for all our players and volunteers," an official from the Santa in Uniform organization said.
The winners were as follows:
Championship Flight – Dawson Day Closest to the Pin – Hole #2 – Adam Willingham
Ben Huggins
Josh Day
Jon Mitchell Closest to the Pin – Hole #9 – Mark Mann
First Flight 1st Place – Brandon Blair Longest Drive – Hole #6 – Ben Huggins
Roy Woods
Mike Woods
Gary Woods Putting Contest – Randy Henderson
Second Flight 1st Place – Glen Emery
David Gilliland
Anthony Gilliland
Steve Gladney
Raffle Sponsors
Auto Zone Advanced Auto Traeger Mill
White's Alignment & Tire Oriental Trading Hammonds Auto Parts
Truck Town Farmer's Furniture Monster
Bryant & Sons Flex-A-Bed Reece Tire
S&S Butane Marvin's Walmart
Hibbet's Sports North Ga Equipment Sales
LaFayette Golf Course Blessed & Dressed
Tee Sponsors
Palmour Law Firm Wright's Sanitation Service
Sanford "Buddy" Hill Pay & Tote
Lewis Pressure Washing B&B Glass
Reece Tire Jefferson's
White's Alignment & Tire S&S Butane
Earle Rainwater Funeral Home Terry McPhail
Kenneth Bruce Matt McPhail
Farrar & Corbin H&H Insurance
Try-Con Tufters, Inc. Flegal Insurance
Ralph Vanpelt Carol Tucker
Trion Drugs Jon Payne
Southern Living Farm & Garden Rick Wyatt Realty
Allen Keen/ Teems & Teems Evans Welding
Oxford Law Firm Dwayne & Joy Hampton
Coosa Valley Communications United Community Bank
Turbo Sales & Leasing Jon Dennis
Family Care of Northwest GA George's Kwik
Pace's Construction Triple R Automotive, LLC
Gill's Transport Randy Patty Trucking
Pine Ridge Outdoors Corner Garage
Romine Restorations KB Cabinets
North Georgia Sales, LLC Al Smith/ Farm Bureau
Herb's Trading Company Cook & Connelly
Carlos Vicente Painting Mason Funeral Home
Bert's Body Shop Coffman Funeral Home
Morrison & Associates Smith Ironworks
Georgia Power Rodney Lewis/Gill's Towing
Sheriff Mark Schrader Performance Physical Therapy
PowerPlus Electrical Walmart Willow Tree Grill Bagley Oil
Parker Systems Ward Farms
Woodmen Life/Jason Taylor Truck Town
WSN Sales Southern Bedding
Triple J Logging Harvey's South End Auto
First National Bank Pure Stop
Bill's Heating & Cooling Carter & Sloope
Allen-Smith Consulting