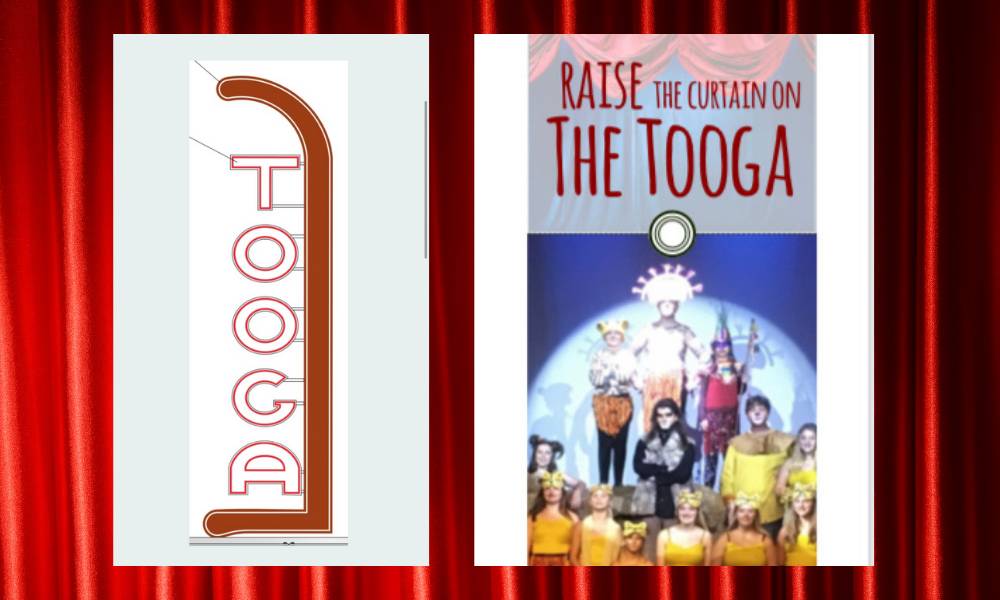 SUMMERVILLE, GEORGIA (NOVEMBER 22, 2021) – The Tooga Theater is pleased to announce the Fox Theatre Institute (FTI) has awarded The Tooga Theater with a $22,600 grant to restore the façade, windows and doors and to install the marquee. Atlanta-based FTI is the Fox Theatre's dynamic outreach program offering historic preservation expertise, consultation, and educational programs to historic theatres in Georgia and the Southeast.
The Tooga Theater in historic downtown Summerville, GA has long been a centerpiece for cultural and community activities.The Tooga Theater is a cultural and historical asset to the citizens of Chattooga County. It will attract additional tourists, spur business growth and opportunities, and provide support for the existing local businesses.

"We fully support the County's plan to restore The Tooga to its former beauty and function, to add a welcome center, and to create a versatile venue for the arts and events alike."
Tina Lee, Director of Chattooga Curtain Call
Once threatened and saved, the Fox Theatre Board of Directors and Staff created FTI to foster a strong sense of togetherness, responsiveness, and insight that remains visible through its ongoing work. FTI pays it forward by helping other arts and cultural institutions renew, reinvigorate, and restore artistic vitality to stimulate local economies.

"Well into our fourteenth year, FTI has worked tirelessly to support historic theaters throughout our state and the larger Southeast," said Leigh Burns, FTI Director. "Now, more than ever we know our Georgia theatres need our financial and technical assistance to navigate a time where resources are limited or disrupted. We are thrilled to support the ongoing work of nine theatres this year for a total investment of $252,300. These funds help our passionate colleagues maintain the arts in their community in extremely unprecedented times."

FTI's Preservation Grant Program and Historic Preservation Services maintains an ongoing commitment to historic theaters and has supported over sixty projects since 2008, totaling more than $2.2 million in financial support for preservation and physical improvements. In addition to the grant program, the almost 50-year-old nonprofit organization manages Georgia Presenters, a statewide booking consortium, which helps spark collaboration among dozens of accomplished arts presenters.
"Our technical assistance and financial investment mean more to a community than ever before," said Leigh Burns, FTI Director. "We want to help build a financial recovery for our state that remembers the arts as more than expression, but as a necessity."
The mission of the Chattooga County Commissioner's Office is to provide the residents of Chattooga County and all the cities encompassed within the county a venue of cultural importance and experience and of economic stability. The Tooga Theater will serve as Chattooga County's contribution to the development and improvement of the downtown area. It will also serve as an entertainment hub for citizens, a welcome center for visitors, and a longterm revenue source for the county.
About Fox Theatre Institute
The Fox Theatre Institute (FTI) is a dynamic outreach program offering historic preservation expertise, consultation, and education to performing arts venues in Georgia and the region. Created by Atlanta's Fox Theatre, an iconic attraction widely applauded for being a catalyst for positive change in the community, FTI pays it forward, helping other cultural institutions renew, reinvigorate, and restore artistic vitality in their backyards and beyond. Keeping environmental and economic impact top of mind, FTI offers the financial assistance, restoration support and operations mentoring needed to leverage scarce resources and stimulate local economies. Not only that, but it keeps the artistic pulse of beloved communities beating for decades to come. FTI was recently featured on NPR's Marketplace for its substantial impact on historical theatre restoration and community building throughout Georgia and the Southeast. For more information, visit foxtheatreinstitute.org and please stay connected on Facebook.
About the Fox Theatre
The Fox Theatre is one of Atlanta's premier venues for live entertainment, welcoming more than 250 performances a year in its 4,665-seat theatre. From rock concerts and Broadway productions to ballets,
comedy, and movies, the historic venue attracts more than 500,000 visitors annually. The theatre also hosts over 100 annual private events like wedding receptions, trade shows, corporate meetings, and association functions in its fabulous ballrooms, outdoor terrace, and Marquee Club presented by Lexus. As a 501(c)(3) nonprofit arts organization, the Fox Theatre stands today as a fiercely protected landmark and a nationally acclaimed theater. The Fox Theatre proudly acknowledges its partners for their generous support: Coca-Cola, Lexus, Georgian Terrace Hotel, Georgia Natural Gas, Atlanta Beverage-Yuengling, and Regions Bank. Tickets for all events are available at the Fox Theatre Ticket Office, online at FoxTheatre.org, or toll-free at 855-285-8499. Group sales information is available by calling 404-881-2000 or visiting the foxtheatre.org/groups. Stay connected by following @theFoxTheatre on Instagram, Twitter, and Facebook.
Notable accolades include 2019 Venues Now #1 Top Stop of the Decade Award for tickets sold (5,000 seats or less); 2019 Billboard #2 Highest Grossing Venue Worldwide (5,000 seats or less); 2019 Pollstar #3 Worldwide Ticket Sales (5,000 seats or less)