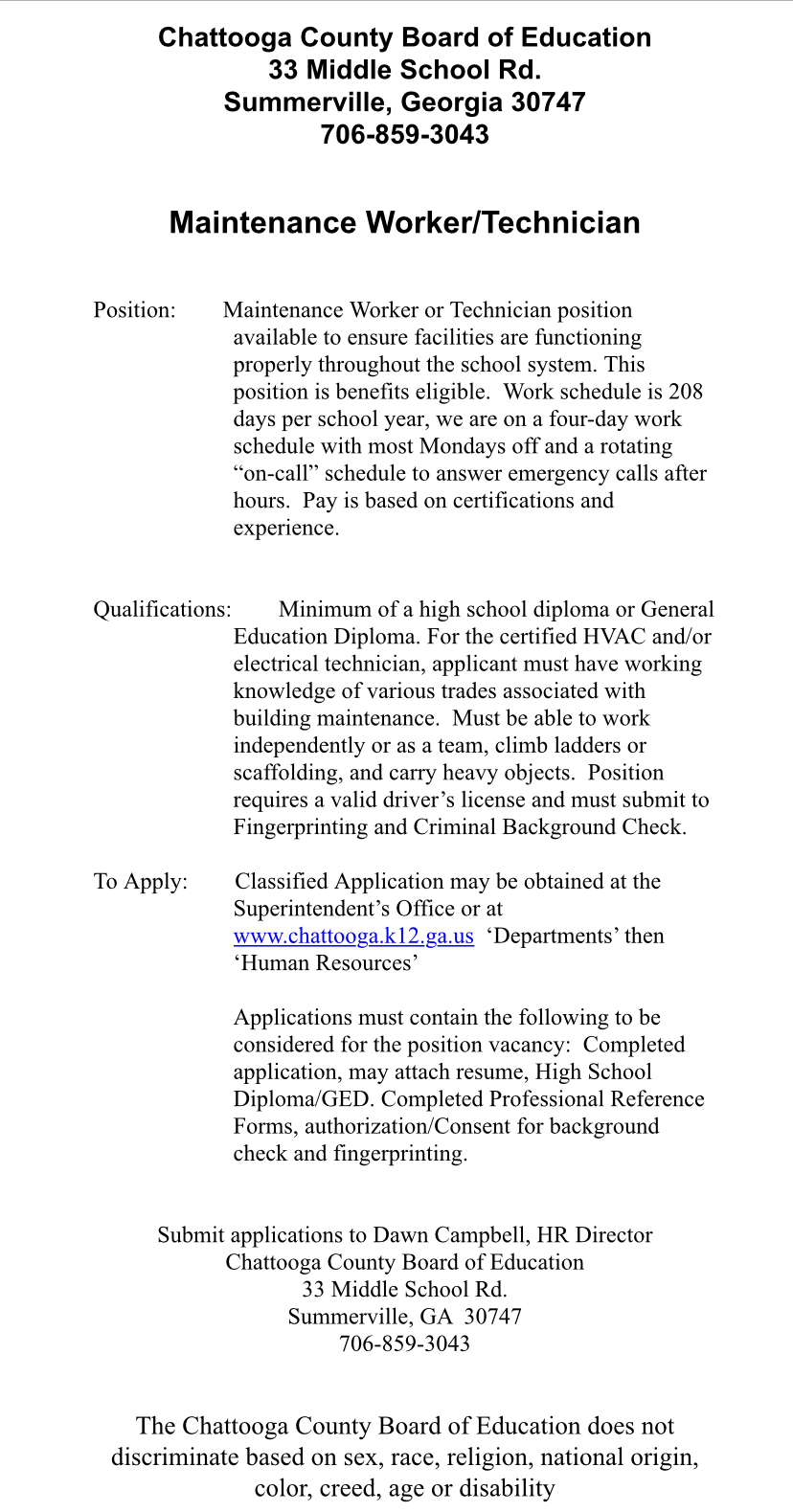 Chattooga County Board of Education

33 Middle School Rd.
Summerville, Georgia 30747
706-859-3043
Maintenance Worker/Technician
Position:​Maintenance Worker or Technician position available to ensure facilities are functioning properly throughout the school system. This position is benefits eligible.  Work schedule is 208 days per school year, we are on a four-day work schedule with most Mondays off and a rotating "on-call" schedule to answer emergency calls after hours.  Pay is based on certifications and experience.
Qualifications:​Minimum of a high school diploma or General Education Diploma. For the certified HVAC and/or electrical technician, applicant must have working knowledge of various trades associated with building maintenance.  Must be able to work independently or as a team, climb ladders or scaffolding, and carry heavy objects.  Position requires a valid driver's license and must submit to Fingerprinting and Criminal Background Check.  
                                   ​
To Apply:​Classified Application may be obtained at theSuperintendent's Office or at www.chattooga.k12.ga.us  'Departments' then 'Human Resources'
Applications must contain the following to be considered for the position vacancy:  Completed application, may attach resume, High School Diploma/GED. Completed Professional Reference Forms, authorization/Consent for background check and fingerprinting.
Submit applications to Dawn Campbell, HR Director
Chattooga County Board of Education
33 Middle School Rd.
Summerville, GA  30747
706-859-3043
The Chattooga County Board of Education does not discriminate based on sex, race, religion, national origin, color, creed, age or disability