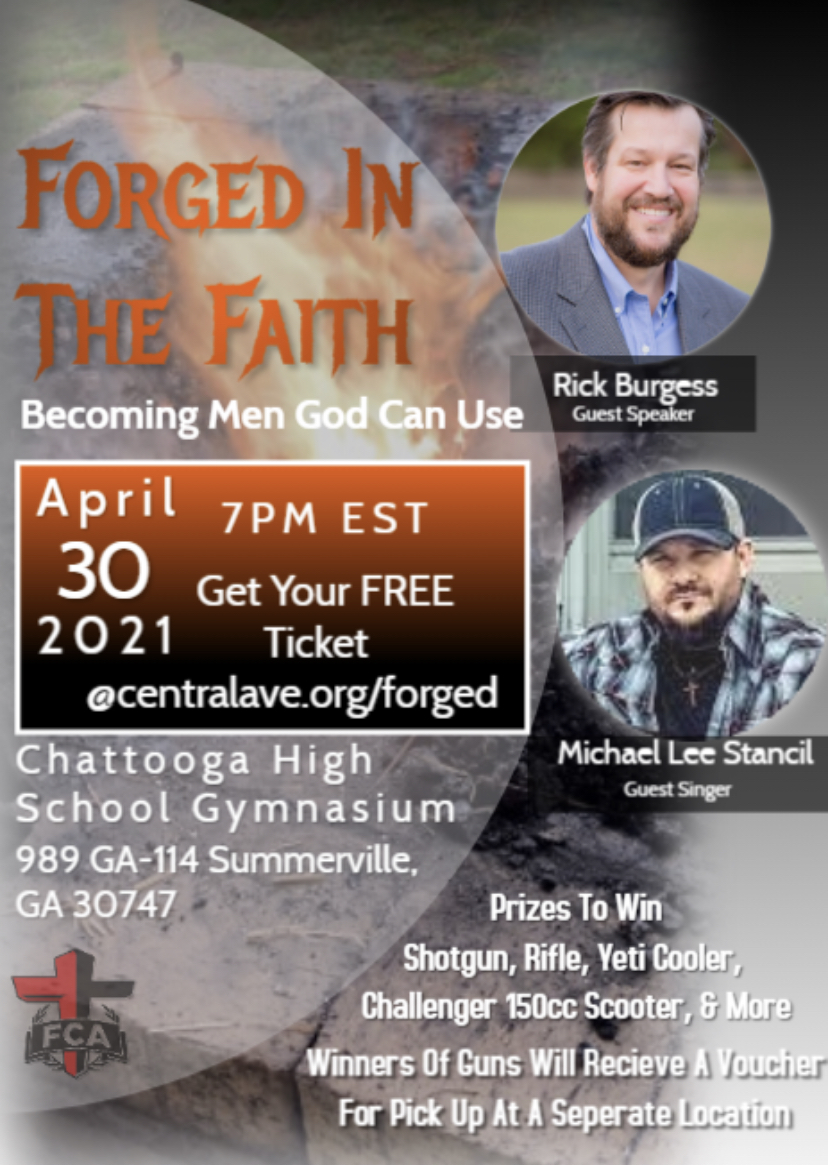 The Chattooga County FCA has announced the upcoming event "Forged in the Faith"–Becoming Men God Can Use– will feature guest speaker, Rick Burgess and guest singer, Michael Lee Stancil.
The event will be April 30th at 7pm at the Chattooga High School gymnasium. Free tickets are available at centralave.org/forged
About the guest speaker and singer:
Rick Burgess has been the cohost of the "Rick and Bubba Show" since 1994, a nationally syndicated radio show which airs to 1.2 million people weekly. Rick has coauthored multiple New York Times bestselling books that are autobiographical in nature, but his latest release is a 40-day devotional designed to disciple men, a personal passion and calling from the Lord. How to Be a Man, the Pursuit of Christ-Centered Masculinity is coauthored by Andy Blanks and was released by Iron Hill Press in 2017. Rick has appeared on various radio and television shows including Fox and Friends and the Sean Hannity Show as a commentator and guest.
Michael Lee is an award winning country and gospel country music artist, singer and songwriter. Having shared the stage with big names such as Lynyrd Skynyrd, Charlie Daniels, Zac Brown, Luke Bryan, Little Big Town, and more.
Born and raised in northwest Georgia, he ventured into his country music career when he was just 14 years old singing gospel songs in church. With a natural ability to perform he became comfortable quite quickly with an on-stage presence. Michael learned to play the guitar at fifteen and continued through high school where he was performing throughout his local communities. It was during this time that Michael really ventured into songwriting and started to find his calling as an artist, and as a Christian artist.