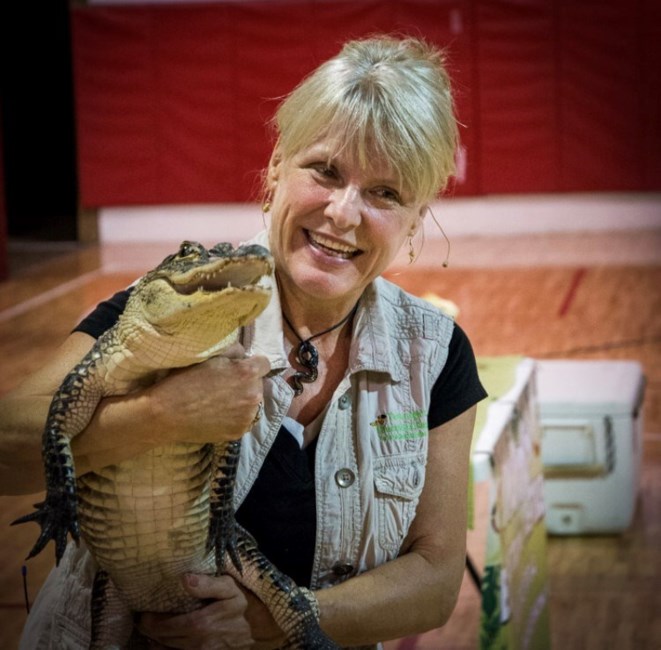 Rebecca "Becky" Eloise Yarbrough Tucker, also known as the "Snake Lady" to many, was born on May 1, 1958. She passed away on August 31, 2021, at the age of 63 after a long battle with COVID-19.

A memorial service for Becky was held Tuesday September 7, 2021, at Bynum Baptist Church at 12:00 PM.
Becky is proceeded in death by her parents, Thomas Yarbrough and Mary Ann Cobb Yarbrough; maternal grandparents Samuel Cobb and Carmen Cole Cobb; and her paternal grandparents Gold Yarbrough and Pearl Caver Yarbrough.
She is survived by her husband of 43 years Kenneth Tucker; daughter she never had Maddie Prickett; her loyal puppy Sadie; her silly kitty cats; and all her reptiles; two Brothers Chuck Yarbrough (Diann) and Mark Yarbrough (Lisa); and her nieces and nephews who she loved so much.
Becky was a graduate of Walter Wellborn High School, class of 1976. Becky was born in Calhoun County and grew up in the Eastaboga area, specifically the Bynum community. In those early years, Becky developed her love for wildlife by helping her parents run a small zoo, known as the Snake Ranch, from the early 1960s to mid-1970s and helping care for the reptiles that her dad used in his educational "Snake Shows" in schools throughout the state. In 1978, Becky married Kenny. Together, they built a life in the Jacksonville, FL area, where Becky worked as a dental assistant and later developed her own cleaning business. Eventually, life brought Becky and Kenny back to the Yarbrough homestead where Becky worked alongside her mom and provided great care and companionship for her. With the passing of her mom in 2010, Becky took over doing snake programs, and added much of the flair that was Becky to the program. Through the program, she built many new friendships, and as always, everybody loved Becky – her spunk, her fun-loving nature, and of course, her reptiles!
When Becky's nieces and nephews were young, she doted on them as only that one special aunt can do. She created fun and exciting experiences for them, and they adored their Aunt B. In their adult lives, she remained a trusted confidant and friend and will be dearly missed.
In recent years, her sidekick and friend Maddie became a large part of her life. They spent their time doing snake programs together and enjoying themselves on wild adventures, or just everyday life if you asked Becky. They shared a very special bond.
Becky approached everything she did with enthusiasm, was passionate about life, and could make almost anything fun! Becky was loved by most everyone who met her, and she loved them in return. Becky loved well. She loved her family and friends, both old and new. What a gift it was to be loved by Becky!
A special thank you to the doctors, ICU nurses, and staff at Ascension St. Vincent's East for the excellent care.
Thank you to the countless schools, libraries, and other patrons that hosted Becky and her reptile program over the years. To all who knew Becky as your "Snake Lady", we truly do thank you for coming to "The Snake Show"!
In lieu of flowers please consider donating to Yarbrough's Educational Reptile Program in support of the continued care of her reptiles, who she dearly loved.
There is a gofundme account at https://gofund.me/05e12313