The Armuchee community is mourning the loss of an eighth grade student and her father who were killed in a car accident in Lyerly.


Floyd County Schools officials confirm an eighth-grade student at Armuchee Middle School, Ady Williams, has died following a traffic accident.
Her father, Chris Williams was also killed in the single-vehicle crash on Highway 114, on Sunday evening around 5:30 p.m. The accident happened between Lyerly and Chattoogaville.   A second child, Aiden, is hospitalized. Grief counselors were at the school today and possibly will be on hand later into the week.
In addition, this note has been posted on the Armuchee High Football Facebook page:
"The Armuchee Football Family would like to express our heartbreak, love, support and prayers for the family of Armuchee Middle School eight-grader Ady Williams. Ady and her father Chris were lost in a car wreck on Sunday. Ady's younger brother Aiden, a member of our PeeWee football team, is in the hospital. Let's all life up a prayer for the families and for Aiden. #IAManINDIAN #TRIBEMEANSFAMILY"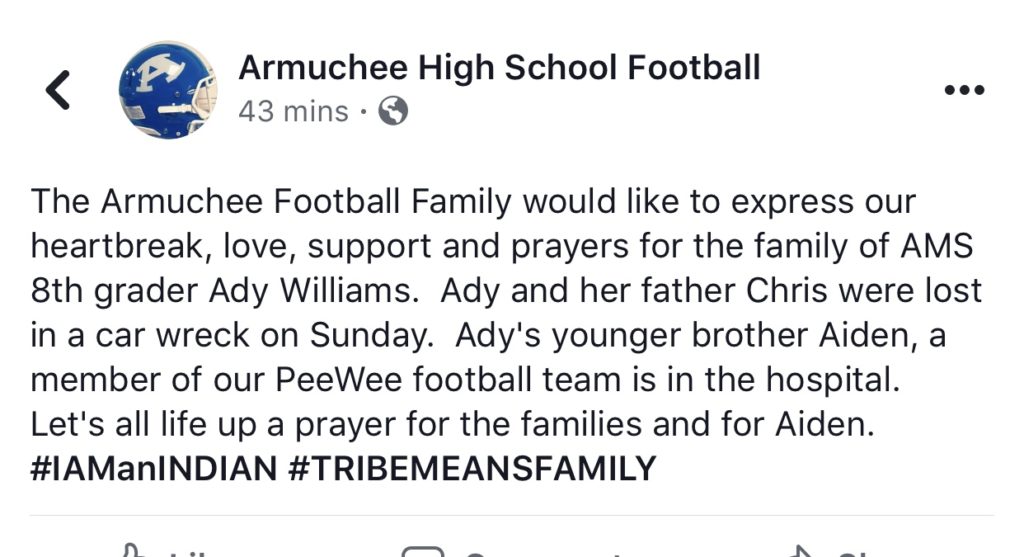 From the Georgia State Patrol Post in Rome:
On Sept. 8, at approximately 5:25 p.m., a 2008 Honda Civic was traveling south on GA 114. The driver, Christopher Williams, age 47 of Cedar Bluff, AL, failed to maintain lane, traveling off the west shoulder of the roadway. The driver jerked the wheel causing the vehicle to rotate counter-clockwise and cross both lanes of travel before leaving the roadway off the east shoulder. The Honda continued to rotate down the east embankment, striking a tree and fence with the right passenger pillar area. The Honda came to an uncontrolled rest off the east shoulder of GA 114. Upon arrival, the three occupants were being extracted by fire personnel. The occupant in the front passenger seat, Adyson Williams, age 13, was pronounced dead on the scene. It was determined Mr. Williams was the victim's father. He was unresponsive and transported to Floyd Medical Center. A third occupant in the back seat, Aiden Williams, age 10, was airlifted to Erlanger Medical Center. This is an on-going investigation by the Specialized Collision Reconstruction Team.
Mr. Williams worked for Puckett EMS.