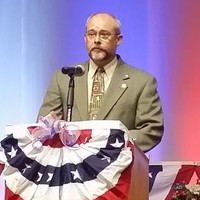 Tracy L. Maddux, the chief judge of the Chattooga County Magistrate Court and the Municipal Court of Summerville and Trion says after 22 years as a Democrat, he is done with the party.
In a Facebook post Judge Maddux said: I'm very disturbed by the threats and comments about the Chattooga Co Sheriffs Department helping to keep the peace in Dahlonega this past weekend. They were there to protect the citizens and property, not to defend one side or the other. I'm also disturbed that it was a local Democratic Party who started the post and hate filled comments. For the past two terms, I have been very torn as to how to run. Last election, I spoke to many Republican leaders in the community who said not to switch just yet. The local Democrats have for the most part been very conservative for many years. However I feel their silence on the events of this last few days to be very troubling. I will not seek reelection as a Democrat in 2020. No judge in the state should have to run in a partisan ticket, but if I must I will run where my values are most reflected.
I appreciate all of you regardless of political affiliation and will continue to do my job impartially and fairly. Thank you .
The post comes on the heels of a social media post made by the Chattooga County Democrat Sheriff Mark Schrader.  Saturday Sheriff Schrader made a post supporting Chattooga County Sheriff's Deputies who assisted in protests in Dahlonega. The post became part of an attack campaign, which included hate filled harassment and threats.
"I deleted a post that I posted yesterday because after re-reading the post I saw where I could have worded it differently. We went to Lumpkin County at the request of the Sheriff to help ensure everyone stayed safe and no property was damaged. We didn't go there to support any side. While I will never apologize for doing the job I was elected to do, I will apologize for the wording of that post and especially if the wording offended you.." Sheriff Schrader posted on Facebook after removing his previous comment.
Judge Maddux will be up for reelection in 2020.