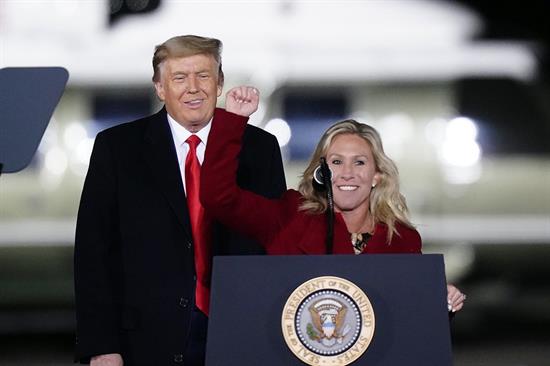 Congresswoman Marjorie Taylor Greene and Congresswoman Elise Stefanik (R-NY) introduced resolutions to formally expunge the January 13, 2021 and December 18, 2019 impeachments of President Donald John Trump. The resolutions would expunge the unconstitutional impeachments of President Trump as if such Articles of Impeachment had never passed the full House of Representatives.

"The first impeachment of President Trump was a politically motivated sham. The Democrats, led by Nancy Pelosi and Adam Schiff, weaponized a perfect phone call with Ukraine to interfere with the 2020 election. Meanwhile, the FBI had credible evidence of Joe and Hunter Biden's corrupt dealings, confirming their involvement in a foreign bribery pay-to-play scheme and receipt of over $5 million each. All of this information was revealed to Congress by the FD-1023 form from the FBI's most credible informant. The form vindicates President Trump and exposes the crimes of the Biden family," stated Greene. "It's clear that President Trump's impeachment was nothing more than a witch hunt that needs to be expunged from our history. I'm proud to work with Chairwoman Elise Stefanik on our joint resolutions to correct the record and clear President Trump's good name."
"The American people know Democrats weaponized the power of impeachment against President Donald Trump to advance their own extreme political agenda," stated Stefanik. "From the beginning of this sham process, I stood up against Nancy Pelosi and Adam Schiff's blatant attempt to shred the Constitution as House Democrats ignored the Constitution and failed to follow the legislative process. President Donald Trump was rightfully acquitted, and it is past time to expunge Democrats' sham smear against not only President Trump's name, but against millions of patriots across the country."
Stefanik's resolution is based on the assertion that the facts and circumstances upon which Articles of Impeachment were based neither met the burden of proving that President Trump committed "high Crimes and Misdemeanors" nor established that President Trump engaged in "insurrection of rebellion against the United States."
The resolution highlights the various issues surrounding the impeachment processes of President Trump, including the subjective account of what transpired at the Capitol on January 6th, the omission of discussion of circumstances and unusual voting patterns leading up to the 2021 Presidential election, the lack of consideration for the vote numbers and breakdowns, the whimsical changing of the legislative process for impeachment, and much more.
Greene's resolution expunges the December 18, 2019 impeachment of President Trump on the grounds that President Trump was wrongfully accused of misconduct in House Resolution 755, impeaching President Trump for high crimes and misdemeanors, as demonstrated by the information revealed in an unclassified FD-1023 FBI document. The resolution asserts that the facts and circumstances upon which the Articles of Impeachment were based did not meet the burden of proving the commission of "high crimes and Misdemeanors."
Read the full text of the Stefanik resolution here, and the full text of the Greene resolution here.