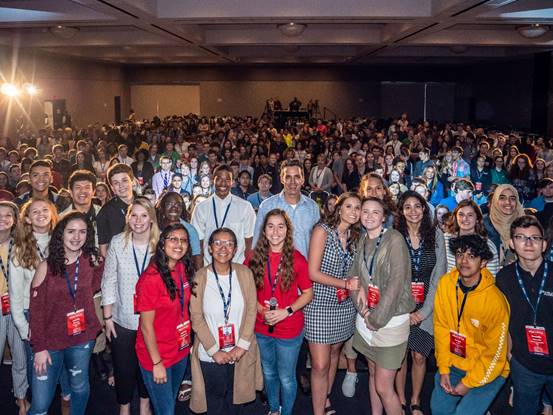 To kick-off the sixth annual Youth Leadership Summit (YLS), more than 520 students and teachers from Northwest Georgia schools joined Rep. Tom Graves (R-GA-14) at the Dalton Convention Center on Tuesday, October 8th. YLS was started in 2014 to give Northwest Georgia students an opportunity to learn leadership skills from local and national leaders, while networking with their peers and meeting other students from across the district. Each year, Rep. Graves asks teachers and school administrators to recommend students to attend the summit. Since 2014, more than 2,000 students from Georgia's 14th Congressional District have attended YLS.


Speakers including Ashley Preisinger, a Pickens High graduate, former President of Emory Proton Therapy Center and former CEO of the WNBA Atlanta Dream; Rennie Curran, former UGA Football Team Captain, author and personal development coach; and YLS Alumni Presenters David Willoughby and Richmond Wrinkle joined Rep. Graves to share their personal stories and words of encouragement for the high schoolers in attendance.
"I am so proud of each and every one of you for being here…somebody in your school saw something in you that was different," Rep. Graves said. "They believe in you and they want to see you do big, big things."
22 schools from 10 counties across the 14th Congressional District were represented. When YLS first started, 173 students attended. The event has more than tripled in size.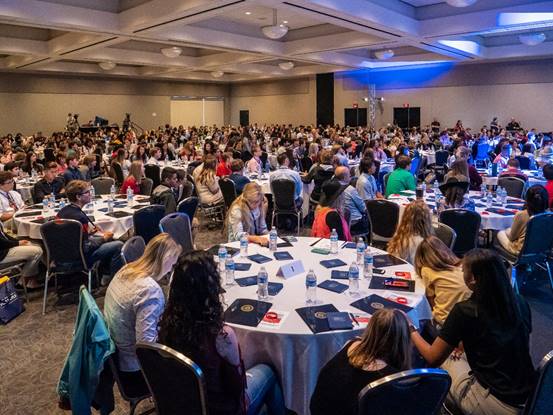 Between presentations, students were encouraged to meet their peers and expand their networks. Breaking from the daily norms of the classroom, students were also encouraged to use their phones to take photos and post about the event on social media sites.
"What would you do if you knew you wouldn't fail?" Ashley Preisinger asked the students. "You may fail whenever you chase your dreams. The bigger the dream, the greater the chance of that happening. So then what? You get back up," she said.
As YLS alumni, David Willoughby and Richmond Wrinkle shared their perspectives on the summit and the importance of discipline, routine and finding a way out of your comfort zone.
Rennie Curran closed out the event, saying "There are people that believe in you more than you believe in yourself."
He shared his four principles for success and achievement, telling the students that "success is a mindset, to operate at the level of your vision, to know your competitive edge and to have a mission."
Press Release from the office of Tom Graves