In a recent development, Georgia's Republican Senate Caucus has decided to suspend Republican State Senator Colton Moore.


The announcement of Senator Moore's indefinite suspension was made by the caucus on Thursday. Senator Moore, represents the 53rd district in the northwest corner of Georgia, including Chattooga County.
In a statement by the Republican Senate Caucus, they acknowledged Senator Moore's right to express his opinion. Still, they expressed deep concerns about his conduct during his campaign to impeach District Attorney Fani Willis. The caucus accused Senator Moore of knowingly disseminating misleading information to individuals across Georgia and the nation. They asserted that his actions had contributed to unnecessary tension and hostility, further putting his caucus colleagues and their families at risk of personal harm.
The Republican Senate Caucus, which comprises 32 out of the 56 members of the Georgia Senate, did not specify the duration of Senator Moore's suspension.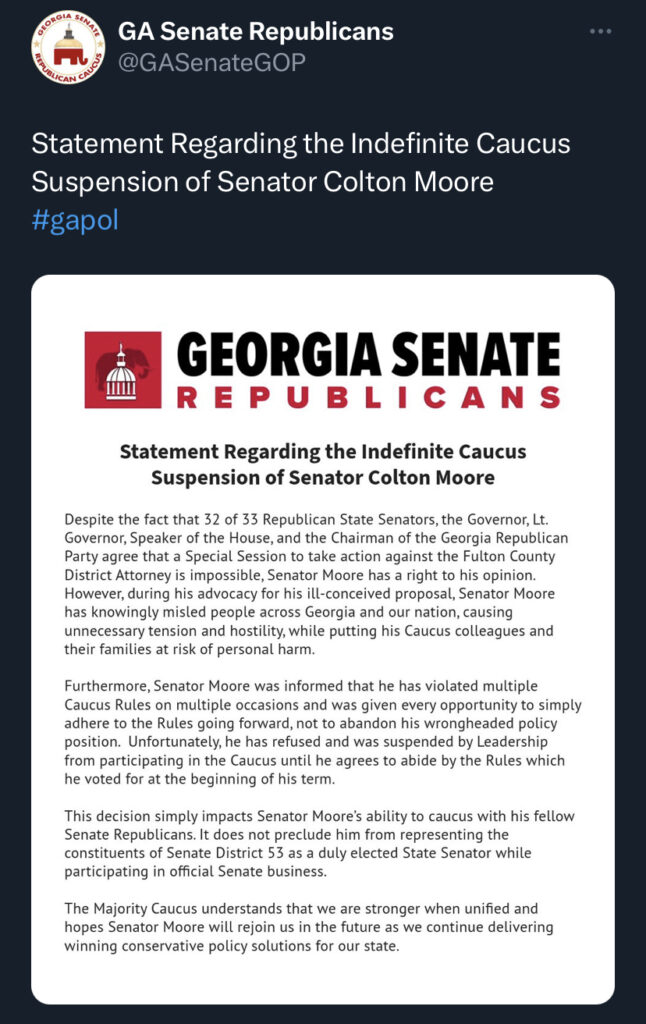 Moore responded to the suspension through social media posts that ended with a request for donations:
The Georgia RINOs responded to my call to fight back against the Trump witch hunts by acting like children and throwing me out of the caucus. But I'm not going anywhere.
I stand by my Republican principles. I stand by the Republican platform. I will continue to serve as a Republican Senator from the great state of Georgia. Unfortunately, now I will be forced to refer to my colleagues, who ran on being "Trump conservatives" as the RINO caucus.
The people of Georgia are 100% with me. This is the fight of our lifetime, and I will continue to double down to defend the rule of law and do what is right.
I will continue to EXPOSE Fani Willis and the RINOs covering for her.